Thousands of Refugees Find Shelter at the Site of Berlin Airlift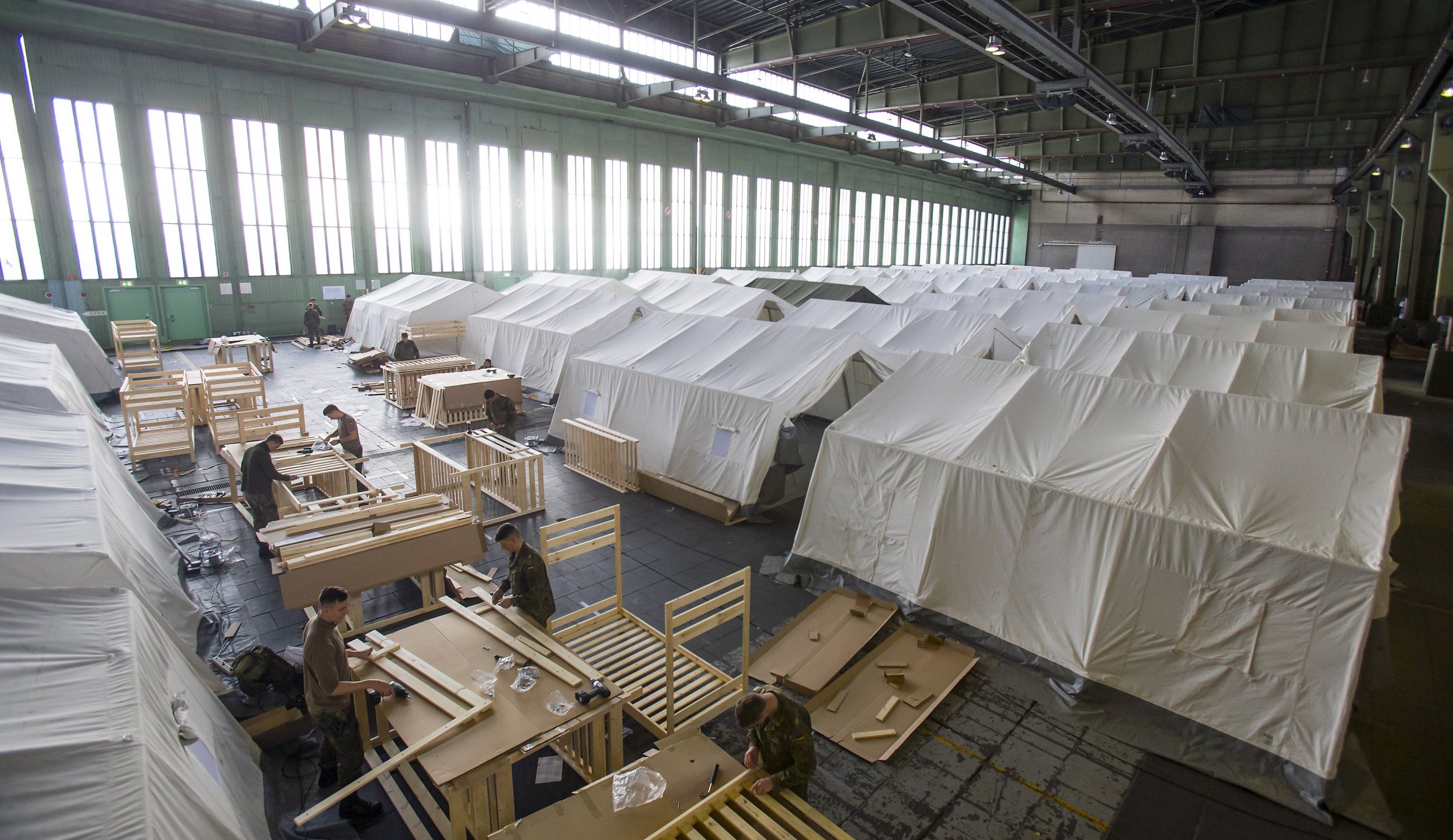 "Your ticket please," Holger Lippmann jokes as he leads the way through the defunct terminal at the former Tempelhof Airport. The sound of his shoes against the floor echoes through the empty hall that was once baggage claim. The arrivals board still hangs, though no flights have come in or out since 2008.
Lippmann, managing director of the Tempelhof Projekt, which oversees the facility, located in southern Berlin, doesn't stop to acknowledge the countless rows of metal bunk beds on the tarmac outside the windows, an unusual sight for a closed airport.
Nearly 70 years ago, that same tarmac was where the United States Air Force unloaded supplies during the Berlin Airlift, after the Soviet Union had put a blockade on the city. Today, a statue commemorating the airlift stands just outside the complex.
Tempelhof opened three of its seven former airplane hangars to refugees in recent weeks, hence the bunk bed delivery. In mid-November, some 2,300 refugees resided there, mostly from Syria, Iraq and Afghanistan. On November 12, Governing Mayor of Berlin Michael Müller called for the opening of the remaining hangars, which would make space for more than 5,000 people.
As far as refugee shelters with historical significance go, Lippmann says, "we're pretty confident that this is actually No. 1."
He later added by email: "Tempelhof has always been more than just an airport for Berliners—it's become a symbol of solidarity and freedom. Because of this, accommodating refugees is of tremendous emotional importance here."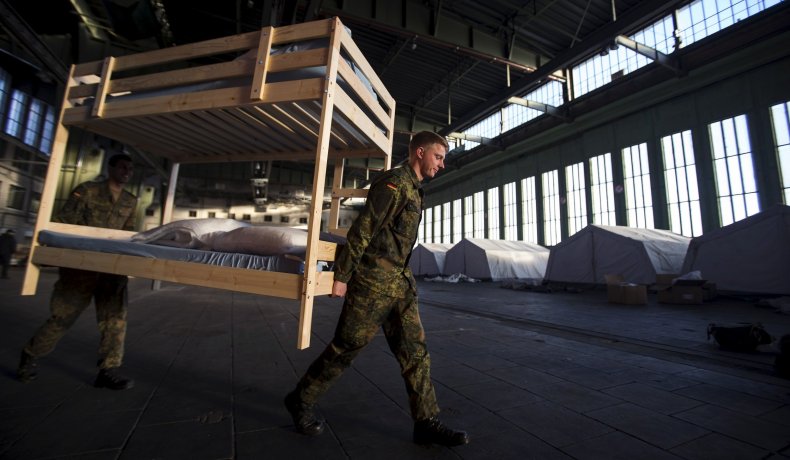 Flights first came in and out of Tempelhof in the 1920s. A decade later, the Nazis expanded the complex into what the Berlin tourism board says is Europe's largest protected building (by surface area). Adolf Hitler wanted its roof to seat 80,000 people for watching air force demonstrations. The Nazi-era eagle, or Reichsadler, still decorates the building's facade. "This building was initially conceived as a symbol of power," Lippmann says. The architect Norman Foster has called it the "mother of all airports" and "one of the seminal buildings in the world."
After World War II, U.S. and British forces used Tempelhof for deliveries during the Berlin Airlift. The airport later opened to commercial travelers. Since it closed seven years ago, Berliners have debated what to do with the vast airfield, voting down the city's proposal to build housing there. It now operates as a park and a location for events such as Lollapalooza Berlin. More than 100 businesses use space inside the building.
By the end of December, Germany expects 800,000 refugees to have come in 2015. Berlin alone has taken in some 58,000 refugees this year.
One Tempelhof hangar has rows of big white tents that each sleep 12 people. Two other hangars have 269-square-foot cubicles with white walls that are eight feet high, which also sleep 12. Lippmann concedes the setup isn't perfect and that the shelters should house people for only up to about six weeks. The hangars are not heated well, the roof for one of them leaks and only two of the three have indoor bathrooms, he says.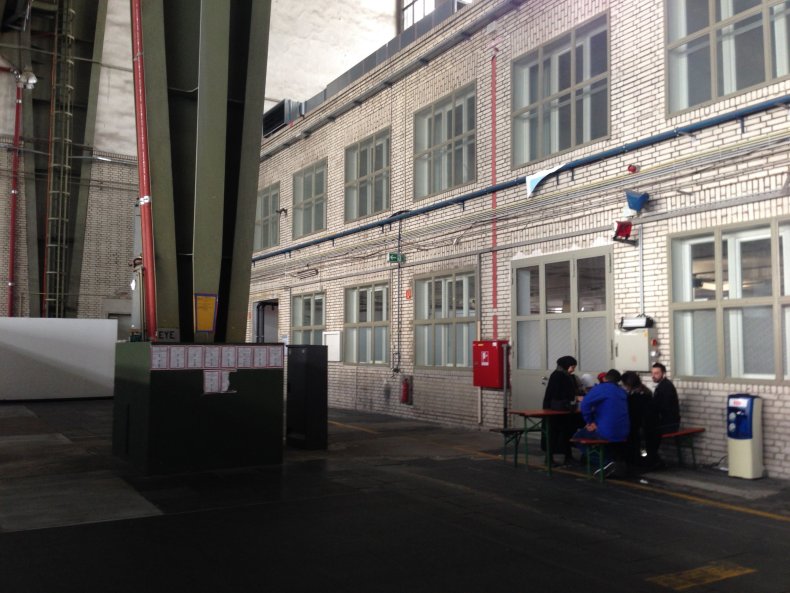 Some refugees there appear to be in good spirits. But others say they have waited months for the government to approve their paperwork and that they are fed up with moving from shelter to shelter. A man named Rashed, 27, says he has four children there and that they are sick. He says he arrived in May. "He just wants to live in peace and have a peaceful place to sleep," says another man, translating for Rashed. "He's feeling a lot safer here," the man adds, however, "they're just being put under a lot of stress with all the formalities and regulations."
The staff is stressed too. "A problem is communication between the government and us," says Maria Kipp, a spokeswoman for Tamaja, the company that runs onsite logistics. "Our schedule's a little different than the schedule of the government."
Manuela Bremer, whom Tamaja hired to help with the children, describes the young people there as angry and aggressive. One boy attacked another boy with a stick, she says. She tries to keep the playroom to no more than 20 children at a time, and when she asks some children to return later, she says, they stand outside the door and cry. "We need everybody who can help us," she says.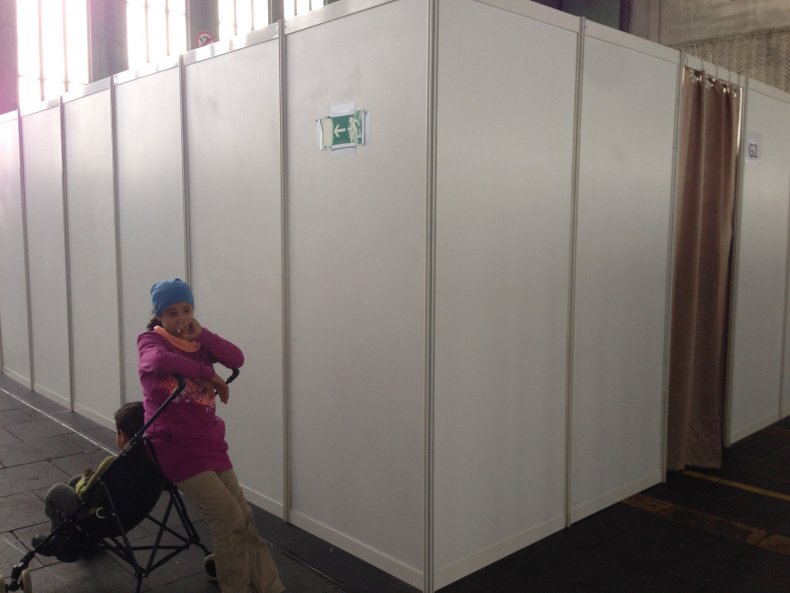 The mayor's call to open all seven of the hangars is problematic for the Tempelhof Projekt. Lippmann says the plan would force them to cancel some 30 events, at a loss of about $5.8 million in 2016.
Growing anti-refugee sentiment has made matters worse; in Dresden, two hours south of Berlin, thousands rally every week with the group Pegida against Muslims and refugees. Hostility toward refugees has spread throughout the United States and Europe, especially following the Paris attacks on November 13. (French police have said that one of the suspects appeared to possess a passport stamped at migrant checkpoints in Greece and Serbia, though it may have been a forgery and it's not clear whether the person carrying it entered Europe with refugees or just sought to cast suspicion on refugees.)
Once again, Tempelhof is full of travelers, people waiting to move on to some place new. With no signs that the flow of asylum seekers will abate, Lippmann says he expects Tempelhof to keep the shelters open through the end of next year or later. "It's definitely a historic challenge and is also a new chapter in history that we're writing right now."