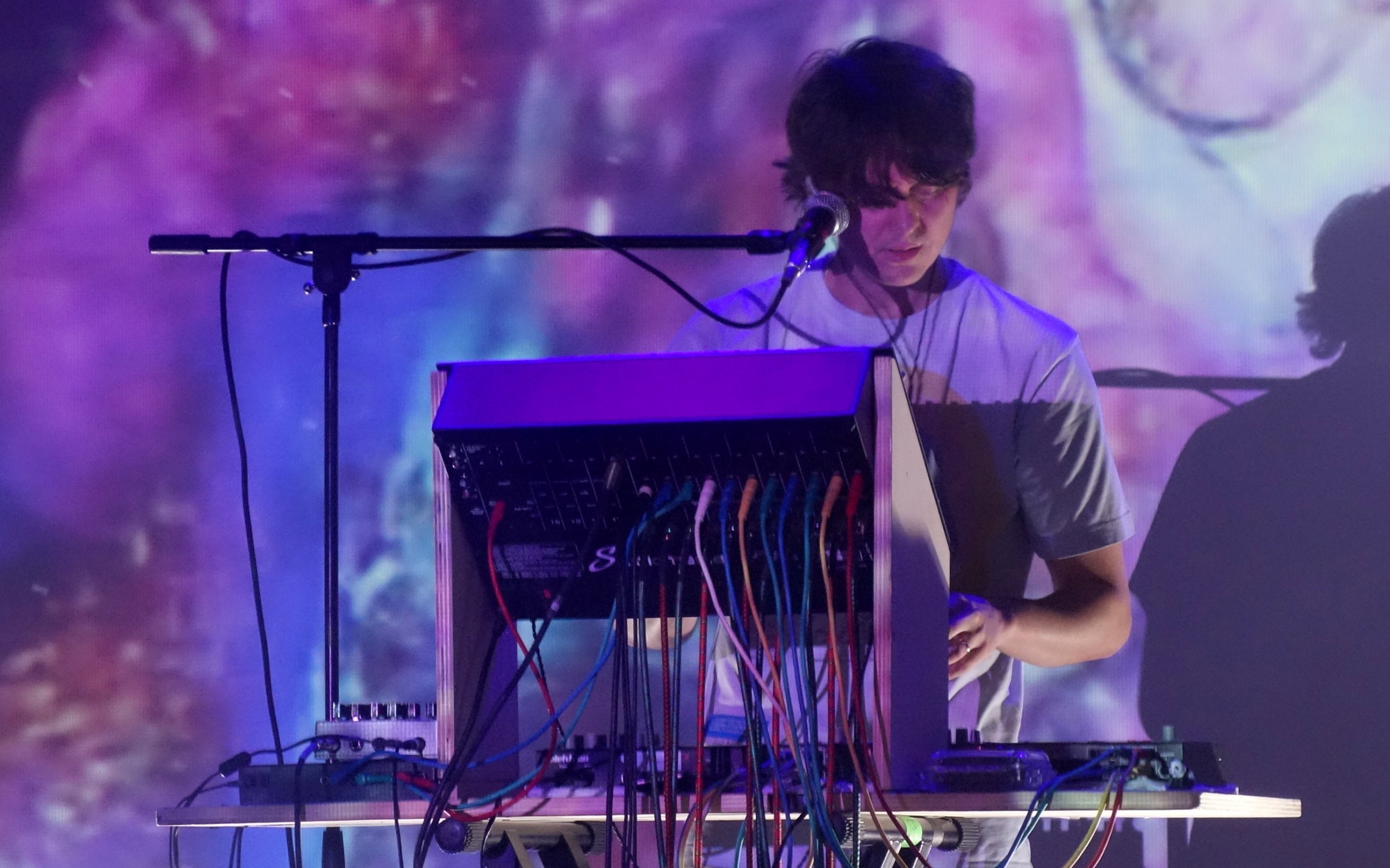 CMJ Music Marathon landed in New York once again, bringing with it a bevy of rising acts, already established indie stars and some singer named Gwen Stefani who seems to have a bright future in music. (So maybe she wasn't technically a part of the festival.)
We were there—and here's some proof. These are the 10 best sets we caught.
CAR SEAT HEADREST
The ghosts of your favorite shuttered '90s indie-rock bands live on in Car Seat Headrest, the project of Matador Records-signed songwriter Will Toledo. Mr. Headrest seemed to play every notable showcase on the CMJ circuit, but we caught him at the NME party, where full-steam rockers like "Something Soon" blared to a packed lower level at Santos Party House. Toledo, 22, will probably be headlining larger venues soon enough, but this cramped, Chinatown basement suited his music just right. —Zach Schonfeld
DESTRUCTION UNIT
On Friday night, Destruction Unit brought their hard-core noise punk to Brooklyn's Baby's All Right, a venue where musicians play in front of a wall of thick glass nodes that can light up in a variety of patterns and colors. Yet Destruction Unit opted to slay eardrums in total darkness, which made their presence all the more ominous. Their set was not one to be enjoyed casually…or even really enjoyed. I just kind of stood back, tried to make sense of the shadows shifting onstage and experienced it. Moshing dominated small talk. This was an assault.
True to their name, as a particularly heavy jam crescendoed near the middle of the set, one of their guitars swung upward and dislodged a large panel hanging from the venue's low ceiling. The group kept playing as it dangled low on top of the stage like another band member, and like the rest of the band, it was only visible to the audience whenever someone's camera phone flashed. Eventually someone ripped it down triumphantly and the crowd passed it to the bar at the back of the venue. Mission accomplished.—Ryan Bort
DILLY DALLY
While not as awe-inspiring as their multistage setup at South by Southwest, the CMJ version of Fader's notorious Fader Fort pulsed with a similar air of exclusivity. It was the place to be, and one of the few CMJ venues with a continuous line of freezing fans waiting to get in. The bar was open, the crowd was thick and in between sets, a DJ would send fans into a frenzy by blaring bangers by Drake, Future, Migos and more. Less danceable but just as badass: Dilly Dally, who performed at the Fort on Saturday night to promote their just-released album Sore. Dilly Dally conjured a lost form of '90s indie rock—think the Pixies but less precious and with a grungier snarl. Their powerful set was quickly forgotten, however, as the moment the band struck its last chord, "Hotline Bling" thumped from the DJ booth. For once, Drake's swagger seemed like a downgrade.—Ryan Bort​
LE1F
The wickedly talented, gender-bending rapper Le1f has yet to release a full-length album, but he's been New York's hottest ticket for over a minute. The incendiary star is releasing his debut album Riot Boi in November. Yet judging from the strength of the single "Koi," and his performance at the Cymbal x Terrible Records showcase at Williamsburg's soon-to-shutter Cameo Gallery Friday night, it's poised to be one of the best albums of the year. Le1f rapped onstage as the dense crowd of sweaty revelers shimmied and shook to tracks new and old, the stoner anthem "Boom" and club favorite "Wut" among them. And then, he was gone. It's probably the last time we'll see him command a room this small. —Paula Mejia​
PANDA BEAR
Though he's the only person on stage, Panda Bear (Noah Lennox) sounds like a one-man symphony of samplers, electronic loops and voice echoes. At Bowery Ballroom on Thursday night (October 15), the Animal Collective member performed most of the material from this year's Panda Bear Meets the Grim Reaper disc, but it was hardly a rote run-through—the drum loops were heavier, the spaces between the songs were seamless and Lennox's voice sounded livelier and full of surprises. A highlight: Panda Bear crooned over a tangled harp sample from The Nutcracker on "Tropic of Cancer," a song about his late father's illness. The Present and Kaitlyn Aurelia Smith opened up the show. —Zach Schonfeld
PROTOMARTYR
Protomartyr are four guys from Detroit who take time off from their blue-collar jobs at comedy clubs and jewelry stores to travel the country playing anxiety-riddled, post-punk-inspired guitar rock. With gruff-voiced singer Joe Casey barking lines like "Remove the fire from thine eyes!" and "They lie, they lie, they lie," the band's set proved an easy highlight at Wednesday evening's NME-hosted showcase. A business attire-clad Casey scarcely made eye contact with the audience (stage fright is the reason, he has said), but the group's shaky rhythms and gloomy proclamations landed just as well. The Agent Intellect, released this month, is the band's third and strongest album. —Zach Schonfeld
MICHAEL RAULT
It'd be nice if more people would listen to Michael Rault, was essentially my takeaway from the Burger Records rocker's set at Baby's All Right on Friday night. I'd seen him in March at South by Southwest, and though he's since released an album, Living Daylight, and gone on tour, he remains criminally underappreciated. As I bobbed my head to a feel-good set composed of guttural guitar tones alternating with classic rock solos, a cascading wall of reverb and Rault's own sweet-sounding voice, I was reminded of just how good this guy is. Equally impressive: Rault's stringy black hair and dirty mustache, which brought to mind a deadbeat George Harrison. You could do a lot worse. —Ryan Bort
SHOPPING
Shopping's music is (thankfully) much more distinctive than its not-so-Google-friendly name. The London band plays a jittery, frenetic brand of indie-pop. The rhythms are funky, and in the upper register, multiple, interlocking vocal parts and guitar lines converge. This was another highlight of NME's Santos Party House showcase, probably because Shopping sounded precisely like no other act on the bill. —Zach Schonfeld​
GWEN STEFANI
The best performance during CMJ week might not have technically been a part of the Music Marathon at all. In fact, it was by a certain fashion-forward, platinum-haired phenom from California. You've heard her name; it's Gwen, and she is not just a girl. Her (musical) shit is bananas, and at a performance at the Hammerstein Ballroom in Midtown on Saturday, fans went mad for Stefani as she performed a wide-ranging set from her solo career, including singles such as "Rich Girl," "Cool" and "The Sweet Escape."
While "Hollaback Girl" is technically a diss track about Courtney Love, what's most refreshing about Stefani is her genuine enthusiasm onstage. Despite the diva-esque tendencies of the performance (going on a tad late, the multiple fabulous outfit changes, being surrounded by a slinky crew of talented dancers), Gweni's earnestness is real, from vocal stylings to her rousing speeches to fans in between songs. Those present were probably among the first to witness cuts from her yet-to-be released new album, which boasts collaborations from Pharrell, Charli XCX and Sia, among others. But the night's biggest surprise came when she announced, then performed the album's forthcoming single "Used to Love You," which seems to be about her recent split with her ex-husband, Gavin Rossdale. Thankfully, however, she didn't mention washing in her lover's old bathwater. Stefani's over it, as evidenced by the way she burst into "The Sweet Escape" to wrap up the show. You can't fake that. —Paula Mejia