International Women's Day: 10 Empowering Films and TV Shows to Mark The Celebration
It is International Women's Day (March 8) and it is the perfect occasion to shed a light on some of the best female-driven and empowering films and TV shows out there right now. From comedies that can make you laugh till you cry to hard-hitting real-life stories, entertainment lovers of all genders are seriously spoilt for choice on what they can watch to mark the celebration.
Luckily, Newsweek has a full list of the 10 best films and TV shows that are perfect to watch on International Women's Day (and any other day of the week!)
10 Empowering Films and TV Shows to Mark The Celebration
1. Fleabag
Phoebe Waller-Bridge's dark comedy Fleabag is the hilariously uncomfortable series every woman living in a big city in their 20s cannot miss.
Featuring a star-studded cast, including Waller-Bridge, Olivia Colman, Andrew Scott, and Fiona Shaw, Fleabag follows the chaotic and confusing love and personal life of the titular character, Fleabag.
The show, which ran to two series, is so good, it went on to receive 11 Emmy nominations, winning six.
You can watch Fleabag now via Amazon Prime
2. Hidden Figures
Hidden Figures is an American biographical drama about the African-American female mathematicians who worked at NASA during the space race.
The film has a strong female cast including Taraji P. Henson as Katherine Johnson, Octavia Spencer as Dorothy Vaughan, and Janelle Monáe as Mary Jackson.
Also starring in the film are Kevin Costner, Kirsten Dunst, Jim Parsons, Mahershala Ali, Aldis Hodge, and Glen Powell.
Hidden Figures went on to receive three Oscar nominations and won the Screen Actors Guild Award for Outstanding Performance by a Cast in a Motion Picture.
Hidden Figures is streaming on Disney+ now.
3. Killing Eve
If you are a fan of a crime-thriller, Killing Eve is the show for you.
Starring Jodie Comer, Sandra Oh, and Fiona Shaw, Killing Eve centers around three strong women from entirely different walks of life: Villanelle, a powerful assassin, Eve an MI5 agent, and Carolyn, the head of MI6's Russia desk.
Although at times the women are pitted against each other as they try to catch Villanelle, it is for sure nice to see three amazing actresses leading the show.
Even better, each season has been fronted by a different female head writer. The first series had Phoebe Waller-Bridge as the head writer, the second series Emerald Fennell, the third series Suzanne Heathcote and the fourth and final series Laura Neal. Talk about female power.
Killing Eve Season 4 airs Sundays on BBC America.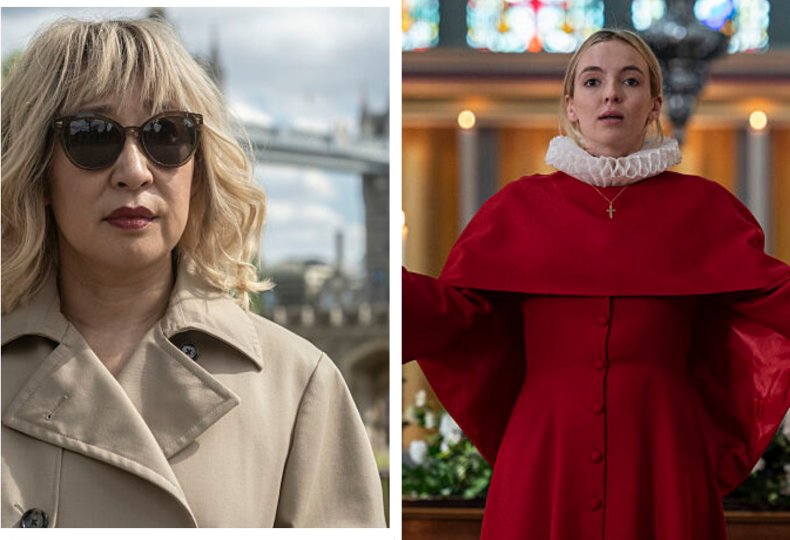 4. I May Destroy You
Michaela Coel's groundbreaking drama I May Destroy You should be put at the top of your must-watch list, any day of the week.
Coel brought to the small-screen a hard-hitting tale of sexual assault, inspired by her own experience. Across 12 episodes, the series explores trauma, sexuality, friendship, consent, and romance with a touch of comedy and will leave an imprint on your mind for days, weeks, months, if not years.
Featuring a predominately Black British cast, the series went on win BAFTAs for Best Mini-Series, Best Director: Drama, Best Writer: Drama and Best Actress, two Independent Spirit Awards, a Gotham Award, a GLAAD Media Award, an NAACP Image Award, and a Peabody Award.
I May Destroy You also received nine nominations at the 73rd Primetime Emmy Awards, including Outstanding Limited or Anthology Series. It won two awards including Outstanding Writing for Coel.
I May Destroy You is streaming on HBO Max Now.
5. GLOW
GLOW is the American comedy-drama series on Netflix about the world of the syndicated women's professional wrestling circuit Gorgeous Ladies of Wrestling (GLOW) in the 1980s.
Starring Alison Brie, Betty Gilpin, Sydelle Noel, Britney Young, Britt Baron, Kate Nash, Gayle Rankin, Kia Stevens, and Jackie Tohn, if you want to see women thriving in a male-dominated sport, GLOW is the show for you.
6. The Marvelous Mrs. Maisel
The Marvelous Mrs. Maisel on Amazon Prime Video is a period-drama meets comedy if you fancy a mix of history with laughter.
The series, set in the 1960s, follows Miriam 'Midge' Maisel, a New York City housewife who tries to break into the male-dominated comedy industry.
The Marvelous Mrs. Maisel has received critical acclaim, winning the Golden Globe Award for Best Television Series—Musical or Comedy in 2017 and the Primetime Emmy Award for Outstanding Comedy Series in 2018.
Rachel Brosnahan, who plays Maisel, also won the Primetime Emmy Award for Outstanding Lead Actress in a Comedy Series in 2018 and two consecutive Golden Globe Awards for Best Actress—Television Series Musical or Comedy in 2018 and 2019. And those are just some of the awards The Marvelous Mrs. Maisel has taken home.
7. Harlots
British-American period drama Harlots follows London's brothel wars between some of the most powerful prostitutes in London's Covent Garden.
Featuring an all-female cast, led by Samantha Morton, Lesley Manville, and Jessica Brown Findlay, Harlots shines a light on female sexual empowerment and the importance of sisterhood.
Harlots is streaming on Hulu now.
8. Little Women
In 2019, Greta Gerwig was the seventh director to bring Louisa May Alcott's 1868 novel, Little Women, to the screen.
The story follows the lives of the March sisters, Jo, Meg, Amy, and Beth as they try to navigate womanhood in a man's world.
Starring Saoirse Ronan, Emma Watson, Florence Pugh, Eliza Scanlen, Laura Dern, and Meryl Streep, Gerwig's Little Women went on to earn six Academy Award nominations, five BAFTA nominations and two Golden Globe nominations.
Little Women is streaming on Netflix now.
9. The Help
The Help is the award-winning 2011 period drama film starring Jessica Chastain, Viola Davis, Cicely Tyson, Bryce Dallas Howard, Allison Janney, Octavia Spencer, and Emma Stone.
The gripping drama follows the story of a young white journalist, Eugenia 'Skeeter' Phelan, and her relationship with two black maids Aibileen Clark and Minny Jackson, during the civil rights movement in Jackson, Mississippi in 1963.
Not only does the film focus on the importance of female friendships, but equally focuses on the civil rights movement and the African-American female experience.
The Help is streaming on HBO Max now.
10. Erin Brockovich
If you love a biopic, Erin Brockovich is the film for you.
Julia Roberts stars as young legal clerk Erin Brockovich, who in the 1990s battled the energy corporation Pacific Gas and Electric Company (PG&E) for its role in the Hinkley groundwater contamination incident.
From 1952 to 1966, PG&E dumped 370 million gallons of chromium-tainted wastewater into unlined wastewater ponds around the town of Hinkley, California and it was Brockovich who set out to get Hinkley's residents justice.
For her performance, Roberts won Best Actress at the 73rd Academy Awards as well as a BAFTA award, a Golden Globe, a Screen Actors Guild Award, and multiple critics awards.
Erin Brockovich is streaming on Netflix now.