The Ten Hottest TV Shows of Fall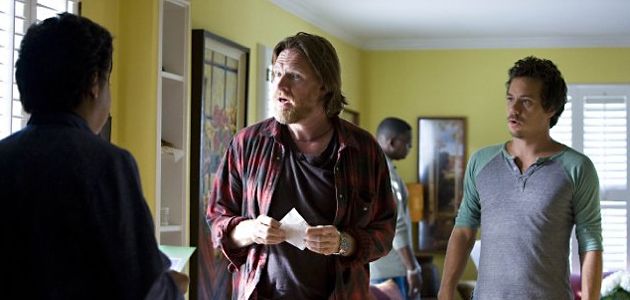 With each new fall television season comes a new opportunity to decide whether to be a glass-half-full or glass-half-empty type of person. There will always be complete misses with every fall roll-out (I still insist it was NBC's comedy Outsourced and not that steak sandwich that caused my acid reflux), but there's also plenty to be excited about. This year's slate is heavy on dramas and light on comedies, and this could be the year for new breakout network dramas in the way that last year saw comedy successes Modern Family, Community, and Glee.
NBC, premieres Sept. 22
From director J. J. Abrams comes the latest attempt at a Mr. and Mrs. Smith-style series about a husband-and-wife spy duo (played by a gorgeously paired Boris Kodjoe and Gugu Mbatha-Raw.) It's no wonder it's been attempted before--there's an inherent breeziness to combining the quirks and neuroses of a married couple with spy capering, and Undercovers captures it well. But don't expect anything more ambitious than a brisk and breezy Hart to Hart-style romp; the high-wire serialized storytelling typical of an Abrams production is missing here, and that's not a bad thing. USA's ridiculously popular originals have proven that, when executed properly, there's nothing much more rewarding on television than a clever, self-contained weekly adventure.
Fox, premieres Sept. 20
Fox's new nighttime soap is bound to elicit snarky comparisons with Dallas, but what was so wrong with Dallas? The "Who Shot J.R.?" cliffhanger that gripped the nation over a long, hot summer is the kind of audience engagement any show would be lucky to get. Lone Star doesn't offer up anything quite that jaw-dropping in its pilot, but it does lay out a intriguing premise: a con man played by James Wolk finds himself torn between two lives and two wives as his emotions begin to sour his grift. The virtually unknown Wolk is an impressive, charismatic find, and Adrianne Palicki and Eloise Mumford play his unwitting spouses.
NBC, premieres Sept. 20
There's good reason to be dubious about The Event, given its egregiously mysterious promotional campaign, and the same "heir of Lost" murmuring that capsized FlashForward. The pilot won't necessarily assuage fears of a genre-show con job, with its spastic flashbacking and sci-fi elements. But it's worth pushing through to the end for a killer final scene that will gain a reluctant buy-in from some, while turning others off completely. In other words, it's not terribly different from the tropical polar bear reveal of Lost. The fact is, The Event's storytelling does bear resemblances to that of Lost, with its spliced chronology and sprawling ensemble cast. So the question becomes: can you learn to trust again?
FX, premieres Sept. 8
Don't be put off by the oblique title and the fact that you probably never heard about it prior to reading this. FX's new drama Terriers is worth the investment, and actually seems to benefit from knowing little about it going in. What we will say is that it features Donal Logue and Michael Raymond-James as a pair of ne'er-do-well private investigators, and virtuoso show runner Shawn Ryan (The Shield, The Unit) is behind the curtain along with Ocean's Eleven scribe Ted Griffin. This all bodes well, and the pilot features the punchiest dialogue of the new fall slate.
HBO, premieres Sept. 19
No new series has a bigger head of steam behind it than Boardwalk Empire, which is appointment viewing based on its pedigree alone. Emmy-winner Terence Winter, writer of more than two dozen episodes of The Sopranos, adapted the show from a Nelson Johnson book about Prohibition-era Atlantic City. Martin Scorsese directed the pilot, which stars Steve Buscemi as a powerful racketeer. What's most amazing about the show is that it manages to live up to the expectations its esteemed cast and crew set for it. Deftly realized in just about every way, Boardwalk Empire represents an opportunity to recapture something HBO hasn't had for years--a critically acclaimed show that's also a smash hit.
BBC America, premieres Oct. 17
Damaged detective John Luther may very well be the darkest character yet for Idris Elba--amazing, considering he's best known for playing the callous and calculating Stringer Bell in The Wire. But Luther is far more terrifying. He's morally compromised and mentally unstable, two less-than-ideal qualities for a detective. But the writing of Neil Cross, the British crime novelist who created the show, elevates it beyond good-guy-gone-bad clichés. Elba, meanwhile, is the best he's ever been, and is matched at every turn both in the story and as an actor by Ruth Wilson, who plays his dangerous, seductive foil.
CBS, premieres Sept. 24
CBS is best known for its middle-of-the-road, spin-off friendly procedurals, but they've also shown, with The Mentalist and The Good Wife, how familiar material can be reinvented and reinvigorated. Blue Bloods has the potential to be the network's latest genre-defying drama. Set in New York City, the show follows the Reagans, a family whose service in the NYPD spans generations. Patriarch Frank (Tom Selleck) is the chief of police, which complicates his relationships with sons Danny (Donnie Wahlberg) a world-weary detective, and Jamie (Will Estes), a rookie, as well as daughter Erin (Bridget Moynahan), an assistant D.A. By the end of the pilot, an overarching mystery is revealed that will test the family's loyalty to each other, as well as their willingness to find out the truth when it involves their complicated legacy.
ABC, premieres Sept. 22
Behold the birth of a format: the even-handed legal drama. From executive producer Jerry Bruckheimer comes The Whole Truth, which presents the case-of-the-week from the perspective of the prosecution and the defense. The format doesn't allow much room for character development, but it does create genuine feelings of confusion and doubt as the viewer is turned into a juror wondering whose set of facts to believe. There are two issues in the pilot that need to be worked out, though. The first has been taken care of--Joely Richardson was replaced in the lead prosecutor role by the always-solid Maura Tierney. But the bigger issue is the coda that confirms the final verdict. A bolder, more satisfying choice would be to leave the audience debating the case long after the credits roll.
Fox, premieres Sept. 21
All Will Arnett has to do to make me laugh is talk with that bizarro Moviefone baritone. But the writing serves the voice well in his new comedy, Running Wilde, in which he plays Steve Wilde, the spoiled, selfish heir of an oil baron. Wilde has everything he could ever want, except, naturally, true love. And the only woman who can scratch that itch is his childhood sweetheart Emmy (Keri Russell), who has since blossomed into a rainforest-dwelling ecowarrior. The story is told in a most unusual way, from the perspective of a 12-year-old named Puddle (Stefania Owen) who's pretending to be mute. This would all sound totally unmanageable, were it not being handled by Arrested Development creator Mitch Hurwitz.
ABC, premieres Sept. 28
Viewers who were heartbroken by the unceremonious ending of Heroes may be able to take solace in No Ordinary Family, ABC's entry into the superhero genre. Michael Chiklis and Julie Benz star as the heads of a nuclear family who find themselves imbued with superhuman powers following a plane crash in the Amazon River. As they come to grips with their new abilities, they'll react to them in ways that will push and pull at their family dynamic. More like a live-action The Incredibles, it's by no means as violent or as glum as Heroes, and hard-core comic lovers might initially find it a little lightweight. But it's co-created by television whiz Greg Berlanti (Brothers & Sisters, Eli Stone, Dirty Sexy Money), so I have no doubts the show will find its footing in a way that will satisfy even the most discerning genre fan.