Ten Memorable Leonard Nimoy Onscreen Appearances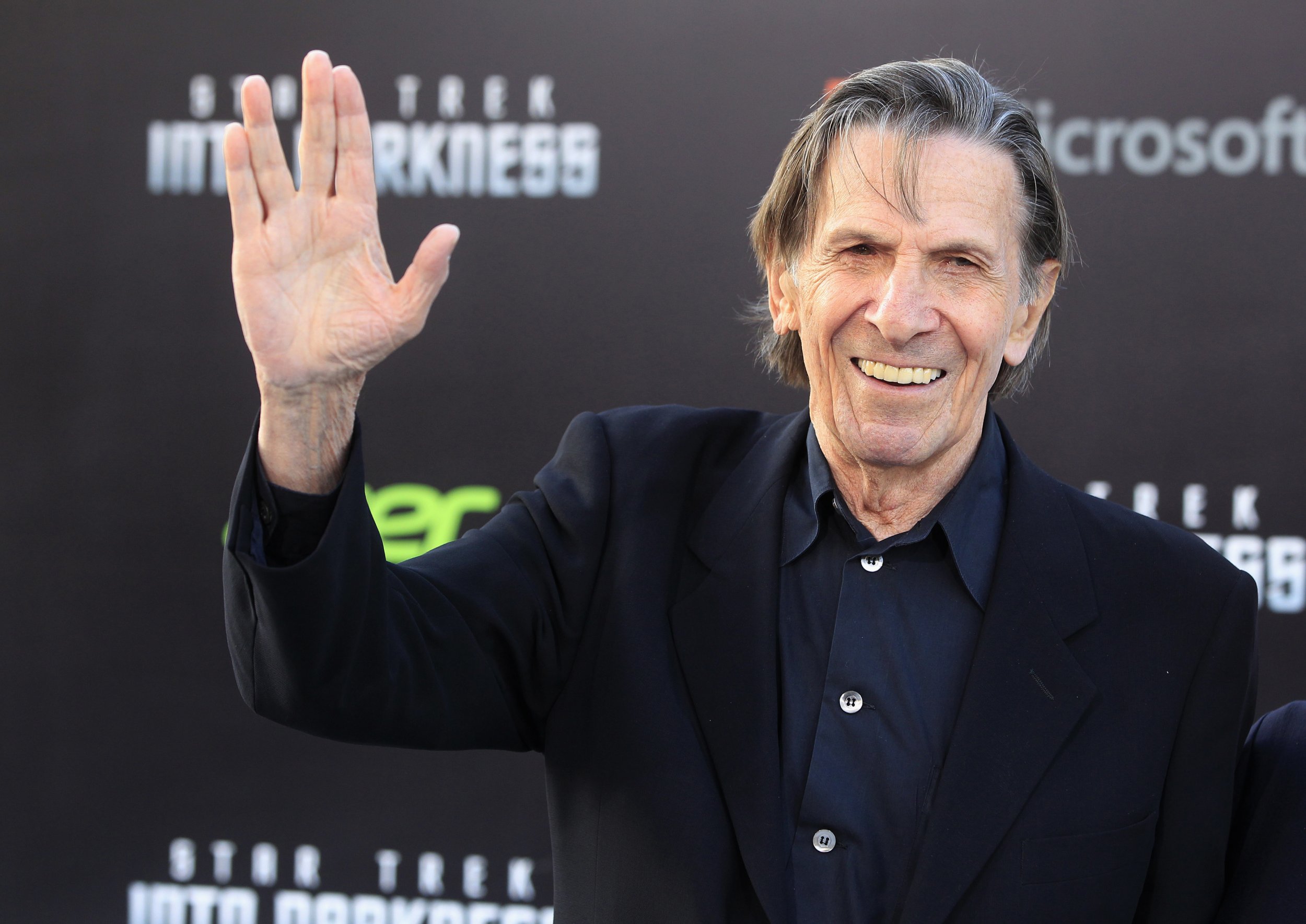 Leonard Nimoy's most distinguished role, as Star Trek's Spock, may have inspired generations of would-be Vulcans to don pointy ears and flash a characteristic hand gesture, but the man behind the mile-high eyebrows was a multifaceted talent, dabbling in poetry, theater and musical pursuits in addition to his rich television and film career (including quite an ode to Lord of the Rings's Bilbo Baggins). His mind-melding abilities went far beyond science fiction, too—he played an animated, brilliant doctor-turned-misfit, a cheeky chauffeur and, of course, himself on various programs.
In memory of the great's passing Friday (he was 83), here are 10 notable onscreen roles he played besides Spock.
1. Hansen, The Twilight Zone (1961)
Nimoy's early acting career featured minor roles on hits likeBonanza, General Hospital and Rod Serling's science fiction–fantasy series, The Twilight Zone. In this episode, Nimoy—who plays a soldier—doesn't do much talking, but his silent stares say it all, and warn of supernatural occurrences to come.
2. Vladeck, The Man From U.N.C.L.E. (1964)
Fun fact: Star Trek was not the first time Leonard Nimoy and William Shatner appeared together on-screen. That was in a single episode of a 1964 episode of spy series The Man From U.N.C.L.E. called "The Project Strigas Affair." Shatner plays a freewheeling pest control owner, Michael Donfield, tasked with catching Communist spies like Nimoy's character, Vladeck. It was a chance encounter that would lead to one of the most memorable television duos of all time.
3. Dr. David Kibner, Invasion of the Body Snatchers (1978)
The '70s remake of the classic '50s science-fiction horror film features Nimoy as the creepy scientist Dr. David Kibner, who doesn't seem to care that hordes of people in San Francisco are being replaced with emotionless clones of themselves—oh, right, because it turns out he's a clone himself. At one point, he holds Donald Sutherland's character in a terrifying bind, and while giving him the hard Nimoy stare reveals why he and his brethren are so keen on snatching bodies: "We came here from a dying world. We drift through the universe, from planet to planet, pushed on by the solar winds. We adapt and we survive. The function of life is survival," he says.
4. Morris Meyerson, A Woman Called Golda (1982)
Nimoy had chops as a serious dramatic actor, judging from his theatrical roles, such as playing the husband of Golda Meir (Ingrid Bergman), who would become Israeli prime minister for several years through the early 1970s. The portrayal of Morris Meyerson garnered him an Emmy nomination, one of several he was nominated for but never won.
5. As a chauffeur for the Bangles in their music video "Going Down to Liverpool" (1984)
This one is perhaps the most off-kilter jump for Nimoy: playing a grumpy chauffeur in a music video for L.A. pop sensations the Bangles for their track "Going Down to Liverpool." They're on their way to Liverpool to bum around in the quaint town, to "do nothing all the days of my life." At one point, he tries to turn off the stereo and is shouted down by the ladies in the backseat. Cue plenty of Nimoy stares into the sunset.
6. The voice of Dr. Jekyll/Mr. Hyde inThe Pagemaster (1994)
Let's turn back the pages of time to The Pagemaster: the critical failure cult flick featuring Macaulay Culkin as Richard Tyler, a fellow who seeks shelter from a storm in a library and has a meddling librarian perhaps intentionally thrust him into a fantastical world featuring memorable literary characters, including Captain Ahab and Long John Silver. A confession: This is the one film that scared me mercilessly as a child, particularly the scene where Richard encounters the seemingly brilliant fellow Dr. Jekyll, who, after a potion mishap, turns into the ax-wielding, volatile Mr. Hyde from the Robert Louis Stevenson story. None other than Leonard Nimoy played this personality-shifting force with ease (and terror), prompting the film's most famous scene and a generation of children to fear librarians.
7. Himself in The Simpsons (1993, 1997)
Nimoy did two unforgettable cameos on The Simpsons: one in 1993 and again in 1997. Like most celebrities appearing on the show, he was a bit of a non sequitur, but a memorable one at that. Who else could watch a solar eclipse and proclaim: "The cosmic ballet goes on!" and spoof another famous science fiction show, The X-Files?
8. Dr. William Bell,Fringe (2009-2012)
J.J. Abrams's smash (yet short-lived) series Fringe featured Nimoy as the enigmatic Dr. William Bell. His character wasn't a constant on the show, but he was a valuable foil for others, moved along the plot in pivotal ways and got to drop a handful of good one-liners: In one scene, Walter, a central character, greets him by saying, "I see you've aged." Bell fires back instantly: "It appears I'm not the only one!"
9. Sentinel Prime, Transformers: Dark of the Moon (2011)
Nimoy had a penchant for being a calming presence in his various acting gigs, and his role voicing the autobot Sentinel Prime in Transformers: Dark of the Moon was no different: "So majestic and peaceful, this planet," says Sentinel Prime, voiced by the the husky-toned Nimoy. "Never mourn the past, young warrior," he later tells Optimus Prime. Words for life, Nimoy.
10. Himself in The Big Bang Theory (2012)
Leonard Nimoy was the master of the meta celebrity cameo. In the nerdy sitcom The Big Bang Theory, he appeared as himself to impart some wisdom on Sheldon in a dream—as a tiny figurine of Spock. "Remember, like me, you also have a human half," he says with a knee perched, Captain Morgan–style.