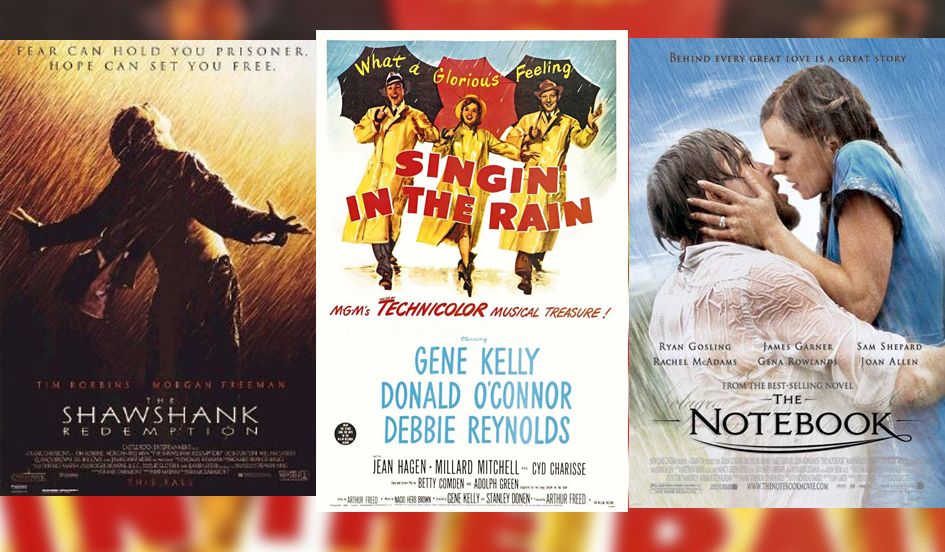 "Oh, the weather outside is frightful.…" Just kidding, it's not Christmas carol season just yet and the weather is not yet frightful—at least not in the snowy, icy way "Let It Snow" intends. Nevertheless, the threat of Hurricane Joaquin along the East Coast and the otherwise wet, chilly, gray weather calls for a list of rainy scenes to hunker down in front of with a warm blanket and a big mug of tea or hot chocolate.
Some of these iconic rain scenes are uber romantic, like in The Notebook, Breakfast at Tiffany's and Singin' in the Rain. Others are symbolic, as in Magnolia; revelatory, like in The Truman Show; or scary, as in Jurassic Park. Or weird in a way that only barely makes them eligible for this list, like in Bowfinger.
So, without further ado, here are 10 rainy day movies, an ode to onscreen precipitation. Many of the titles are available for rent on iTunes or to stream on Netflix.
The Notebook (2004)
Available for rent on iTunes.
Kissing in the rain was hardly a new movie concept when the protagonists of The Notebook, played by Ryan Gosling and Rachel McAdams, gave it a go. But their passionate reunion after years apart gave the old trope a whole new meaning. The movie captured the hearts of viewers and became an iconic scene in a favorite romantic drama.
Blade Runner (1982)
Available for rent on iTunes.
"I've seen things you people wouldn't believe. Attack ships on fire off the shoulder of Orion. I watched c-beams glitter in the dark near the Tannhäuser Gate," says replicant Roy Batty, played by Rutger Hauer, at the end of this Ridley Scott film. "All those moments will be lost in time, like tears in rain."
Singin' in the Rain (1952)
Available for rent on iTunes.
"I'm singin' in the rain. Just singin' in the rain. What a glorious feelin', I'm happy again," sings Gene Kelly in the classic title song of this 1952 movie musical. Starring alongside Debbie Reynolds, he plays a movie star who breaks out in song and dance in the puddles and pouring rain after a goodnight kiss with the leading lady. It's the brightest rain scene you may ever see: "I'm laughing at clouds. So dark up above. The sun's in my heart. And I'm ready for love."
Bowfinger (1999)
This late-1990s movie starring Steve Martin, Eddie Murphy and Heather Graham doesn't actually have a rain scene. But its film-within-a-film premise sees the characters working to create a sci-fi movie called Chubby Rain, "because when the aliens come down to Earth, they come inside raindrops, making the rain chubby."
Breakfast at Tiffany's (1961)
Available to stream on Netflix and to rent on iTunes.
In this classic 1961 film, Audrey Hepburn plays a New York socialite named Holly Golightly. The famous rain scene depicts Holly and her love interest searching for her cat in the rain.
The Shawshank Redemption (1994)
Available for rent on iTunes.
Andy Dufresne, played by Tim Robbins, spent 20 years in prison for the murder of his wife and her lover in this 1994 movie. In this epic rain scene, Dufresne escapes during a storm and lets the rain wash over him.
Say Anything… (1989)
Available for rent on iTunes.
This late-1980s romantic comedy starring John Cusack and Ione Skye as high school seniors has Cusack as Lloyd Dobler calling his sister from a payphone in the rain after Skye, as Diane Court, breaks up with him.
Magnolia (1999)
Available for purchase on iTunes.
It's often raining in Magnolia, but the most epic "rain" scene doesn't involve liquid precipitation, but rather a downpour of frogs.
Jurassic Park (1993)
Available for rent on iTunes.
Steven Spielberg's 1993 movie has a Tyrannosaurus Rex breaking out of a dinosaur theme park. The creature's footsteps make cups of water shake ominously in the car where visitors are stuck during a power outage. Rain falls throughout, streaking the car's windows and adding to the sense of gloom and doom.
The Truman Show (1998)
Available for rent on iTunes.
Jim Carrey plays Truman Burbank in this 1998 film, which also stars Laura Linney and Ed Harris. Burbank is an insurance salesman who begins to notice something off-kilter about his world. The rain starts suddenly in this scene in just one small stream right above his head, like a spotlight, and contributes to his ultimate revelation that...well, no spoilers here (even if the spoiler statute of limitation should be up after this many years).