12 Writers Share Their Moms' Weirdest Email and Facebook Habits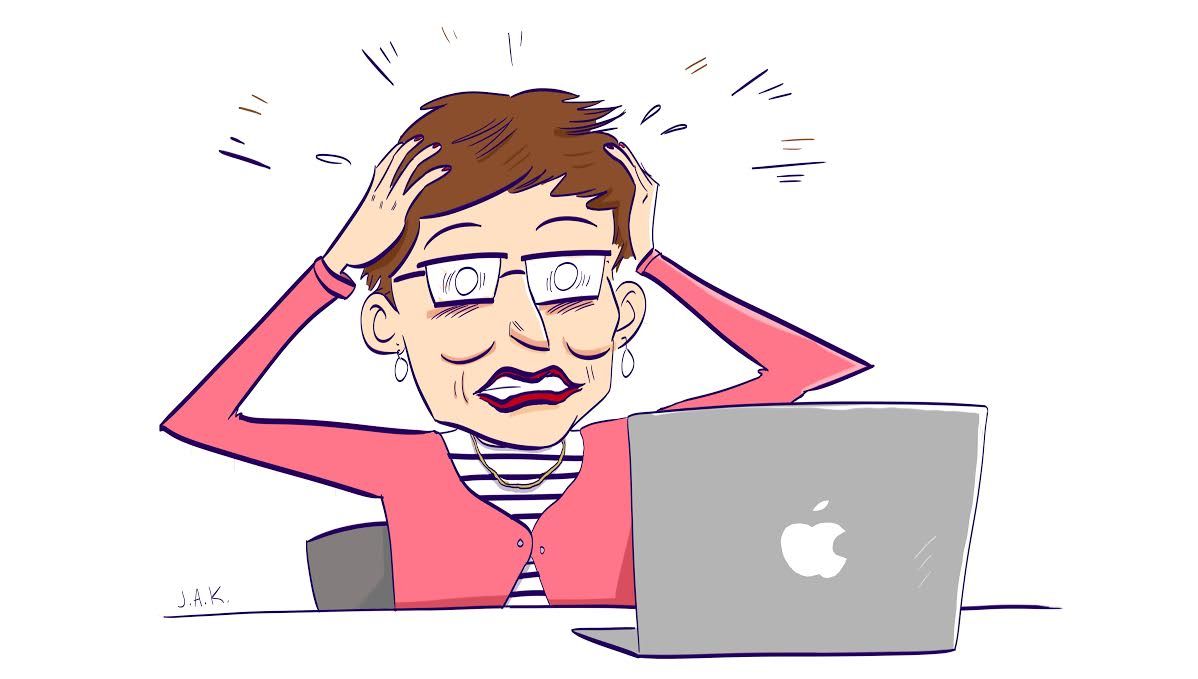 If you have a mom and your mom has Internet, you probably have stories of your mom's email and Facebook use. Maybe yours is one of those moms who fits the entire email into the subject line, leaving a lot of white space and a "Sent from my iPhone" signature. Maybe your mom is deep into the viral content sharing abyss. Or maybe your mom is way too into Comic Sans, using it for otherwise somber missives.
For Mother's Day, we're celebrating the many ways our moms make our online lives more interesting. We asked 12 writers, artists and other online types to tell us about how their moms use email and Facebook. (And grandmas! Don't forget the digital-savvy grandmas.) Soak in the awkwardness. And don't forget to email your mom.
DYLAN LOVE, Writer for the Daily Dot
"My mom meets a lot of new people when she's out and about because she's affable and lovely. Despite living many states away from New York, she seems to have a special penchant for meeting parents of single women who live in Manhattan. Mom will commonly email me a subject line that's a girl's full name, with a one-sentence message to the effect of 'Met her mom in line at the grocery store, look her up on Facebook.'
"For better or worse, I never have."
LYNN BIXENSPAN, Writer/Comedian
"My mom tells [my dad] to check Facebook chat to 'see if I'm home' or not. She doesn't get that I could be on it on my phone. Sometimes she messages me on there and writes long, email-length chats and signs them all 'Love, Mom.' She also just recently discovered texting, and will text me at 12:30 a.m. to just say 'Nite!' I'm like, 'Are we dating?!'
"And, possibly most impressive, my 87-year-old Nana is on Facebook. She told me that one of her New Year's resolutions for 2015 was 'to use Facebook more.' I fully support it!"
PERFUME GENIUS, Musician/Songwriter
"My mom had a Facebook profile for a mouse they were trying to catch in her house. After they caught and killed it, she changed the profile pic to a ghost rat and it spoke from the grave. She also has one for a dog that only posts in Spanish, and the rat, dog and my mom all comment on each other's posts."
MEGAN KOESTER, VICE Contributor and Comedian
"My mother is an unwavering supporter of my Facebook presence—it is impossible for me to post something on the social media platform she does not 'like.' Highlights include:
'Liking' a tasteless 9/11 joke I made in the comment thread of someone she is not friends with
Liking' a post I made in a birthday party event invite wherein I negged the birthday boy by informing him I was respected by more of our mutual peers
'Liking' a post I made about my desire to have coitus with English pop rocker Nick Lowe
'Liking' a life event I created entitled 'Wore a "This is What a Misandrist Looks Like" Shirt to a General Meeting.'
She has also called me, on the telephone, to express excitement over the fact that Merrill Markoe, my Facebook (and 'IRL') friend, accepted her friend request. Merrill has, as of press time, 3,082 Facebook friends. My mother has 61."
POLLY MOSENDZ, Reporter for Newsweek
"My grandma is pretty high tech; she has an iPad and is getting an iPhone soon. She spends a lot of time reading the news on her iPad, particularly Ukrainian media. So her go-to email tactic is to send me a Ukrainian blog post or news story, then send a follow-up email with a translation, and in some cases, a third email with a different source reporting on the same story. She's on Gmail, so she's learned to create different email threads for different topics. Honestly, it's pretty helpful to my work. She's really quick. And her sign-off is great. It's in all caps: 'LU BBS.' It means 'Love you, Babusia' (a Ukrainian word for grandma). My grandma gets abbrevs."
LAURA MCNEILL, Novelist and Author of the Forthcoming Center of Gravity
"My parents live outside Buffalo, New York. I live in Mobile, Alabama, and talk to them several times a week. Mom is on Facebook regularly, but when it comes to any big event in my life (a large speaking engagement, a book award, etc), I get 60 immediate comments on a post, but my mom, with great consistency—and heartfelt pride in her author daughter—posts two weeks later.
"I'm positive that even if I won the Pulitzer, my mom's comment on Facebook would roll in precisely two weeks later!"
ED ZITRON, PR Person, Inc Columnist and Author of This Is How You Pitch
"My mother only started using email a few years ago (through necessity of managing a luxury house in Wales), which also included her first times using a laptop that weren't necessarily 'Okay, what do you want to order from Waitrose.' This is no insult to my mother at all; she simply didn't need to do it. However, she now writes quite long, quite detailed emails. Full updates on her life, which are quite lovely, as we live over 3,000 miles away. Likewise, our entire email exchanges are oftentimes 1,000-word updates on our lives, almost like being a pen pal with your mother. Her grammar and general typology are amazing considering she just really got used to a keyboard. As one might expect, because she is not a constant computer user, I will receive an email from her every week or so that is much, much larger and requires significantly more attention than the others, spread out over the week."
RYAN CREAMER, Comedian
"My mother loves communicating with emojis and the little cat on Facebook Messenger. She is as excited to exchange emojis as people are to exchange gifts on Christmas morning. It's an infectious excitement that makes me laugh and appreciate how important loving the little things are."
Exhibit A: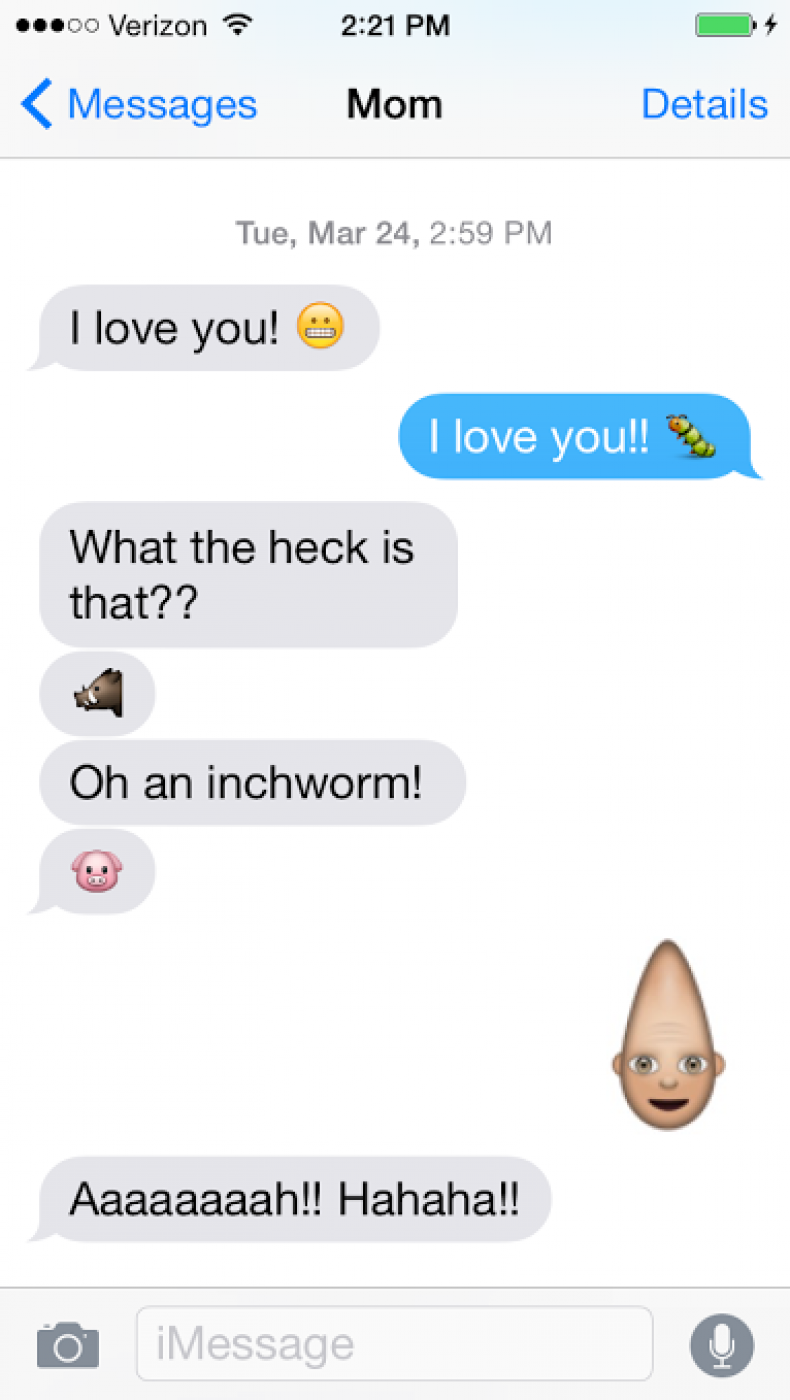 Exhibit B: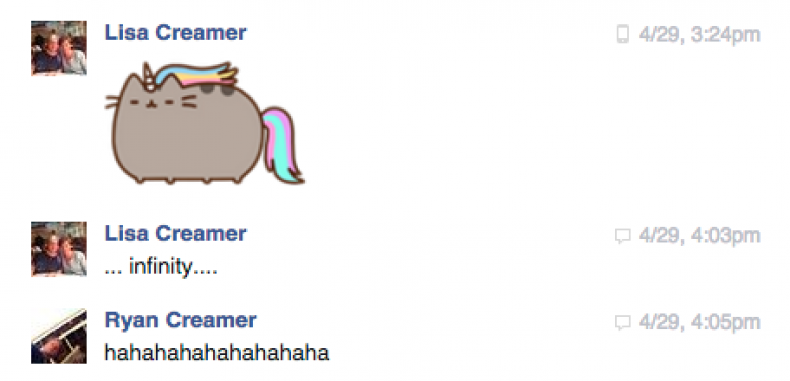 M.A, A Social Media Director Who Asked Not to Be Identified by Name
"My mom still has an AOL email address. Sometimes she sends me one- or two-line emails with made-up acronyms. Making up acronyms is her favorite thing to do and I have to guess what in our recent conversations she might be referring to. One time she signed off an email telling me to have a good weekend with 'make it noble.' This sign-off never resurfaced. Another time she emailed me with 're:' before the subject line on a topic there was no existing thread for. The subject matter was Dairy Queen's free cone day. Her email address has 10 numbers at the end. She is the only one that has it memorized. The first part is the name of our childhood dog who has since passed and apparently is a common email address unless one adds 10 random digits."
KEVIN NGUYEN, Editorial Director at Oyster
"My parents don't really write me emails. They just forward me a lot of things. The last three or four things my mom has sent me are various things that needed editing: my cousin's college essay, my sister's cover letter, as well as an internship application. I think this happens because I'm the only person in the family that's ever had a job with the word 'editor' in the title, which must mean my expertise is fixing typos in résumés."
ELIJAH WOLFSON, Senior Editor at Newsweek
"My mother and father both have unique email patterns; they have barely spoken for the past decade and a half, so it's not too surprising that they are also completely different. My mother's email habits have actually changed over time. At first, they were rambling, as though this would be the only chance for her to get what she wanted to say in front of my eyes. When she started to seriously text, about two years ago, they became more concise and to-the-point. But still, some patterns have held. She still sends a broken link almost every time she wants to share an article (I have to add the 'l' to '.html') and she always signs off 'Love, Your one and only, MOM.' "
FÉLIX J. PALMA, Author of The Map of the Sky, The Map of Time and The Map of Chaos
"Many people mix up the names of my Victorian trilogy (The Map of Time, The Map of Sky and The Map of Chaos). My mother is one of them. She is very active on Facebook and is always posting my book reviews and events on her wall. A couple of weeks before a Map of Chaos presentation in my local town, she started promoting and announcing it on her page. Most of her friends agreed to come to the event. We were expecting a large turnout but, the day of, only half showed up. The other half went to a location that was empty. My mother had mixed up my titles and shared the address of an event I did for The Map of the Sky two years ago in a different location."
Original illustration by Jason Katzenstein