The Tenaja Fire Has Already Scorched 2,000 Acres in Southern California
A blistering fire emerged from hillside terrain near the southern California town of Murrieta on Wednesday afternoon, searing 2,000 acres in less than a day and prompting evacuation orders for multiple residential areas.
Firefighters responded to the Tenaja fire in Riverside County, which sent up a giant plume of smoke at dusk. During the night, hillsides were ablaze in hot and windy conditions. The fire burned hillsides in unincorporated Riverside County and appeared to be headed east toward Wildomar and Murrieta.
Hundreds of firefighters are currently working on putting out the Tenaja wildfire, which was 7 percent contained as of 3 p.m. on Thursday. The fire is named after the road near where it was discovered around 4 p.m. on Wednesday in La Cresta, California.
"All mandatory evacuation orders remain in place. Firefighters remain on scene in strength as they work to fully contain and control the fire," the fire department said in a Thursday morning update.
The Murrieta Valley Unified School District announced it would be closed on Thursday, while Riverside public health officials have put out an advisory that urged residents in affected areas to limit outdoor activity due to the smoke and ash produced by the wildfire.
"Ash and smoke can be hard on anyone to breathe, but especially those with lung disease," Dr. Cameron Kaiser, a Riverside County public health official said in a statement. "Everyone worries about the flames, but smoke can impact you even if you're miles away from the fire."
The smoke and ash advisory was issued by Kaiser for portions of Southwest Riverside County, including the Murrieta, Temecula and Lake Elsinore areas.
It said that those with respiratory or heart disease, older adults and children should remain indoors with the windows and doors closed.
Fire officials have not declared a cause of the fire.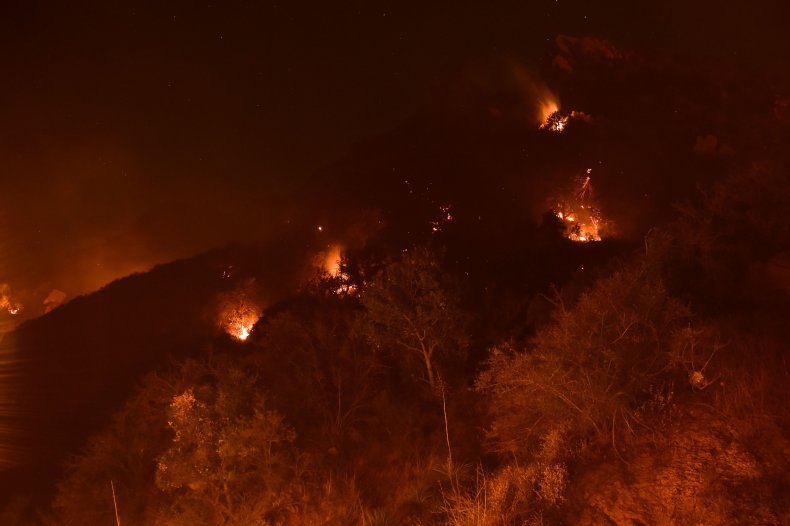 According to the Riverside County Fire Department, the rapidly spreading fire had only burned through 25 acres when it was initially reported but spread to 994 acres in less than four hours.
Officials have set up an evacuation center at Murrieta Mesa High School, located at 24801 Monroe Avenue.
The County of Riverside Emergency Management Department has posted an evacuation map for residents to check if they are within an evacuation area.
Evacuation orders were issued Thursday afternoon for Montanya Place, Botanica Place, Belcara Place and Lone Oak Way—all in the city of Murrieta, 80 miles south of Los Angeles. On Wednesday, residents were out of The Trail Circle in La Cresta, and an order for Santa Rosa Plateau Visitor Center was issued.
Evacuation orders are mandatory. If you are under an evacuation order, you should leave now, according to the Emergency Management Department. Evacuation warnings, on the other hand, are voluntary and and suggest that should be prepared to leave with little notice.
Correction (9/5 11:50 p.m.): This article has been updated with the correct name of Botanica Place.