Rent Strikes Gather Steam As Campaigners Call For Payments To Be Waived Completely To Help People Survive COVID-19 Crisis
Jackson Freasier didn't pay his rent on April 1. He won't be able to pay in May either.
He is among the millions across the U.S. unable to work or laid off due to shutdowns in place because of the coronavirus pandemic. In Austin, Texas, where he lives, officials have imposed a two-month moratorium on evictions.
Cities including New York, Los Angeles and Chicago and states including Texas, Connecticut and Pennsylvania have also temporary banned evictions, although eviction cases can still be filed in some places.
But that's not enough, Freasier says, because those left without an income have no idea when they'll be able to work and make enough to pay their rent again. In the meantime, he and many others are also accruing "enormous" late fees.
Freasier, a manual laborer, has joined almost a dozen residents in his building in a rent strike after discussing how the shelter-in-place order would affect their ability to pay rent. "We came to the conclusion that we couldn't and that we needed a strategy for dealing with that," he told Newsweek.
Freasier said his building's management only allows residents some relief with "very specific" proof of their employment situation. Even then, it doesn't help their situation, because they can't agree to a payment plan without any income. "Payment plans don't work for us right now. We aren't making income and we don't know when we will again," he added.
He said he joined the Rent Strike ATX campaign with the hope of bringing landlords to the table to negotiate with tenants. He added: "While shelter-in-place is in effect, we shouldn't have to choose between rent payments, and affording food and medicine, because we can't. We don't think anybody should be pushed out of their homes especially in a time of crisis like this."
Rent Strike ATX say despite the 60-day grace period for tenants to come up with rent in Austin, "unemployed renters will continue to fall behind, accrue late fees and face eviction."
The idea of rent strikes has gathered steam in recent weeks in other places across the U.S. and abroad. Social media is awash with pictures of people hanging white sheets and banners from their windows to indicate they won't be paying.
Many tenants unions and campaigners say the only way to help renters through the crisis is for rent payments to be waived completely for the foreseeable future.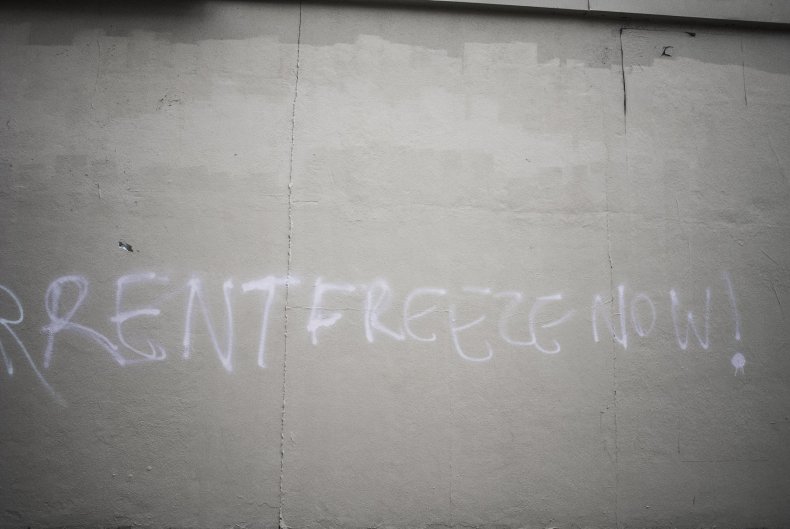 A group called Rent Strike 2020 is organizing a campaign on a national level, calling for governors to freeze rent, mortgage and utility bill payments for two months or face a strike. On its website, the group said it collected two million signatures within 48 hours of starting a petition.
Another petition, urging New York City mayor Bill de Blasio and New York Governor Andrew Cuomo to "freeze" rent payments for all residents in the city hardest-hit by the pandemic, has amassed almost 95,000 signatures.
In New York, a three-month moratorium on evictions has been imposed and mortgage payments have been suspended for 90 days for those affected by the crisis, but Cuomo is yet to offer similar relief to renters.
Democratic Senator Mike Gianaris, from Queens, New York, has introduced a bill that would provide rent relief for people and businesses struggling due to the crisis. "Tenants can't pay rent if they can't earn a living. Let's #CancelRent for 90 days to keep people in their homes during the #coronavirus crisis," Gianaris wrote on Twitter.
Other politicians, including Democratic presidential candidate Bernie Sanders and New York Congresswoman Alexandria Ocasio-Cortez, have expressed support for rent moratoriums, if not a strike.
But Ivan Contreras, who is with non-profit Woodside On The Move based in the Queens borough of New York City, said rent payments shouldn't just be suspended, but forgiven altogether because those out of work won't be able to afford to pay back rent later.
Contreras, who says he's organizing a rent strike in 10 buildings with more than 5,000 tenants, told Newsweek that his tenants have sent letters to landlords asking for rent cancelations or forgiveness but so far, the response has not been positive.
"Basically my tenants do not have the money to pay rent," he said, adding that many are hourly workers who cannot work from home or are being offered less work due to the shutdown.
"Some of them don't have an immigration status in the county so it's been hard for them. The jobs they do to survive are basically jobs they cannot do from home. They are being laid off, but some of them they still working and risking their lives by going outside."
Contreras added that a "small percentage" of his tenants are able to continue working from home and can afford their rent, but have joined the strike in solidarity with those who can't.
He said the moratorium on evictions in the city is "a first step," but it won't help tenants pay their rent. "No matter what, the rent strike will happen because people don't have money to pay rent," he added.
Maxwell Paparella said the majority of people living in his building in Crown Heights in Brooklyn are participating in a rent strike. "Many of our neighbors are out of work because of the COVID-19 epidemic. Others are striking in solidarity with those who cannot pay," he told Newsweek.
Paparella, part of the 1234 Pacific Street Tenant Association, said he and other residents who live in his building tried to "collectively bargain" with their landlord, Isaac Schwartz, who he said owns around 50 buildings in the city.
"He did not respond to our offer, so on April 1 we went on strike," Paparella added. "We refuse to go hungry or without medical care in order to pay rent." Newsweek has reached out to Schwartz for comment.
Paparella said the group, as well as demanding Cuomo cancel rent and utility payments for all New Yorkers for the duration of the crisis, want vacant and subsidized units owned by the state to be made available for the thousands of people left homeless in the city.
The situation is also dire for the homeless and those from working class and immigrant backgrounds in Los Angeles, according to Walter Senterfitt, with the LA Tenants Union. "Whether or not people call it a 'rent strike,' there are thousands of our members and millions nationwide who could not pay their rent on April 1," he told Newsweek.
In the mostly working class and immigrant neighborhood of Boyle Heights, Senterfitt said more than half of residents have lost their jobs, but many "were already living at the margins with no savings or economic buffer." He said California's moratorium on evictions is insufficient for "low-income renters in communities like Boyle Heights, many of whom may be without an income for several weeks or months."
Senterfitt said the union's demands include a "rent holiday" for tenants, free utilities and anti-harassment measures to protect them from landlords. He said the group is also campaigning for evictions of homeless encampments to cease and a suspension of enforcement by the U.S. Immigration and Customs Enforcement (ICE).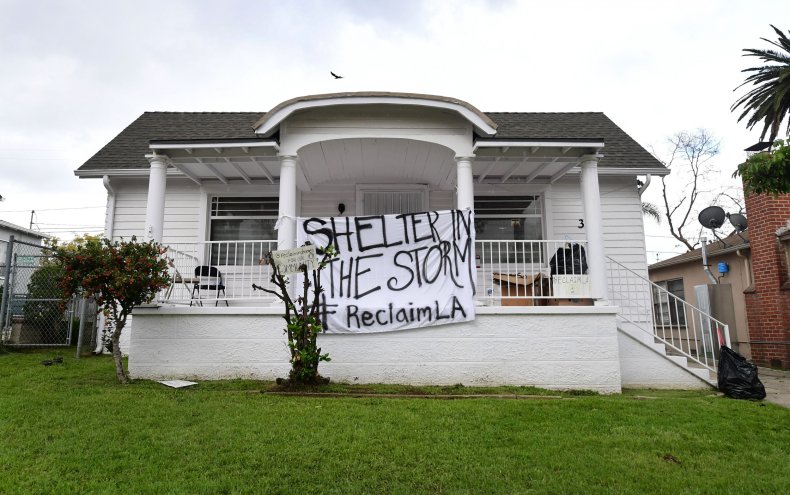 He said the union is encouraging renters to join its "Food Not Rent"campaign and offering instructions on how to demand rent forgiveness from landlords.
The campaign is aiming to get attention by holding socially distanced protests, like the one held at the start of this month in Boyle Heights where demonstrators brandished signs bearing slogans like "Choose food, not rent."
But Judith Jones, the vice president of the Philadelphia Tenant's Union said a rent strike should be "a last measure." Instead, she urged renters to negotiate with landlords as "some are amenable to working with their tenants" and urged city and federal officials to "do the right thing" and earmark funds to help tenants.
"Once the courts open back up, landlords are going to flood the court with petitions to get tenants out of their homes," she told Newsweek.
"The renters didn't create this situation. People are running for their lives right now. People's livelihoods have been affected. Everybody's life has been affected and we need city officials, we need federal officials to do the right thing and to help people."
But renters can help themselves, she added, by taking certain steps themselves.
The union has been circulating a document with advice on what struggling tenants can do before calling for a rent strike. Tips include collective negotiation with landlords and talking to neighbours one on one.
"A rent strike is a demonstration of collective power, while mass non-payment of rent is collective desperation," it says. "It goes without saying that many landlords do not care if you are desperate, and neither does eviction court. If your goal is a 'rent strike' but you have no income to begin with, then you have no financial pressure to leverage."
But Freasier, the manual laborer in Austin, is hopeful that a rent strike could have the desired effect. "In times of crisis like this, our strength is in our unity," he said. "When we stand together, we're very powerful but separately, we're easy to break."
This infographic, provided by Statista, shows the steep growth of COVID-19 cases in New York between March 16 and April 6.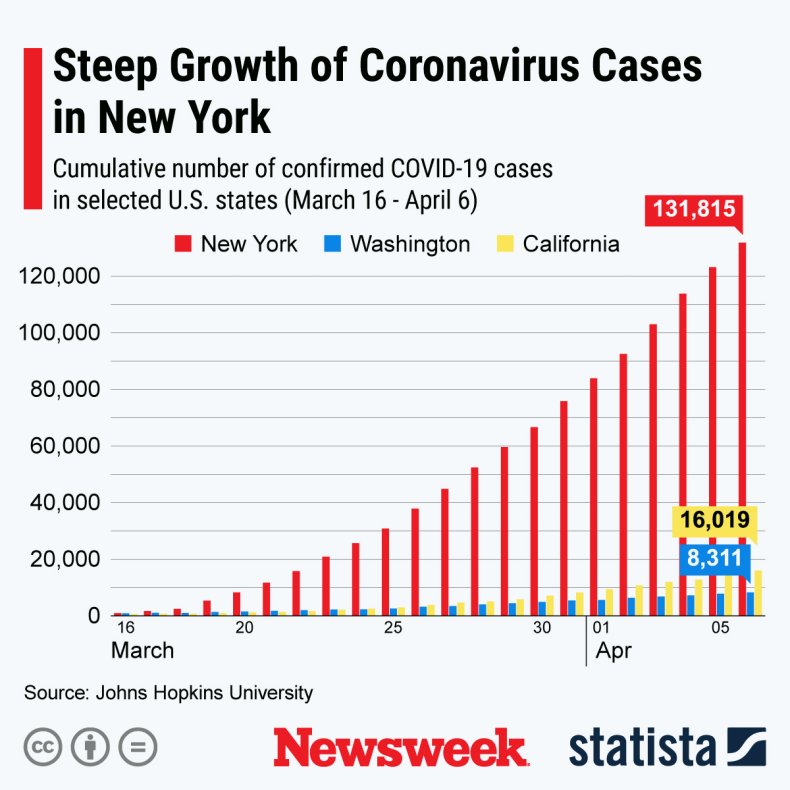 Centers for Disease Control and Prevention Advice on Using Face Coverings to Slow Spread of COVID-19
CDC recommends wearing a cloth face covering in public where social distancing measures are difficult to maintain.
A simple cloth face covering can help slow the spread of the virus by those infected and by those who do not exhibit symptoms.
Cloth face coverings can be fashioned from household items. Guides are offered by the CDC. (https://www.cdc.gov/coronavirus/2019-ncov/prevent-getting-sick/diy-cloth-face-coverings.html)
Cloth face coverings should be washed regularly. A washing machine will suffice.
Practice safe removal of face coverings by not touching eyes, nose, and mouth, and wash hands immediately after removing the covering.
World Health Organization advice for avoiding spread of coronavirus disease (COVID-19)
Hygiene advice
Clean hands frequently with soap and water, or alcohol-based hand rub.
Wash hands after coughing or sneezing; when caring for the sick; before, during and after food preparation; before eating; after using the toilet; when hands are visibly dirty; and after handling animals or waste.
Maintain at least 1 meter (3 feet) distance from anyone who is coughing or sneezing.
Avoid touching your hands, nose and mouth. Do not spit in public.
Cover your mouth and nose with a tissue or bent elbow when coughing or sneezing. Discard the tissue immediately and clean your hands.
Medical advice
Avoid close contact with others if you have any symptoms.
Stay at home if you feel unwell, even with mild symptoms such as headache and runny nose, to avoid potential spread of the disease to medical facilities and other people.
If you develop serious symptoms (fever, cough, difficulty breathing) seek medical care early and contact local health authorities in advance.
Note any recent contact with others and travel details to provide to authorities who can trace and prevent spread of the disease.
Stay up to date on COVID-19 developments issued by health authorities and follow their guidance.
Mask and glove usage
Healthy individuals only need to wear a mask if taking care of a sick person.
Wear a mask if you are coughing or sneezing.
Masks are effective when used in combination with frequent hand cleaning.
Do not touch the mask while wearing it. Clean hands if you touch the mask.
Learn how to properly put on, remove and dispose of masks. Clean hands after disposing of the mask.
Do not reuse single-use masks.
Regularly washing bare hands is more effective against catching COVID-19 than wearing rubber gloves.
The COVID-19 virus can still be picked up on rubber gloves and transmitted by touching your face.