George Clooney Had His Own "Tender Bar" Growing Up: the "Bucket of Blood"
The Tender Bar is a story about a child spending too much time in a bar, and director George Clooney can relate.
The movie is an adaptation of journalist J. R. Moehringer's memoir, but Clooney drew from his own childhood experiences in what his mother used to call the "Bucket of Blood" bar. The Tender Bar stars Ben Affleck, Tye Sheridan, Lily Rabe and Christopher Lloyd, and comes out on Amazon Prime Video on Friday January 7, 2022.
Clooney spoke to Newsweek during the premiere of his movie at the BFI London Film Festival about the joy he found hanging out in a bar as a child, making The Tender Bar during a pandemic, and how he got his old pal Affleck on board.
Comparing American bars and British pubs
Clooney married human rights lawyer Amal in 2014, and he now lives with his wife and their twins in Oxfordshire, England. Fitting in with his surroundings, he's become fond of The Bull Inn, a 16th-century pub in Sonning Eye. Clooney's new "local" is a world away from the American bars which he grew up in.
He told Newsweek: "The Bull which is the one close to me is an absolutely spectacular pub that we walk to, and it's a little more elegant than the one I was growing up in which my mom called 'Bucket of Blood'."
The Tender Bar features a young boy searching for a replacement father figure, which he duly finds in the surroundings of The Dickens bar, run by his uncle Charlie (Affleck).
"I grew up working at 12-years-old at a racetrack with my Uncle George, who was a pretty good drinker," Clooney said. "And I'd end up at the bar getting him cigarettes, and I knew all the characters, and it was fun.
"So this is a film more about sort of coming of age and figuring out how to grow up."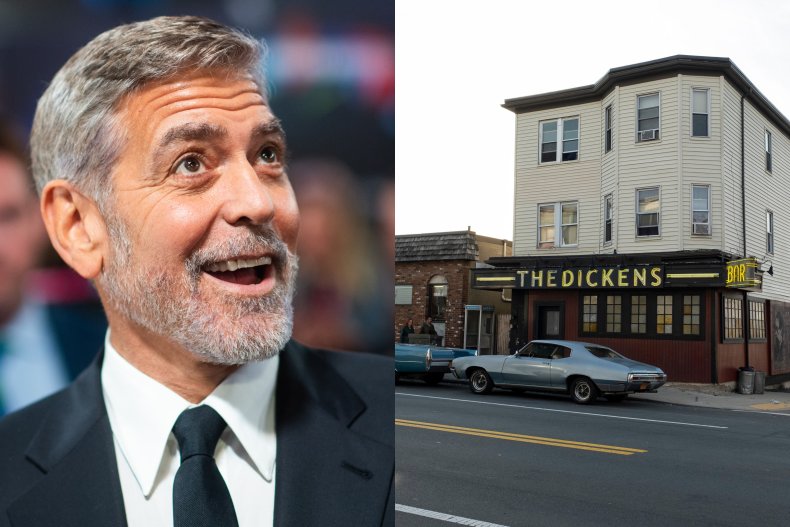 While Clooney had the time of his life as a child, he knows that's not for everyone, "Listen, I'm not advocating kids growing up in bars obviously but it was fun for me growing up. I enjoyed it."
Once Clooney got out of the bars and into acting classes, he met a friend who would eventually become his long-time collaborator, Grant Heslov. The pair under their production banner Smokehouse Pictures have produced movies like Argo, The Ides of March, The Men Who Stare at Goats, and now The Tender Bar.
"Well I'm the brains and he's the looks, so it's a perfect combination," Heslov joked with Newsweek. Delving into why their dynamic actually works, he said: "We were friends well before we ever were partners. We met when I was 19 and he was 21 in acting class. Because we're friends that sort of informs everything we do, but mostly we just we have fun. We've always said, 'if it's not fun anymore, let's stop doing it'."
Casting The Tender Bar
As Charlie Moehringer, Ben Affleck plays an important paternal figure to J.R. in the movie, and he's already been recognized with a Golden Globe nomination for his performance.
Clooney and Affleck have collaborated before, most notably on the Oscar-winning Argo. When it came to recruiting Affleck for The Tender Bar, Clooney admits it was surprisingly easy. "I sent him the script and he wrote me back about three hours later. Clearly he'd read it, and he said 'I'm in. What do I do?'
"And that's nice," Clooney continued," Once you know an actor wants to do that, you're in pretty good shape as a director."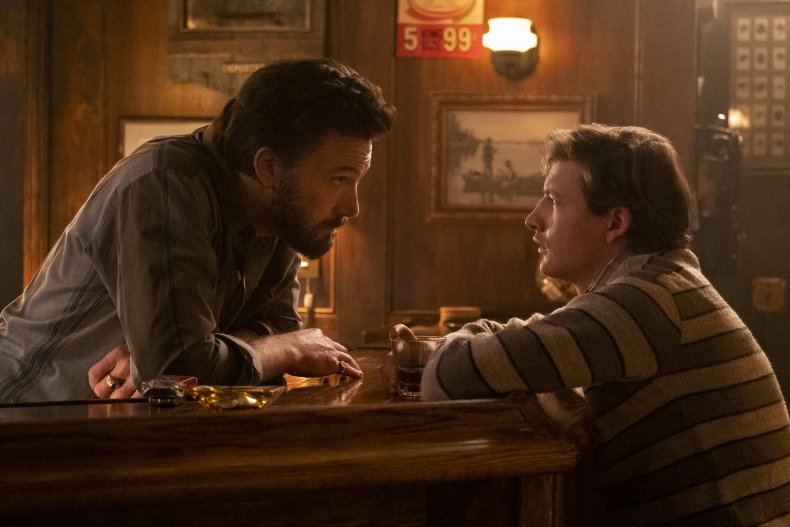 When it came to casting the lead, J.R. Moehringer is portrayed by three actors across time: newcomer Daniel Ranieri, Ready Player One's Tye Sheridan, and Office Space star Ron Livingston.
On the casting of Sheridan, Clooney says he knew he'd found his lead as soon as he auditioned. He said: "The minute he read for it, I was like, 'well this young man' — I always say kid and people get mad — 'this young actor is really spectacular'.
Clooney was also thrilled with the addition of Lily Rabe (American Horror Story) as Dorothy Moehringer who he says "makes everything better."
Returning the compliment, Rabe told Newsweek how it felt to be directed by Clooney. "He's so open hearted, and he's so joyful," Rabe said, "You feel like no matter how many movies he's made, that he genuinely appreciates every day of being on a set and every day of work, and that feeling filters down across the set so quickly."
She added: "He's also a real actor's director, there's no one who understands it better so he gives you a ton of freedom. He doesn't ever make fear based decisions, nor does his wonderful producing partner [Heslov]."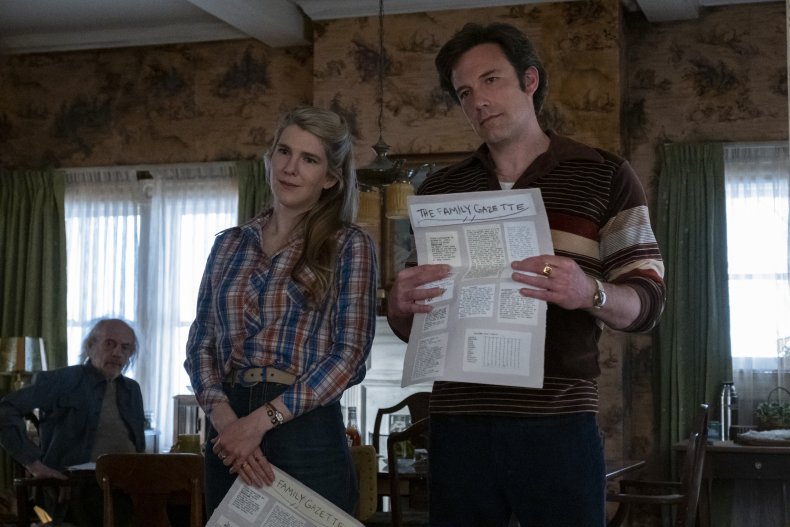 COVID "doubled and tripled" the workload
Production on The Tender Bar started in February 2021 and concluded two months later. Clooney found, like many other filmmakers before him, that shooting a movie during a pandemic made everything "slower and harder."
"It was difficult shooting during COVID," Clooney said. "Because everything gets doubled and tripled.
"Like if you were going to bring the crew to the set, you'd put 10 people in a van, now you can only put two in, so you get six more vans." He added, "So everything was slower and harder to do. It's hard to talk to actors when they're wearing a shield and a mask. All of that was tricky, but you get through it."
Clooney's movie The Tender Bar, starring Affleck, Sheridan and Rabe, launches on Amazon Prime Video on Friday, January 7, 2022.