'Tenet' Trailer: What Is 'Time Inversion' in the Upcoming Christopher Nolan Epic?
The latest trailer for upcoming Christopher Nolan blockbuster Tenet debuted in Fortnite on Thursday revealing some clues about the mysterious plot which is set to take viewers on a convoluted time travel journey.
Tenet is described as "an action epic evolving from the world international espionage" fronted by John David Washington (from BlacKkKlansman).
Before the latest promo, we knew that the movie focused on a group of secret agents working to prevent a third world war, but now it looks like there is some time travel involved.
The latest trailer offers a more detailed glimpse into the mind-bending premise and the concept of "time inversion."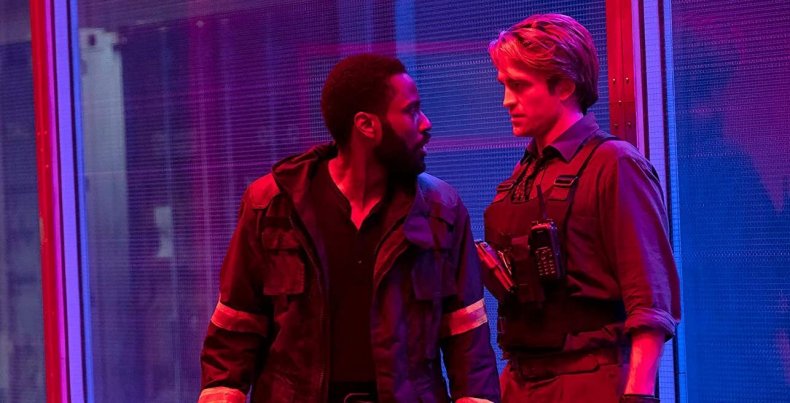 What is Time Inversion?
At one point in the promo, Washington's character appears to shoot a gun down a firing range when Clémence Poésy's character, a scientist, explains: "You're not shooting the bullet, you're catching it."
At another point, Washing has an exchange with Robert Pattinson's character: "He can communicate with the future."
"Time travel?"
"No, inversion."
Later in the trailer, Washington's character says: "This reversing the flow of time, doesn't us being here now mean it never happened?"
So what does this mean?
It's unlikely we will fully understand this new form of time travel Nolan is introducing until we see the movie, but it seems like the characters move through time in a way very different from how we've seen it portrayed on screen before.
For instance, the trailer shows a scene where Washington and Pattinson ponder a glass window full of bullet holes, but the incident "hasn't happened yet."
Perhaps this means the characters can exist in a reality outside of the normal restraints of time, predicting the physical manifestations of an event before said event has occurred.
Maybe the characters will have some sort of device to control it?
Other moments show what looks like a reverse car crash and the protagonist vertically scaling a building.
But something tells me it's not as simple as merely reversing time, but reversing certain elements outside of time in order to get a head start on the adversaries.
Perhaps they're working backwards from the pivotal conclusion, and figuring out how it was achieved by going back through time and living through the events in reverse.
Whatever it is, it's certainly making for some very interesting action sequences.
Washington appeared in a quick Q&A before and after the trailer on Fortnite's Party Royale game mode where he discussed the "nuggets of information and breadcrumbs" that were revealed.
"This seems like something different. it seems like this is where he's about to take us for the next 10 to 15 years of filmmaking," he said.
There is no straightforward explanation for the mechanics of time in Tenet right now – and there probably won't ever be. This isn't Marty McFly hopping into a DeLorean and hoping for the best.
Actors also starring in Tenet include Aarton Taylor-Johnson, Dimple Kapadia and Nolan favorite Michael Caine. Elizabeth Debicki and Robert Pattinson also star.
Tenet is scheduled to be released in theaters on July 17, 2020, however, this may change due to the ongoing coronavirus pandemic.