Tennessee Airport Arrests Two Men With Four Suitcases Filled With 159 Pounds of Marijuana
Two men who used air freshener to disguise the smell of the marijuana they were allegedly trying to smuggle were foiled by a sniffer dog.
Four suitcases full of weed arrived at Nashville International Airport from Oakland on Tuesday night.
Read more: Flight attendants ran million-dollar heroin smuggling operation, police say
But several officers, including a K-9 called Boston, found that the baggage had "a strong odor of air freshener coming from them and clear food-saver style vacuum sealed bags," according to WKRN News.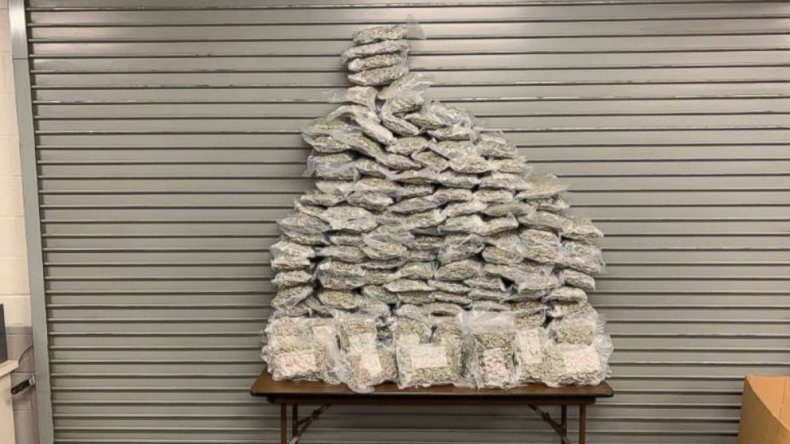 Metro Nashville Police were led to Trung Tieu, 40, of Philadelphia and Tihn Van Tran, 56, of Murphy, Texas, whose names were on the luggage tags.
Police detained the men when they got off their flight. Officers found several vacuum sealed bags of marijuana inside their bags, totaling 159.5 pounds of marijuana, which they believe the men were trafficking.
The arrest affidavit stated that both the men had two cell phones "that rang constantly" while being questioned by police.
Tran was released on Wednesday while Tieu is still being held on $50,000 bond. Court records show that the pair are both facing felony possession of marijuana charges with intent to sell, ABC reported.
Also this week, it was reported that drugs had been smuggled on an airline for several years via a crime syndicate in Australia.
Police said that crew for the Malaysia-based carrier, Malindo Air, a subsidiary of Indonesia's Lion Air, helped smuggle drugs on the bodies of cabin crew. Eight people, including a flight attendant, were arrested in connection with the operation.
Meanwhile, custom officers in Germany stopped a man who tried to smuggle a snake onto a plane after they spotted a suspicious bulge in his pants.
The 43-year-old was due to fly to Israel from Berlin-Schonefeld Airport on Christmas Eve.
Potsdam customs said officers noticed the man had "something in his trousers that didn't belong there," and found a small bag that contained a serpent around 16 inches long. They called it the "most curious find of 2018," The Local reported.