Tennessee Boy, 15, Catches Incredibly Rare White Catfish, Throws It Back
A rare almost entirely white catfish was recently caught by a teenage angler on the Tennessee River.
Edwards Tarumianz, 15, was taking part in a fishing trip captained by Richard Simms from Scenic City Fishing Charters on June 28 when he snagged the unusual fish, which belongs to the species Ictalurus furcatus—commonly known as the blue catfish.
This species, which is the largest species of North American catfish, is typically bluish-gray in color. But the specimen that Tarumianz caught was mostly white with some light pink areas on its fins.
"We were shocked when we saw it," Simms told Newsweek. "I'm not sure about Edwards, but I am well aware how incredibly rare it is. Most anglers fish their entire lives and never see one. I am 67 years old, have boated literally tens of thousands of catfish over the years and it was the first I'd ever seen in person."
"Of course, we saw it before we actually landed it so it was some very tense and nervous minutes until we got it in the net."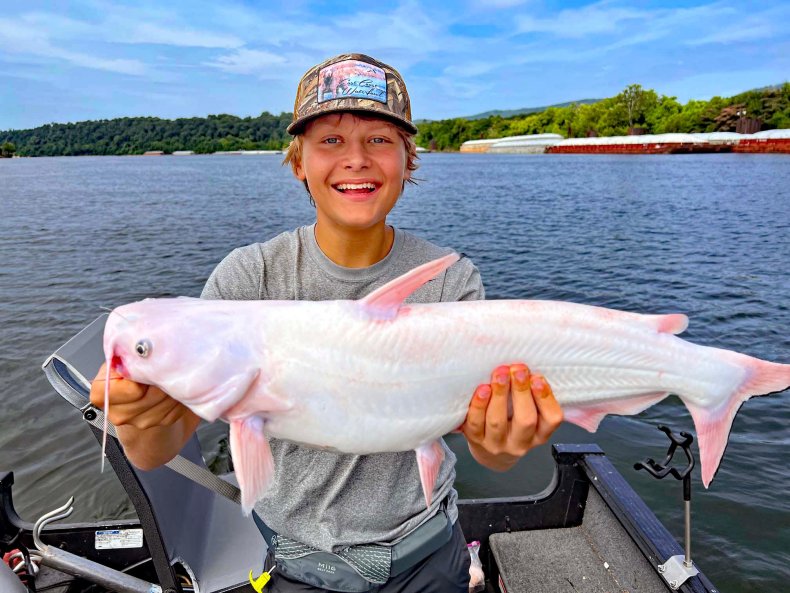 Simms said the catch was so unusual that had they not taken a picture of the fish, people would have found it difficult to believe.
According to the captain, the fish may have been a leucistic catfish. Leucism is a condition affecting various animals characterized by an overall pale color or areas of reduced coloring.
This condition is caused by a genetic mutation that inhibits the production of the pigment melanin, as well as others, leading to white, pale or patchy coloration in feathers, hair, skin or scales, although it doesn't affect the eyes.
There is also a possibility that the fish may be an albino. Albinism is another genetic condition that is characterized by an absence of melanin. Animals with albinism tend to have white hair, feathers, skin or scales, as well as pink eyes—in some cases.
Tennessee Wildlife Resources Agency (TWRA) biologists were unable to determine if the white catfish was an albino or leucistic.
"Regardless, we all agree that it is a great and rare catch," a TWRA spokesperson told Field & Stream.
According to Simms, the white catfish was released back into the water after the 15-year-old caught it.
"The youngster who caught it, Edwards Tarumainz, specifically said, 'Let's let it go so hopefully someone else can catch it again someday,'" Simms said.
The teenager also managed to make several other impressive catches on his fishing trip with Simms, with the captain describing him as one of the "most accomplished" 15-year-old anglers he had ever been around.
"It was a very special morning, capped off by a catfish unlike any I've ever seen before—and may never see again!" Simms said in a Facebook post.