Two Tennessee brothers who are under investigation after allegedly buying 18,000 bottles of hand sanitizer to sell at inflated prices on Amazon during the coronavirus outbreak say they are "truly sorry."
The New York Times first reported that Matt Colvin and his brother Noah Colvin had cleared store shelves of hand sanitizer, antibacterial wipes and medical masks in Tennessee and Kentucky before trying to resell them for profit online.
The brothers, of Hixson, Tennessee bought up supplies around Tennessee on March 1—the day after the first death from COVID-19 in the U.S. was announced, the newspaper reported. Noah Colvin spent the next three days driving 1,300 miles across Tennessee and Kentucky, filling up a truck up with thousands of bottles of hand sanitizer and wipes.
Matt Colvin said he posted 300 bottles of hand sanitizer for sale on Amazon between $8 and $70 each and quickly sold them all. But then the online retailer removed the listings, warning sellers they would be suspended if they price gouged, leaving the brothers with a massive stockpile.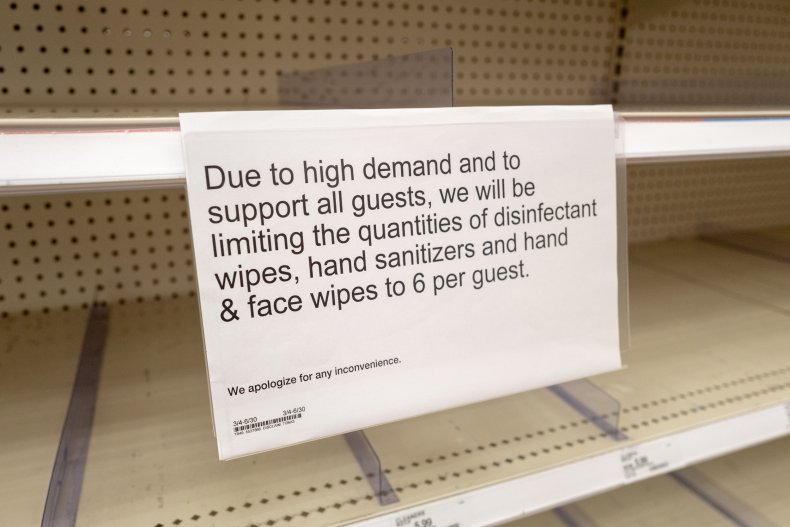 He told WTHR that he and his family had received death threats since making headlines.
"If by my actions, anyone was directly impacted and unable to get sanitizer from one of their local stores because I purchased it all, I am truly sorry for that," Matt Colvin told the station.
After their story appeared in the Times and other outlets, the Tennessee Attorney General's Office revealed they were being investigated for alleged price gouging. The office issued a cease and desist letter ordering the brothers to stop buying and selling medical goods.
"We will not tolerate price gouging in this time of exceptional need, and we will take aggressive action to stop it," Tennessee Attorney General Herbert H. Slatery III said in a statement on Saturday.
It came after Tennessee Governor Bill Lee declared a state of emergency on Thursday, which in part triggered an anti-price gouging law.
"This is a time where we have to focus on helping our neighbors, not profiting from them," Kentucky Attorney General Daniel Cameron added. "We're not going to tolerate selfish actions that put the health of Kentuckians at risk, and I'm grateful for Tennessee Attorney General Herbert Slatery's partnership in bringing an end to this harmful scheme."
Colvin had initially maintained that he would try to sell the items "for a slight profit" locally.
"But I'm not looking to be in a situation where I make the front page of the news for being that guy who hoarded 20,000 bottles of sanitizer that I'm selling for 20 times what they cost me," he told the Times. Later, he said he was looking into ways to donate the supplies.
On Sunday, the Times reported that a third of the items had been donated to a church so they could be distributed to those in need. The remainder of the supplies were taken by the Tennessee Attorney General's Office to be handed over to their counterparts for distribution in Kentucky.
World Health Organization advice for avoiding spread of COVID-19
Hygiene advice
Clean hands frequently with soap and water, or alcohol-based hand rub.
Wash hands after coughing or sneezing;
When caring for the sick; before; during and after food preparation; before eating; after using the toilet; when hands are visibly dirty; and after handling animals or waste.
Maintain at least 1 meter (3 feet) distance from anyone who is coughing or sneezing.
Avoid touching your hands, nose and mouth. Do not spit in public.
Cover your mouth and nose with a tissue or bent elbow when coughing or sneezing. Discard the tissue immediately and clean your hands.
Medical advice
If you feel unwell seek medical care early and call local health authorities in advance.
Stay up to date on COVID-19 developments issued by health authorities, follow guidance.
Mask usage
Healthy individuals only need to wear a mask if taking care of a sick person.
Wear a mask if you are coughing or sneezing.
Masks are effective when used in combination with frequent hand cleaning.
Do not touch the mask while wearing it. Clean hands if you touch the mask.
Learn how to properly put on, remove and dispose of masks.
Clean hands after disposing of mask, do not reuse single-use masks.