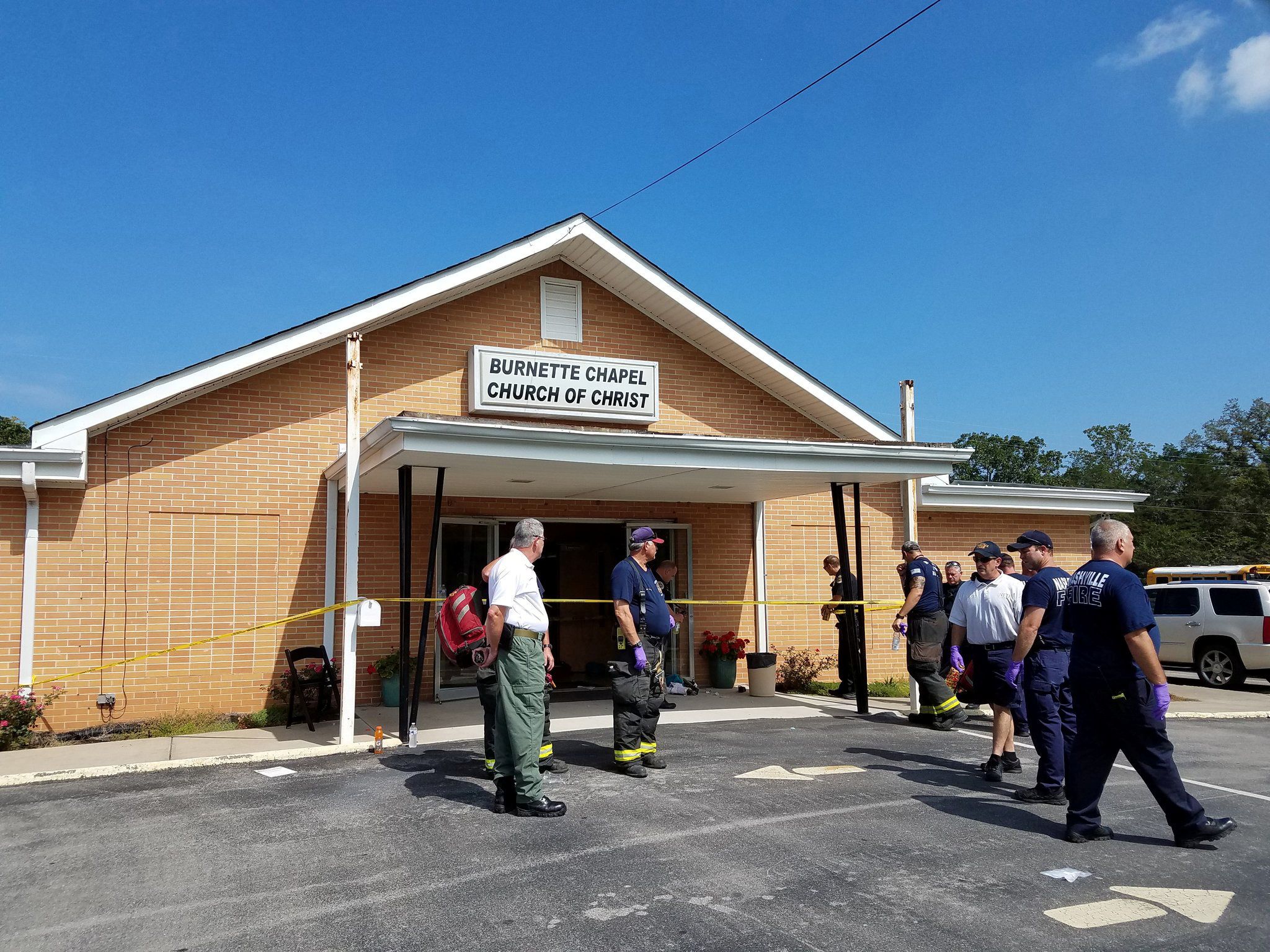 The man accused of opening fire in a Tennessee church, killing one woman and injuring seven others, wrote about suicide in journals and said he had visions of the church that he is accused of targeting in his attack.
The revelations were part of a court hearing Monday in the murder case against Emanuel Samson, which also included a detailed timeline of how the shooting unfolded and offered a glimpse into Samson's troubled mind but calm demeanor after last month's attack at the Burnette Chapel Church of Christ in Antioch, Tennessee.
"He was kind of indifferent," Nashville Police Detective Steven Jolley said of Samson, adding that Samson mumbled through most of the two-hour interview he gave after the September 24 shooting where he admitted to opening fire outside the church.
Jolley said that at one point, Samson, 25, broke down in tears when he was asked about "hurt and pain," but for the most part he was calm and cooperative. Samson told authorities he heard voices in his head and had visions, including one of the church he's accused of targeting. When questioned about the visions and voices, Samson was incoherent, Jolley said.
Jolley told the court that authorities found a handwritten note that had been torn out of one of his journals on the dashboard of Samson's car. The one-sentence note mentioned the 2015 shooting in Charleston, South Carolina, where Dylann Roof targeted a black congregation and killed nine people.
Jolley said he remembers the note claimed that Roof was less than nothing.
But Samson told police that he wasn't motivated by race or religion. Jolley said authorities haven't been able to find a clear motive or reason why Samson targeted that particular church.
When asked, Samson told Jolley he'd been driving all morning, was tired and pulled into the church's parking lot.
Authorities also searched Samson's home and found several journals, including one in his room from 2014 in which he'd written about suicide several times, Jolley said.
Both Jolley and Robert Engle, the man credited with stopping the attack, took the stand Monday. It was the first time Engle shared much of the story of how he prevented further carnage.
Engle told the court the first sign of an attack was a barrage of pops outside that sounded like fireworks. His pastor, who was standing near the exit of the church, shouted, "He's got a gun, run!"
Engle, along with many of the 43 people in the church, ducked between pews and saw that Samson had a black handgun. He was waving it around and opening fire at random, including in the direction of the pastor.
Engle said he waited to make his move until Samson had his back to him. When he tried to grab the gun from behind, Samson pistol-whipped him three times in the head, he said.
Engle fell but decided to try again.
Samson made his way down a line of pews, and Engle approached and tried wrestling the gun from him, Engle told the court. That's when Samson accidentally shot himself in the shoulder.
Engle shouted that the shooter was down and asked, "Is everyone OK?"
His father kicked the gun away and stepped on Samson's hand. Engle rushed out to his truck and grabbed his gun, then put his foot on Samson's back and "held him there" until authorities arrived, Engle told the court.
Authorities had responded to several calls involving Samson before the attack, including one in June, where his father pleaded for police to take away his son's firearms after Samson's suicidal statements. Police did not take away Samson's guns.
On Monday, Judge Allegra Walker ruled that Samson's case would being handed over to a grand jury for prosecution.