Elderly Tennessee Man Protected from Venomous Snake by New Shelter Cat: 'I Think the Lord Sent the Cat to Us to Save My Dad'
A Tennessee woman has said a new pet cat potentially saved her elderly father's life last week by killing a venomous snake that was able to slither into his home.
Teresa Seals has said her father recently got the cat, named Shelly, from the Claiborne County Animal Shelter. The man, 81-year-old Jimmie Nelson, wanted the pet for companionship and it was recently brought to live at his Speedwell home, WHAS reported.
"When I met her, I knew she was the one," Seals wrote on Facebook about the new animal, sharing multiple images of Shelly at the home alongside pictures her latest catch—a long copperhead snake.
According to Seals' social media post, her dad said he heard a sound in the middle of the night last Tuesday (September 24) but believed it was simply Shelly chasing after a mouse. She said in the 50 years Nelson had lived at the Claiborne County house he had never encountered a snake inside.
Two days later, last Thursday, a caregiver who went to the residence to check on the father found the copperhead under a table. It appeared to be dead and there was no sign of the cat.
"I left work, picked up my husband, and met the sitter and dad on the front porch," Seals said in the Facebook post this week. "My husband went in and the snake was dead. My husband noticed the snake was kinda stiff so it had been dead a day or two. The cat came out with no injuries."
She added: "However, the snake had what appeared claw marks on its head and neck. So, the cat apparently killed the snake and brought it out to show dad his prize. Shelly is a true hero."
Seals told WHAS it was like divine intervention, noting: "I think the Lord sent the cat to us to save my dad. It was predestined for him to have this cat just to save his life."
The Claiborne County Animal Shelter later shared Seals' update on its own profile, writing: "Is is amazing at what animals will do to protect their owners. Way to go Shelly! You are a hero!"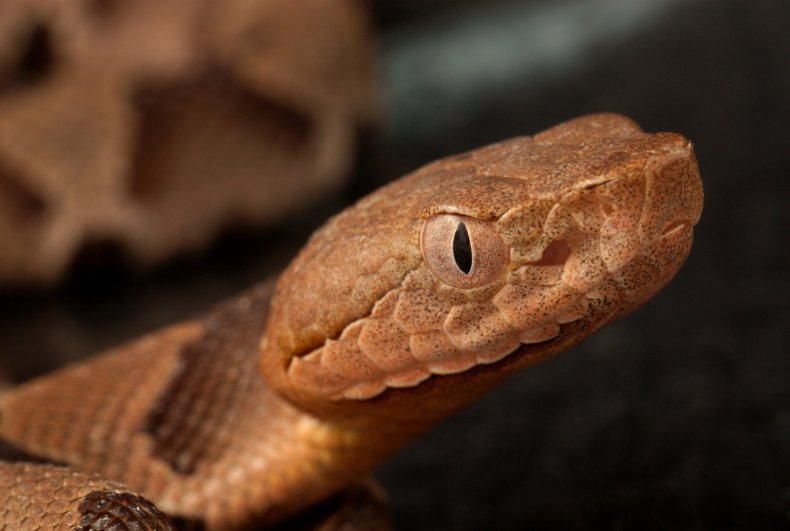 According to the Wildlife Resources Agency, the copperhead is one of four venomous snakes in the state, alongside the timber rattlesnake, western cottonmouth and western pygmy rattlesnake.
The copperhead is described as being medium-sized and heavy-bodied but, luckily for anyone who suffers a bite, being attacked may not always be fatal. "Fortunately, copperhead venom is not very potent so fatalities from bites are extremely rare," the agency explains.
The Centers for Disease Control and Prevention (CDC) offers advice on how to respond a snake attack, urging anyone bitten to seek medical attention as soon as possible. That advice may have saved the life of a wildlife handler in Australia this week, who thought he was on the verge of death after being attacked by a tiger snake. Luckily, he was rushed to hospital and survived.