Tennessee Cop Hailed As Hero After Talking 18-Year-Old Out of Bridge Suicide
Tennessee Deputy Adrian Finch has been called heroic for his actions after talking an 18-year-old teenage male out of suicide from the Natchez Trace Bridge this week. The structure has become known as a location for tragedy after seeing 32 suicides since 2018.
Finch, of Williams County, answered a call at roughly 4 a.m. local time on Monday morning about the suspected suicide effort. Video footage of the incident shows the 18-year-old, identified by WKRN-TV by his first name Zack, in a black hoodie, lying on his back on the opposite side of the barrier.
"I'm just nervous as hell," Zack says.
"I understand Zack. I'm nervous too," Finch responded.
"What the hell am I doing here?" Zack said at one point.
"Zack, I don't understand," the deputy said. He then offers his hand to the teenager and after a period of time, Zack accepts that hand.
Finch later reassured the teenager, saying: "You're all right. It's good. You are O.K."
"Why the hell am I out here?" Zack asked.
"I'm here to help you," Finch responded.
Williamson County Sheriff Dusty Rhoades praised Finch following the incident. "He doesn't remember how he got to the bridge or even going to the bridge," he said, "Adrian did a great job, he was there to help. I cannot tell you the number we've talked off the bridge, it is, unfortunately, becoming more common."
The Natchez Trace Bridge is known for its beauty, but is also tragically a spot often used for suicide attempts. There have been 32 suicides from the 25-year-old bridge since 2018. Various politicians have called the landmark a "public health hazard," in recent years.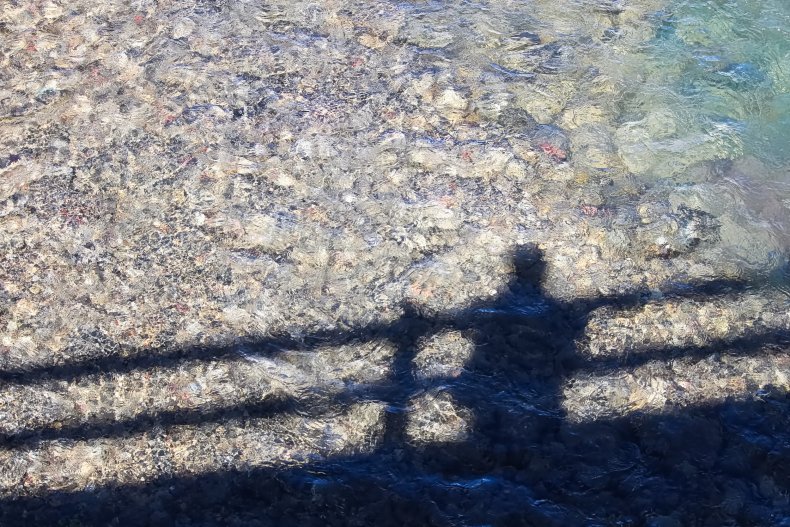 Only Briana Browne survived her attempt, and she, along with families of those who have died by suicide, have argued that the bridge was never meant to see pedestrian traffic and that the 32-inch rails are a code violation, and want the bridge named a health hazard to the public. Multiple politicians have come to their aid, and the National Parks Service has confirmed it will be dedicating $1.2 million to place barriers on the bridge starting in 2023.
"A momentous day for suicide awareness and prevention, this is the first step in starting the conversation regarding mental health," Natchez Trace Bridge Barrier Coalition co-founder Sarah Elmer said. "I remember meeting [co-founder] Trish Merelo in a coffee shop in Franklin and embarking on this journey, and I am so thankful for the support we have received. As we move forward and begin this process, may we always remember those we have lost. One death by suicide is one too many."
If you have thoughts of suicide, confidential help is available for free at the National Suicide Prevention Lifeline. Call 1-800-273-8255. The line is available 24 hours every day.