In Tennessee, the Electric Chair Reemerges as an Option for Death Row Inmates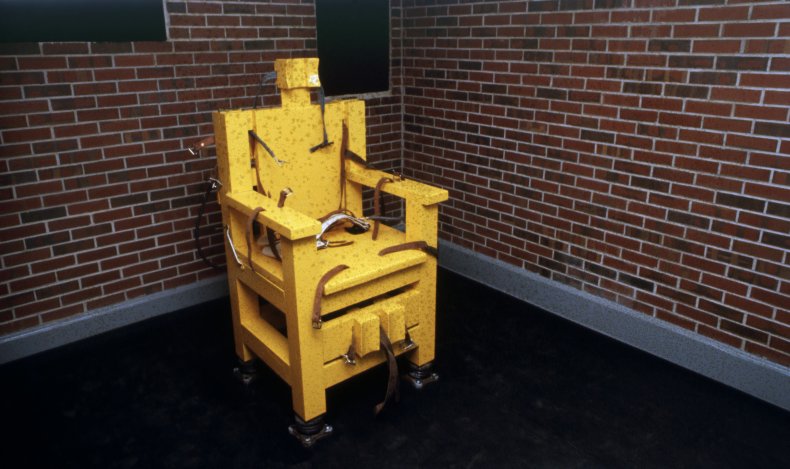 Tennessee death row inmate and convicted murderer Lee Hall is scheduled to be executed by electric chair Friday.
If carried out as planned, Hall will have been the fourth person in Tennessee to choose death via the electric chair since 2018, an option that has grown increasingly popular among the state's death row inmates.
The last person to be executed by electrocution prior to Hall was Stephen Michael West, in August. Like Hall, West also requested the chair as an alternative to lethal injection. The state sentenced West to death for the fatal stabbings of a mother and her 15-year-old daughter. Two of the three death row inmates the state executed before West in 2019—Edmund George Zagorski and David Earl Miller—also opted for the chair instead of lethal injection.
According to United Press International, Hall, 53, was sentenced for killing his girlfriend, Traci Crozier, in 1991 by setting her on fire while she was in her car. He has been on death row since 1992. Tennessee prisoners sentenced before 1999 have the option of choosing the chair over lethal injection, per legislation introduced in 1998.
The chair fell out of favor in the U.S. "because it is violent and brutal," as Robert Dunham, executive director of the nonprofit Death Penalty Information Center, told The Associated Press. Indeed, reports of electrocutions have included inmates' heads bursting into flame, their hearts being stopped only to be restarted by the voltage and chairs taking three shocks to put a person to death.
The electric chair was introduced in the late 1880s in New York City. It was presented as a more humane alternative to hangings, which had previously been America's preferred method of capital punishment. The first execution with the chair was a disaster, and resulted in the inmate's hair being scorched and blood bursting from his face, in what a New York Times reporter called a "ghastly sight that [observers] could not take their eyes off." Nevertheless, the device rapidly caught on across the nation, and had become the predominant method of execution in 26 states by 1949, according to the Encyclopedia Britannica.
However, like hanging, the chair's reputation came under fire during the 20th century. Lethal injection was introduced in 1977 as yet another more "humane" way to put prisoners to death. More recently, state courts in Nebraska and Georgia have declared its use unconstitutional.
Tennessee inmates on death row have filed court challenges in an attempt to block their executions, arguing that both lethal injection and the electric chair violate the Eighth Amendment of the U.S. Constitution, which forbids "cruel and unusual punishment." The Supreme Court of the United States issued a ruling in 2015 that said for an inmate to claim a method of execution is cruel and unusual, they must demonstrate that a more humane method is readily available.
In Tennessee, as in many states, the primary method of execution is a three-drug cocktail: One drug puts the inmate to sleep, another paralyzes them so they cannot feel pain, and the third carries out the execution by stopping their heart.
In the last decade, Hospira, the drug company that manufactured sodium thiopental, the drug used to put the inmate to sleep, ceased manufacturing it, according to the Washington Post. States where the death penalty was still legal, including Tennessee, began to turn to another drug, midazolam. However, as CNN reported, midazolam has been associated with a number of complications in executions.
For instance, Ronald Bert Smith Jr., an Alabama death row inmate executed in 2016, "heaved and coughed for about 13 minutes" of his 34-minute execution after receiving his prescribed dose of midazolam, local news site AL reported. Another inmate put to death via lethal injection, Dennis McGuire of Ohio, who was also administered midazolam and appeared to "gasp and convulse" for almost 10 minutes before he died, according to CNN.
Ohio, Alabama and Tennessee all use similar execution protocols that involve midazolam, according to the Death Penalty Information Center.
Thus, it may be that Hall, in choosing the chair, wanted to avoid this previously attested to discomfort during his own execution, which is still is slated to take place Friday. Lee, who cannot see due to glaucoma, will also be the first blind person to be executed in a state since the death penalty was reinstated in 1976.
The governor of Tennessee, Bill Lee, announced in a statement issued Wednesday that he would not intervene to stop Hall's execution.
"The justice system has extensively reviewed Lee Hall's case over the course of almost 30 years, including additional review and rulings by the Tennessee Supreme Court yesterday and today," Lee's statement read. "The judgment and sentence stand based on these rulings, and I will not intervene in this case."
Newsweek reached out to Hall's lawyer, Kathleen Morris, but did not receive a response prior to publication.