Tennessee Extends State of Emergency After COVID-19 Cases Increase
Tennessee Governor Bill Lee signed an executive order Monday extending the state of emergency until the last weekend in August because of an increase in positive coronavirus cases.
Data from the Tennessee Department of Health indicated 1,410 new cases on Friday, a single-day record for the state. An "unplanned shutdown of the state surveillance system" kept the state from releasing coronavirus information on Sunday. Monday's data, which includes numbers from Monday and Sunday indicate 2,125 new cases. In total, Tennessee has reported 42,297 cases of the virus.
Lee's executive order was designed to "facilitate the treatment and containment of COVID-19 through regulatory flexibility, promoting social distancing and avoidance of large gatherings, and protecting vulnerable populations," according to a news release from Lee's office.
Although no mandates were imposed on Tennesseans, Lee's order urges residents to stay home whenever feasible, wear facial coverings when close to other individuals and limit gatherings of 50 or more people unless social distancing protocols can be maintained. The limitation does not apply to weddings or worship services.
Newsweek reached out to Governor Lee's office for further comment. This story will be updated with any response.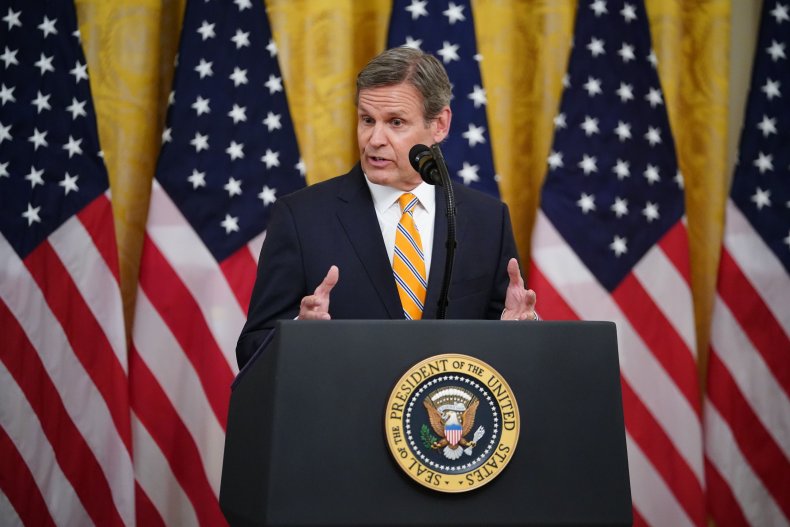 On Monday, Tennessee state capital Nashville enacted a face covering mandate applicable to individuals in both indoor and outdoor spaces. Businesses are required to post signs announcing the mask requirement. Nashville's health department operates separately from the one run by the state.
"We are in Phase 3 of our reopening," said Nashville Metro Health Board Chair Dr. Alex Jahangir during a Friday meeting. "We want to keep moving forward and not backwards. Texas and Florida regressed in their reopening plans. We don't want that to happen in Nashville, and making masks mandatory will help us prevent that."
Nashville's decision follows a June move by the Memphis City Council to require face masks in businesses, public buildings, medical care facilities and while using public transportation. Memphis placed its reopening plans on pause in June.
Memphis' mask mandate has created some political questions with leaders unsure of how to enforce the requirement.
Tennessee State Senator Brian Kelsey said in a June statement that the mandate raises "serious constitutional questions." Kelsey invited Tennessee State Attorney General Herbert Slatery III to provide an opinion on the mandate.
Memphis officials said the mandate is being enforced via verbal warning. During a June press conference, Memphis mayor Jim Strickland said he was relying on people to wear masks "because they feel it's the right thing to do."
"We need to do better," Strickland said. "We will enforce the ordinance, but we are not going to succeed through enforcement alone. We've got to change the hearts and minds of individuals."