Tennessee Firefighter on Paid Leave After Calling Atlanta Shooting Victims 'Asian Prostitutes'
Tennessee firefighter Joe Pennington was placed on paid leave after he called the victims of the recent Atlanta-area spa shootings "Asian prostitutes" in a Facebook post Tuesday night.
"We lowered the flags for a few Asian prostitutes who was shot by a white male but hell no on the police officer and the others from yesterday," Pennington wrote in the now-deleted post. He was referring to the six Asian women shot and killed at three spas last week. Eight people in total died in the attacks.
The suspect in the shootings, Robert Aaron Long, 21, is white. The victims were mothers and business owners, not prostitutes. The shootings have been linked to white supremacy and racial hatred and are the latest in a series of intensifying attacks on Asian Americans.
In his post, Pennington said that President Joe Biden was "against white Americans" and called on the country to unite and "stop blaming each other" for "faults."
"If a white American kills anyone of another color it's racist but the (explicative) Muslim who killed a police officer and 9 others 'we must ban guns,'" Pennington wrote, referring to Biden's calls for gun reform after a mass shooting occurred on Monday at a Boulder, Colorado, supermarket.
Some Twitter users quickly claimed the Boulder shooter was a white man, sparking a backlash when the city's police announced that the suspect was not white. Syrian-born Ahmad Al Aliwi Alissa is accused of opening fire in the store and killing 10 people, including a police officer. On Tuesday, Biden ordered flags to be flown at half-staff for the victims.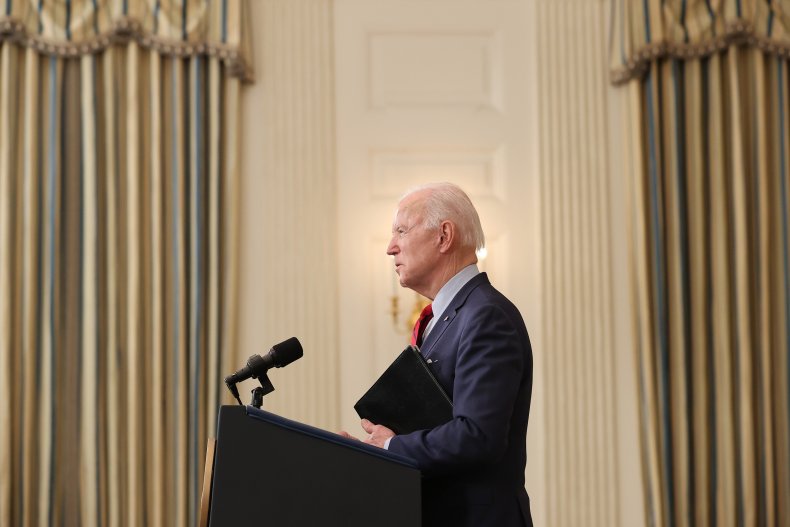 "Less than a week after the horrific murders of eight people and the assault on the AAPI community in Georgia, while the flag was still flying half-staff for the tragedy, another American city has been scarred by gun violence and the resulting trauma," Biden told reporters after hearing about the Boulder shooting.
In his post, Pennington blamed Biden's leadership for creating division in the country and for being anti-white.
"I'm sorry if I offend friends and family," Pennington wrote, "but you voted for this stupid [expletive] stick and his side kicks."
Pennington went on to paint a grim picture for his children's lives, saying he now needs to "teach" them about racism against white people.
"Growing up as a kid we never thought of these issues and now I have to teach my son everyone is racist and against us," Pennington wrote. "My daughter there is no hope she believes in what all the dumb [expletive] liberals say."
WZTV in Nashville told Murfreesboro Fire and Rescue, where Pennington has worked as an engineer for over a decade, about the Facebook post.
"The City just learned of the social media post late this morning and is looking into the matter," the fire department said in a statement to WZTV. "Murfreesboro's Fire Rescue Chief has placed the firefighter on paid administrative leave until further notice."
An hour after the TV station received this statement, Pennington's Facebook profile and post had been deleted. The page returned later with a post from Pennington reading: "My account has been hacked. Do not accept any new friend request from me or clink on any posted links."
The Murfreesboro firefighters union, which Pennington belongs to, said in a statement the comments do not reflect the values of the organization.
"Our membership includes fire fighters from various backgrounds and nationalities, and fire fighters with various opinions on a wide array of social and political issues," the statement says.
Newsweek reached out to Murfreesboro Fire and Rescue for comment on Pennington's future employment but did not receive a reply by publication time.