Tennessee Governor Announces Phased Reopening Starts Next Week, Stay-at-Home Order Expires End of Month
Tennessee Republican Governor Bill Lee announced on Monday that a majority of the state's businesses will be allowed to reopen on May 1 after the state's stay-at-home order expires on April 30. Lee expects some businesses to open even earlier on April 27.
"While I am not extending the safer at home order past the end of April," Lee said in a statement, "we are working directly with our major metropolitan areas to ensure they are in a position to reopen as soon and safely as possible."
Most businesses in 89 of the state's 95 counties will be allowed to re-open at the start of May. However, Lee said that many would operate with social distancing measures in place.
"Social distancing works," Lee said, "and as we open up our economy it will be more important than ever that we keep social distancing as lives and livelihoods depend on it."
It's unclear at the moment what social distancing measures will be required of reopening businesses. Newsweek has reached out to Lee's office. The office had not responded by the time of publication.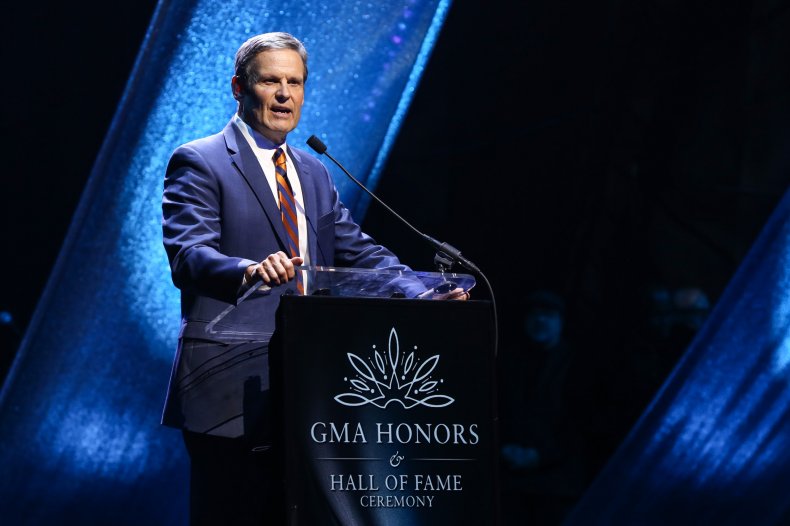 Lee states that his administration's Economic Recovery Group is working with industry leaders "around the clock" so that some businesses can open as soon as Monday, April 27.
"These businesses will open according to specific guidance that we will provide in accordance with state and national experts in both medicine and business," Lee said.
Lee announced the formation of his Economic Recovery Group on April 16. The group is a collaborative effort between state departments, legislative members and private sector leaders to create guidelines for safely restarting Tennessee's economy after widespread shutdowns caused by the continuing coronavirus epidemic.
The group includes government heads from Tennessee's Departments of Health, Revenue, Agriculture, Commerce and Insurance, Labor and Workforce Development and others as well as industry representatives from local chambers of commerce and Tennessee's associations of Hospitality & Tourism, Hospitals, County Services, Retail, Builders & Contractors, Grocers & Convenience Store and others.
Thus far, Tennessee has had 6,762 confirmed coronavirus cases and 145 deaths.
Tennessee joins Texas as one of the earliest states to reopen its "non-essentials" businesses after about a month of a half of shutdown orders. In his comments on reopening, Texas Governor Greg Abbott said the state would strive to find a balance between personal safety and economic security.
"We will focus on protecting lives while restoring livelihoods," Abbott said. "We can and we must do this. We can do both, expand and restore the livelihoods that Texans want to have by helping them return to work.... We have to come up with strategies on how we can do this safely."
Abbott's plan will allow "retail-to-go" pre-orders and curbside pickups from non-essential businesses, a limited amount of nonessential surgeries at hospitals, and statewide parks to allow groups no larger than five as long as visitors wear facial coverings and keep six feet of distance between themselves and strangers.