Tennessee Governor Asks Trump for Emergency Declaration Following Nashville Explosion
Tennessee Governor Bill Lee formally requested an emergency declaration from President Donald Trump on Saturday "to support ongoing efforts and relief," following Friday morning's devastating vehicle explosion in downtown Nashville.
In a letter posted to his Twitter page, Lee cited the direct impact of the explosion on Nashville's AT&T building, which directly affected communications systems across the state and in areas of Kentucky and Alabama. The outage disrupted AT&T internet and phone services as well as 911 access in over 20 Public Safety Answering Points.
The Nashville International Airport was also impacted by "telecommunications issues" due to the outage, with both inbound and outbound flights grounded.
Lee noted that, between February 2019 and December 2020, the state spent more than $175 million in managing responses and recovery to major events, including the coronavirus pandemic. Past expenses and the lack of requests for Stafford Act assistance has "reduced our capacity to recover from this current event," the governor wrote.
"Given these factors, the severity and magnitude of the current situation is such that effective response is beyond the capabilities of the State and affected local governments," Lee said.
"As a result, federal assistance under the Stafford Act is necessary to supplement the efforts and available resources of the State, local governments, disaster relief organizations, and compensation by insurance for disaster-related losses," he continued. "In order to recover sufficiently, I specifically request an Emergency Declaration for Public Assistance categories A & B for Davidson County."
Nashville Mayor John Cooper had issued a civil state of emergency Friday after a "suspicious" RV detonated near Nashville's 2nd Avenue, injuring three people and destroying more than 40 buildings in the city's historic downtown area. A curfew was also set from 4:30 p.m. on Friday until Sunday, December 27 at 4:30 p.m.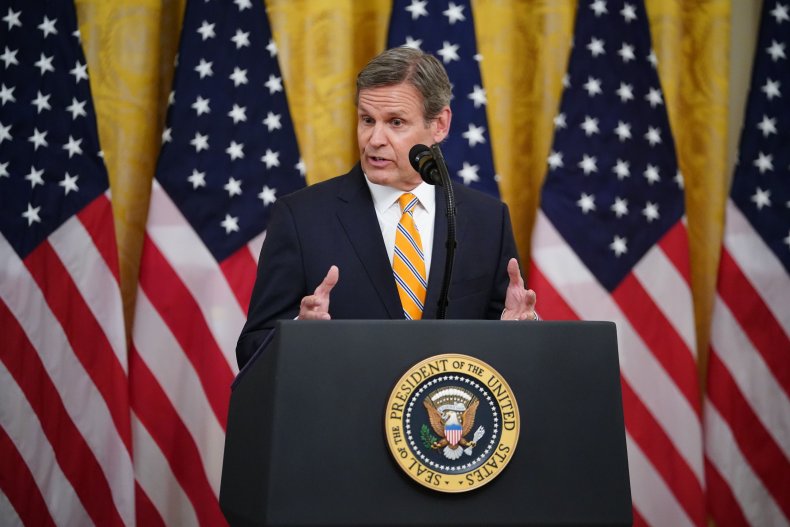 Lee activated the State Emergency Operations Center for the incident Friday morning to provide adequate support for the emergency. Tennessee remains at a Level 3 - State of Emergency.
The governor said that he toured the site of the explosion on Friday, calling the damage "shocking" and stating it was "a miracle that no residents were killed." He also celebrated the Metro Nashville Police Department and local law enforcement for their response and courage at the site.
"[First Lady] @MariaLeeTN and I continue to pray for those who sustained injuries from the blast," Lee tweeted Saturday. "We are thankful to the @FBI and the @ATFHQ for leading the investigation and remain in close communication with them."
Nashville authorities say they're confident that the explosion was intentional but have not yet found suspects or motive for the attack. Reports of an eerie computerized voice from the parked motor home warned people to evacuate due to a bomb just moments before the explosion.
The city's mayor said in an update Friday evening that the act was "intended to create chaos and fear" and that Nashville authorities are determined to find those responsible.
"This was a terrible day, but Nashville has faced other challenges, particularly this year. We can rebuild and get back to normal," Cooper said. "This morning's attack on our community was intended to create chaos and fear in this season of peace and hope, but the spirit of our city cannot be broken."
On Tuesday, Lee extended a state of emergency in Tennessee through the end of February due to the ongoing coronavirus, allowing county mayor's to set restrictions and mask mandates. Tennessee is currently the epicenter of the coronavirus pandemic in the U.S. alongside California as the state reported the highest rate of infections of any state in the last week, according to data from the Centers for Disease Control and Prevention (CDC).
Newsweek reached out to the governor's office for additional comment.
Updated 11:48 AM ET, with additional information.