A Tennessee school district is under fire after student athletes were baptized on school grounds last month.
After learning two football players at Springfield High School were baptized on the football field last month, the Freedom From Religion Foundation (FFRF) sent a letter to Robertson County School District Superintendent Chris Causey, claiming the acts violated the Constitution's separation of church and state.
"A concerned area resident has reported that coaches at Springfield High School have been promoting religion to students, including baptizing two students on the school's football field and employing a "character coach" to instill religion in students," the letter reads in part. "We understand that coaches may also be participating in prayer with students."
Coach Jake Buttram shared a photo from the baptisms on Twitter, writing, "Great day for two young men being baptized in front of our team and our field. Better than winning any game or any trophy."
Head Coach Dustin Wilson retweeted Buttram's tweet.
The "character coach," Chad Diehl, a minister at Bethlehem Baptist Church, posted photos of the baptism, as well, writing, "What a blessing it was to baptize these young men....today in front of their football brothers."
In a statement, FFRF attorney Chris Line said it was inappropriate for a public school district "to proselytize students by praying with students, baptizing students, or employing an outside religious leader to organize these activities."
"The involvement of a public school coach in baptisms is so over the top as to be ludicrous," added FFRF Co-President Annie Laurie Gaylor. "You'd be hard-pressed to cite a display of sectarian religiosity more blatant than this."
Superintendent Causey confirmed the baptisms took place after practice on August 7, but says the coaches are volunteers not employed by the district. He added that he hasn't received any phone calls regarding the baptisms.
"If we have concerned parents or community members, I would think they would need to contact the district office about it instead of turning to organizations that aren't even based in Tennessee." he told The Tennessean.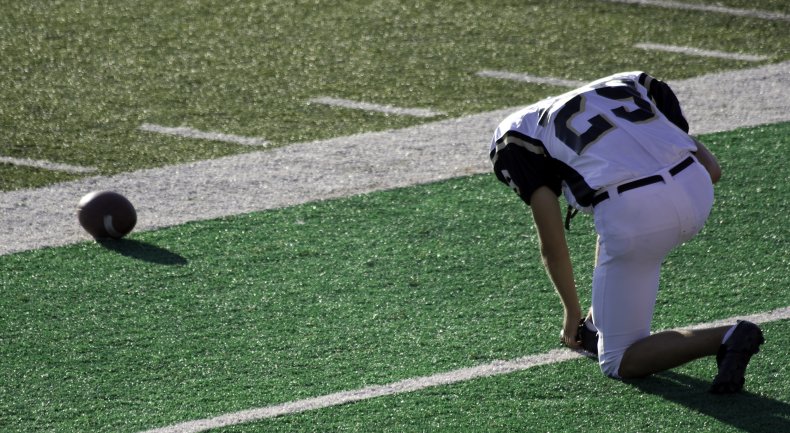 The district insists neither the school nor school personnel violated any policies or laws, writing in a statement that, "the activities ... were student initiated, student led, and occurred after the practice session had ended, and after school hours."
It added that "participation was voluntary with no requirement for attendance either stated or implied."
The FFRF, which has chapters across the country, including one in Tennessee, says it is not releasing the name of the person who filed the report, citing safety concerns.
The letter it sent to the district cited Borden v. School District of the Township of East Brunswick, a 2008 case in which Marcus Borden, a Delaware high school football coach, sued the school district for telling him could no longer lead his players in prayers before games.
After several appeals, the Third Circuit Court rejected Borden's argument that he had a First Amendment right to lead or join his students in prayer.
"We find that, based on the history of Borden's conduct with the team's prayers, his acts cross the line and constitute an unconstitutional endorsement of religion," wrote Judge D. Michael Fisher.
The Supreme Court declined to Borden's request to review the case.