Tennessee Issues Coronavirus Stay-At-Home Order Citing 'Increase in Citizen Movement'
Tennessee Governor Bill Lee was expected to sign a stay-at-home executive order Thursday closing all non-essential businesses in an attempt to curb the spread of coronavirus.
Residents are required to stay at home "unless they are carrying out essential activities as data shows an increase in citizen movement across the state," according to a Thursday press release.
At a Thursday news briefing, Lee said staying at home "isn't an option. It's a requirement for the swift defeat of COVID-19 in Tennessee."
"Over the last few weeks, we have seen decreases in movement around the state as Tennesseans socially distance and stay at home," Lee said in Thursday's press release. "However, in recent days we have seen data indicating that movement may be increasing and we must get these numbers trending back down. I have updated my previous executive order to clearly require that Tennesseans stay at home unless they are carrying out essential activities."
"The month of April stands to be an extremely tough time for our state as we face the potential for a surge in COVID-19 cases," said Lee. "Every Tennessean must take this seriously, remain at home and ensure we save lives."
Newsweek reached out to Governor Lee's office for comment but did not receive a response in time for publication.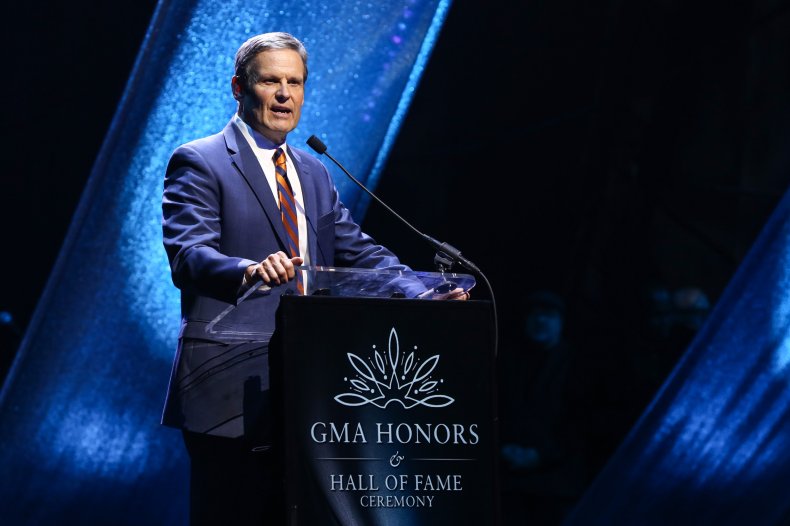 Lee had previously addressed the coronavirus risk with a less stringent order which allowed businesses to use drive-thru, take-out or delivery methods. Alcohol was also allowed to be purchased from restaurants in closed containers by adults who also purchased food.
Lee explained his hesitancy to order a stay-at-home mandate at a Monday news briefing, saying, "It remains deeply important to me to protect personal liberties."
Tennessee physicians started an online petition in March asking Lee to issue a stay-at-home order which was signed by nearly 32,000 people.
"Our only chance to flatten the curve and save lives is to physically distance from each other," the petition read in part.
Knoxville, Tennessee saw a recent increase in social gatherings, despite the issuance of a Safer-at-Home order from city Mayor Indya Kincannon. Tuesday, Kincannon allowed local authorities to "take corrective action within Knoxville city limits against those violating Safer at Home orders."
"Too many people are not taking this seriously," Kincannon added.
According to a Tuesday news release, some neighborhoods within Knoxville hosted food trucks without practicing proper social distancing. People played tennis at a public park ignoring the posted coronavirus warning sign. There was a softball tournament held at a private facility.
"The city is trying to take every measure to slow the spread of COVID-19," the release read, "which includes educating people, requesting that they stop gathering and, if absolutely necessary, issuing a citation."
Recent data indicated a total of 3,194 confirmed positive cases of coronavirus in Tennessee.