Tennessee Man Applies for Gun Permit Using Barack Obama's Name, Gets Arrested
A Chattanooga, Tennessee, man has been charged with a felony for identity theft after he applied for a gun permit using the name of former President Barack Obama.
In addition to identity theft, Robert Joseph Hallick has been charged with perjury and forgery and after he used the former president's name in what was a second attempt to secure handgun permit.
Hallick was at first unsuccessful at securing a Tennessee Enhanced Handgun Carry Permit using his own name in November 2020, when he was sent a rejection letter from the Tennessee Department of Safety and Homeland Security Handgun Unit.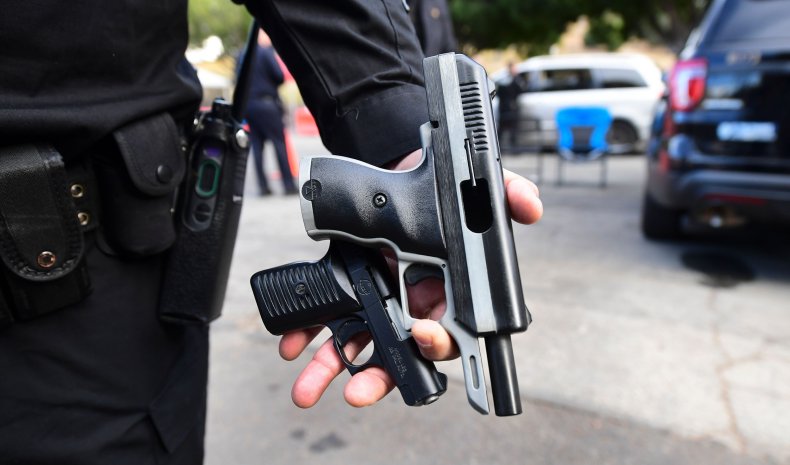 According to an affidavit obtained by NewsChannel 9, Hallick was initially denied due to a "adjudicated or committed mental defective and active warrant" in the state of Michigan.
Hallick reportedly tried again, mailing in another application form for the permit and $50 on January 21—the day after President Joe Biden's inauguration. The second time, he used the name "President Barack H. Obama" on the form and reportedly forged Obama's signature. The letter bore the U.S. State Department letterhead.
Chattanooga law enforcement arrested Hallick on February 11.
All handgun carry permits are approved by the Tennessee Highway Patrol. According to the Tennessee Department of Safety and Homeland Security website, the department requires applicants confirm on the form that they've "never" been confirmed as a mental "defective" or committed to or sent to a mental institution. Applicants must also verify they are not a "fugitive from justice."
According to a report by Bearing Arms, the charges don't clarify what criminal counts Hallick faced in Michigan. However, if it were true that Hallick were mentally ill, Bearing Arms reported that Hallick would lose his right to have a gun regardless of the warrant for his arrest in Michigan.
Hallick's Twitter account shows that he frequently posted the former president's name, and even published images of an "American Handcrafted Clock by President Barack Obama" that also bore the Obama's signature. Hallick's public profile does not contain posts with violent content, but his name on the social media platform is "President Barack Obama."
The Tennessee Department of Mental Health and Substance Abuse Services website says that individuals going to court with a mental health issues can receive the support of a Criminal Justice Behavioral Health Liaison, who assist with elements of the legal process such as communication with legal authorities, transitions from jail to the community. So far it's not clear if Hallick could qualify for this kind of support.
Hallick's mental health status may even cause the court could rule he's mentally incompetent to stand trial for the recent charges, according to an article by Cam Edwards for Bearing Arms:
"I wish I had confidence in the criminal justice and mental health systems to refer Hallick to the appropriate authorities, but unfortunately the most likely outcome is Hallick either ending up behind bars or back out on the street without getting the help that he needs."
Identity theft is a Class D felony in Tennessee that could earn a prison sentence from two to 12 years and a fine up to $5,000, according to FindLaw.
Newsweek has reached out to the Tennessee Department of Safety and Homeland Security and the Tennessee Department of Mental Health and Substance Abuse Services for comment.