Tennessee Man Killed After Somebody Likely Threw Concrete From Highway Overpass Through Windshield, Say Police
Nashville police are trying to determine the origin of a large chunk of concrete that crashed through the windshield of a Nissan GT-R sports car on Tuesday morning and killed the driver, 54-year-old Joe Shelton Jr.
Investigators with the Metropolitan Nashville Police Department said it was likely that the concrete chunk was thrown from the Shelby Avenue Bridge, which overhangs Interstate 24 (I-24) in the downtown area of the city.
Bridge inspectors concluded that the concrete was not part of the bridge structure but more closely resembled a roadway curb.
Shelton, from Pleasant View, Tennessee, was driving to his job at the Nissan plant in Smyrna on Tuesday morning when the chunk smashed through his car windshield at approximately 4:54 a.m., hitting him in the face, according to a police statement.
The vehicle then sideswiped a Toyota pickup truck and crashed into a guardrail before coming to a stop.
Investigators have reviewed available surveillance cameras in the area of the I-24/Shelby Avenue interchange to search for potential clues, but at present they do not have a description of the person(s) who may have thrown the concrete from the bridge.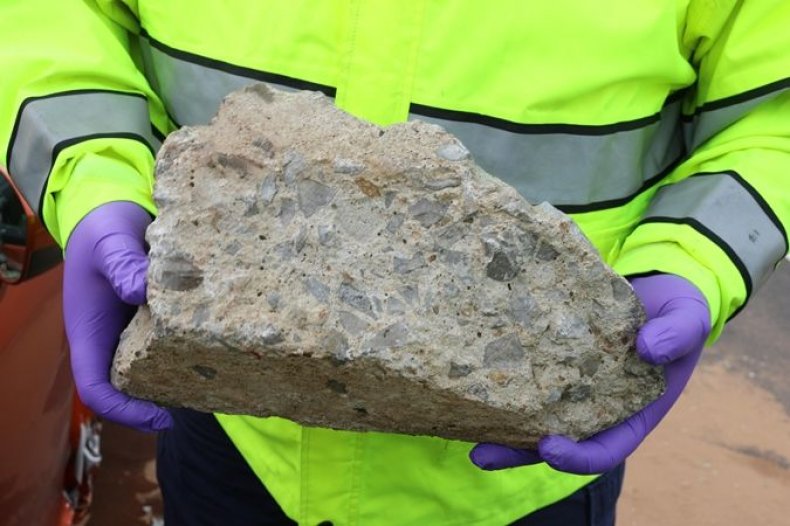 The police department has urged anyone with information about the accident—including seeing a person(s) standing on the Shelby Avenue Bridge between 4:50 a.m. and 4:55 a.m. Tuesday morning—to contact Crime Stoppers at 615-742-7463.
All calls to Crime Stoppers can remain anonymous and may qualify for cash.
Last December, a similar accident occurred when four teenagers threw a sandbag from a Toledo overpass, crashing through the windshield of a vehicle and killing the passenger, 22-year-old Marquise Byrd, CBS reported.
In April, the teenagers were sentenced to serve time in a youth treatment facility with no set release date. They were also given four-year suspended sentences, placed on probation and ordered to perform 30 hours of community service.
One of them was charged with murder and felonious assault, while the other three were charged with involuntary manslaughter and vehicular vandalism. All of them pleaded guilty.