Tennessee Lawmaker Adds Age Restriction to Marriage Bill After Backlash
A proposed Tennessee bill has been amended after it received widespread criticism earlier this week over the fact that its aim to create a new pathway to marriage for straight couples did not include an age minimum, which critics said could allow for the process to hide child abuse.
The bill was originally designed to provide an "alternative form of marriage for those pastors and other individuals who have a conscientious objection to the current pathway to marriage" in the state, which critics said is just coded language for excluding same-sex couples, according to The Tennessean.
It received national backlash for the fact that Republican lawmakers sponsoring the bill refused in committee hearings to add an age minimum to the bill, and has since been amended with an age requirement of 18 years old.
Republican State Representative Tom Leatherwood told local media that the bill's intention was to create a common-law path to marriage for couples that consist of "one man and one woman."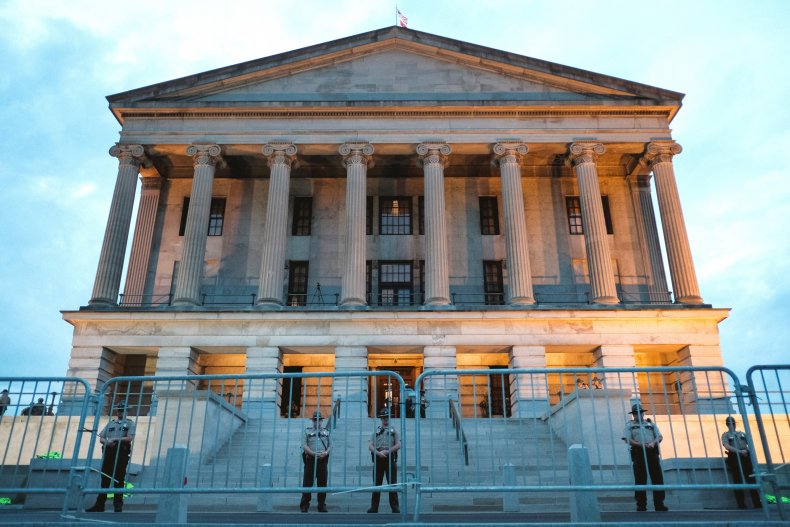 The bill would allow them to file for marriage contracts not available to same-sex couples, which would allegedly prevent religious groups from being "forced" to marry same-sex couples.
"This bill changes nothing in current law regarding marriage and does not allow minors to get married," Leatherwood said in a statement to Newsweek. "It establishes another pathway to marriage in TN law that addresses the conscientious objections, based on deeply held religious convictions, that a number of pastors and individuals have with the current law and certificate.
"This bill would produce a marriage certificate that would reflect marriage as being between one man and one woman and the certificate would be filed with the county clerk," he continued.
"In current law in TN, a man can marry a man, and the marriage certificate reflects that. If this bill passes, a man can still marry a man and the certificate would still reflect that. But there would also be an alternative form that would say, marriage is between a man and a woman, and the certificate would reflect that."
Democrats who opposed the bill called it unnecessary, and said that no religious organizations have been "forced" to marry a same-sex couple, as it is possible to get married in the state without religion involved, The Tennessean reported.
The bill was criticized for the fact that the new "marriage contracts" did not require those applying to both be over 18 years old. A spokesperson for Leatherwood told Newsweek that the bill never would have allowed minors to be married because it would create marriage contracts, and minors can't legally sign contracts in Tennessee, but the bill was amended anyway to address the concerns.
Current Tennessee law sets a minimum age for marriage at 17 with parental consent, but 17-year-olds are not legally allowed to marry someone at least four years older than them. The amended version of the bill is still being debated in the state legislature.
There is no federal legislation about a minimum age for marriage, and minors are legally allowed to marry in 44 states. An estimated 300,000 children were married between 2000 and 2018, Newsweek previously reported.
"It should not be there as it's basically a get out of jail free card for people who are basically committing statutory rape—I mean it's completely ridiculous, so that's another reason why this terrible bill should be eliminated," Tennesee State Representative Mike Stewart said of the unamended version of the bill.
Update 4/8/22, 4:15 p.m. ET: This article was updated with a statement from Representative Tom Leatherwood.
Update 4/8/22, 2:00 p.m. ET: This article was updated with additional information.
Update 4/8/22, 1:15 p.m. ET: This article was updated with additional information and background.