The mayor of a town in Tennessee lowered the U.S. flag to half-staff before Joe Biden's inauguration on Wednesday, saying he was mourning the "loss of freedoms" he believed a Democratic administration would herald.
In a message posted on Facebook, Mayor Robert T. Keeton III said: "The Town of Bruceton grieves for our Republic and our loss of freedoms.
"We mourn the victims of the Chinese plague and those that have suffered its depredations.
"We pray that God delivers and restores us and that we do not fall to the clutches of communism."
The post, which was accompanied by a photograph of the lowered flag, attracted strong criticism.
One person, Bethany Hollingsworth, wrote: "This is a flagrant incitement of anger and disunity on a public platform. The mayor is not The Town of Bruceton. Was this statement approved by the city council?
"It seems like it is pandering to the worst characteristics of human nature. I expect better of my elected representatives.
"My prayer is that the community, state, and nation can overcome the hatred created by divisive political rhetoric such as this in order to unify against the very real problems we face."
Another, Christine Grogan Taylor, said: "This is one of the most unpatriotic things I have ever seen. As friends and neighbors die from Covid and our nation hurts, you use the town page to air your personal grievances?
"This is not the way to promote Bruceton as a nice place to live. Shame on you."
A third, Vicki Carol Foust, who said she lived in Bruceton, wrote that the town was "not a place for your meanness."
Allison Michelle said: "To any of my kids seeing this, be better when you get older. Respect the office and keep your personal thoughts—which you are 100 percent free to have—on your personal page and not on one in which you are elected.
"Respect the action of a flag hung at half mast for the reasons in which it is called for—not this."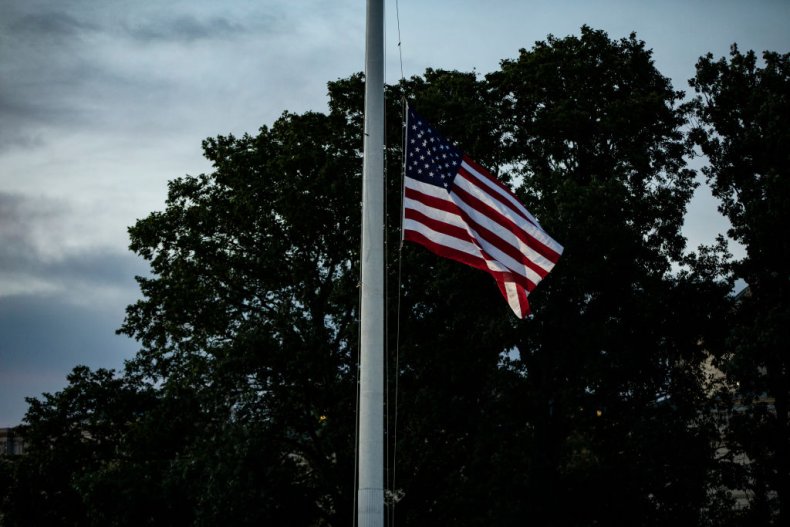 But others offered words of encouragement. Joey Nunnery posted: "Love it! A mayor with some balls to speak his mind and opinion. Draw the line in the sand. Most in America now days believes that a man does not have that right to speak freely, but he does!
"That's the biggest problem with this country, everyone thinks it's not ok to have an opinion if it 'hurts' their feelings or is against their believes."
By Thursday morning the photo had generated thousands of responses.
Western Tennessee's Carroll County, which includes Bruceton, backed Donald Trump by 9,194 votes to 2,558 for Joe Biden in the November 2020 presidential election.