As Tennessee and Neighboring Georgia Reopen, Coronavirus Cases in Tennessee Have Biggest One-Day Increase
The southern state of Tennessee saw its biggest one-day jump in new confirmed cases of the coronavirus on Sunday as the state's governor and neighboring Georgia move to reopen parts of their economies, despite significant concerns.
On Sunday, Tennessee reported 478 new confirmed cases of the coronavirus, a jump of 5.2 percent. According to The Tennessean, that's the highest number in new cases since the coronavirus pandemic began. In total, the state now has 9,667 confirmed cases of the novel virus. Meanwhile, Georgia saw just 37 new confirmed cases, bringing its statewide total to 23,481.
The spike in Tennessee's cases came as the state allowed restaurants to reopen for dine-in customers on Monday. However, restaurants will only be allowed to operate at 50 percent capacity. Additionally, retail stores will be allowed to reopen Wednesday, also operating at reduced capacity.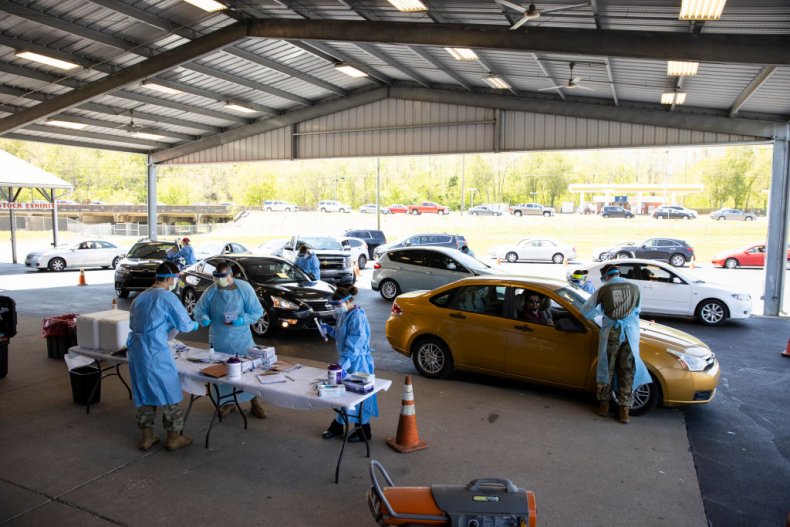 "We expect businesses to accept the 'pledge,' so we don't have to make a mandate. The pledge allows guidelines for workers and consumers. We feel confident in the community's response," Tennessee Governor Bill Lee, a Republican, said last week at a news conference to announce the steps to begin reopening.
In Georgia, Governor Brian Kemp, a Republican, has pushed forward with reopening some businesses despite significant criticism from mayors across his state and concern expressed by President Donald Trump.
Georgia's movie theaters and dine-in restaurants were allowed to reopen Monday, although they were required to have social distancing guidelines in place. Other businesses, including barbershops, gyms, tattoo shops and nail salons, were allowed to begin seeing customers on Friday.
"I think it's too soon," Trump said last Wednesday when he was asked about Kemp's decision to re-open some businesses. The next day, the president reiterated his criticism of the Republican governor, saying: "I was not happy with Brian Kemp. I will tell you that."
In a Friday tweet, he again emphasized that he did not support the Georgia leader's decision.
"I (or @VP) never gave Governor Brian Kemp an OK on those few businesses outside of the Guidelines. FAKE NEWS! Spas, beauty salons, tattoo parlors, & barber shops should take a little slower path, but I told the Governor to do what is right for the great people of Georgia (& USA)!" the president wrote.
Health experts and other lawmakers have raised concerns about states moving to reopen too quickly because if the coronavirus is still spreading rapidly, people going out and interacting with others could lead to a spike in new infections.
Under the guidelines laid out for governors by the White House Coronavirus Task Force, states should see a decline in new cases and deaths for at least 14 days before they begin reopening their economies. Additionally, they should demonstrate that they have robust testing in place, as well as the ability to trace new infections to curb the spread of the virus.
While some conservatives have held protests against stay-at-home orders across the country, the majority of Americans, according to multiple polls, support the stringent social distancing measures. Surveys have shown that majorities of Democrats, Republicans and independents are more concerned that their governors will move too quickly to reopen, not too slowly.