Tennessee Police Sex Scandal: What Maegan Hall's Interviews Reveal
A Tennessee police officer at the center of a sex scandal involving several people in her department said she "cracked" and things got out of control, according to transcripts of her interviews.
Officer Maegan Hall was fired from the La Vergne Police Department along with Sgt. Lewis Powell, Officer Juan Lugo, Sgt. Ty McGowan and Det. Seneca Shields earlier in January. Three other officers—Larry Holladay, Patrick Magliocco and Gavin Schoeberl—were suspended, but kept their jobs.
Mayor Jason Cole began investigating the department in December after receiving an anonymous complaint.
The investigation found that Hall had engaged in unreported sexual relationships with Powell, Holladay, Lugo, McGowan and Shields. It also found that Hall had engaged in sexual activity while on duty and on city-owned property with Powell and Shields, and that several officers committed sexual harassment by sending explicit photos and videos.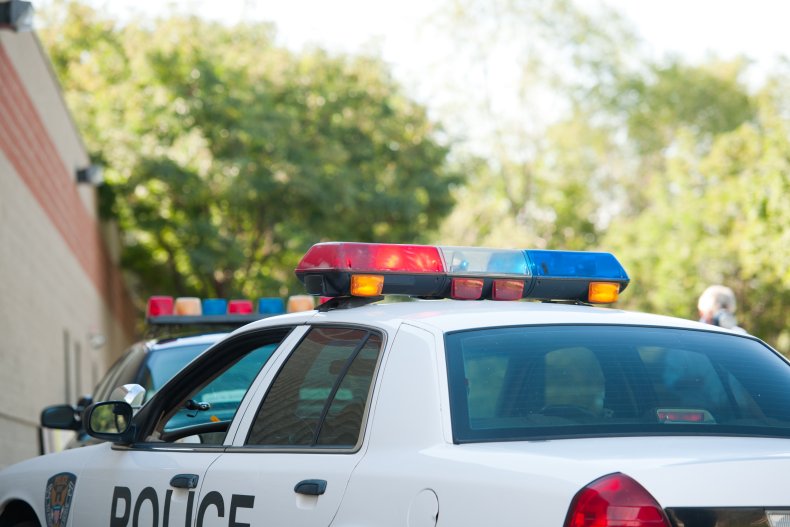 During interviews with the city's Human Resources Director Andrew Patton—transcripts of which were first obtained by WSMV4—in December, Hall said: "I got stupid, I got desperate, I guess and guys are guys and they'll stick their d*** in anything."
Here, Newsweek rounds up some of the revelations in Hall's interviews.
Sex on duty
In an initial interview, Hall had denied any involvement with Powell. But she later admitted that they had "sex a lot" and she had once performed a sexual act on Powell while on duty inside a police substation.
She said she initially lied because she did not want to hurt Powell's career and was worried he would harm her for talking. Powell repeatedly denied having a sexual relationship with Hall, but eventually admitted it.
Hall and Shields also said that she had once performed a sexual act on him in the police department gym while he was on duty.
Hall 'cracked'
Hall told Patton that her affair with Powell began while she was having trouble in her marriage.
"Me and my husband were kind of on the verge of a divorce and I just cracked and then it just kind of got out of hand," she said.
Later, she added: "I got stupid, I got desperate, I guess and guys are guys and they'll stick their d*** in anything."
Hot Tub Party
During one interview, Hall also discussed a hot tub party that took place on Sgt. Eric Staats' houseboat. "We all got really drunk and we stayed there because we couldn't drive after," Hall said.
She also detailed that one point, her bathing suit top came off while she was in the hot tub. "My bathing suit was a little loose and it fell off," she said, adding Staats helped her put it back on.
'You betrayed me'
Hall said she struggled to end the affair with Powell but eventually broke things off by telling himself she had sex with someone else.
According to her, on one occasion when she tried to end the relationship, he drank an entire bottle of whiskey and threatened to kill himself.
"He was like 'You betrayed me, I thought you cared about me, no one's here but me, you really hurt me,'" she said. "One time he uh—when I tried ending it, he called me, he drank a whole bottle of Jack, and he said 'I just want to kill myself. I wanted to drive off and get into a wreck and it's because of you.'"
Threesomes and games
Hall also recalled how she had discussed having a threesome with Magliocco and his wife.
She kissed Magliocco's wife, she said, but it did not proceed further. Magliocco told investigators that there were "talks" about a threesome, but it never happened. Both he and Hall said they had sex several times.
Hall also said McGowan had tried to get her and her husband into having group sex with him and his wife.
"Ty wanted to try to get Jed to have a thing with all of us," she said. "We played strip Uno and then [McGowan's wife] went out onto the patio with Jed, me and Ty kissed for a little bit and then that was it."
'Dry fired' a gun
At one point, Hall admitted to Patton that she had once "dry fired" a gun at her head. "It wasn't my duty weapon," she said.
Magliocco told Patton that he was aware that she unloaded her gun and "just pulled the trigger just to hear what the sound would sound like."
Officers lied
Interviews with Hall and other officers also noted that she and others lied during the investigation.
In one instance, she said she met with Powell at a Planet Fitness gym, where he told he had denied everything.
"It wasn't instruction it was more of just like 'my career, my life is on thin ice' basically," Hall said of the meeting with Powell.
Sending explicit photos
Hall admitted to sending nude photos to other officers, including Holladay, Magliocco and Schoeberl.
In a later interview, she said she and McGowan would send nude images back and forth.
Several of the other officers also sent her explicit images, she said.