Democratic Tennessee state Senator Katrina Robinson said she feels beat up due to her expulsion from the Tennessee Senate on Wednesday in the first instance since at least the Civil War of the Legislature expelling a lawmaker.
The GOP-led Senate passed a motion in a 27-5 vote to expel Robinson, according to Nashville's WTVF. In connection to her conviction on federal charges, a Senate ethics committee had previously recommended Robinson's expulsion, which the senator called a "procedural lynching" in a speech on the Senate floor posted to her Facebook page.
​​Robinson had been convicted of wire fraud involving federal grant money at a school for health care school workers she ran in Memphis before being elected to the state Senate, the Associated Press reported. Robinson and other Democrats said that her expulsion was premature, pointing to the fact that many of the initial charges against Robinson were dropped and that she has not received sentencing in connection to two remaining counts.
"Today the country got a front row seat to the saddening reality that racism pervades every level of our society," Robinson said in a statement to Newsweek. "Even as a sitting state senator, I was denied equal rights among my peers."
She said the proceedings were an attack on "black leadership, black women, and the black vote."
"What will the Senate do about the other elected officials who have actually committed transgressions while in office? What about those who violated campaign finance laws? What will they do about the senator who carried on an affair his cousin, writing bogus opioid prescriptions while they campaign on fighting the 'opioid crisis?'" Robinson said.
Robinson was referring to Tennessee state Sen. Joe Hensley, who had an affair with his second cousin and was charged with prescribing controlled substances to family members, The Tennessean reported. Neither were criminal allegations and he remains in the Senate after having his medical license put on probation in 2020.
"While the expulsion of a senator for the first time in history was not something any of us wished to see, it was a necessary action," Senate Speaker Randy McNally said in a statement after the vote, the AP reported. "The integrity of the Senate is of paramount importance."
Republican Senator John Stevens said fellow citizens judged Robinson in a courtroom, according to the AP.
"They determined she violated a criminal statute. A federal judge did not disagree with that determination. How can we demand that citizens respect the integrity and reputation of the Senate if we disrespect them by ignoring their determinations," Stevens was quoted by the AP.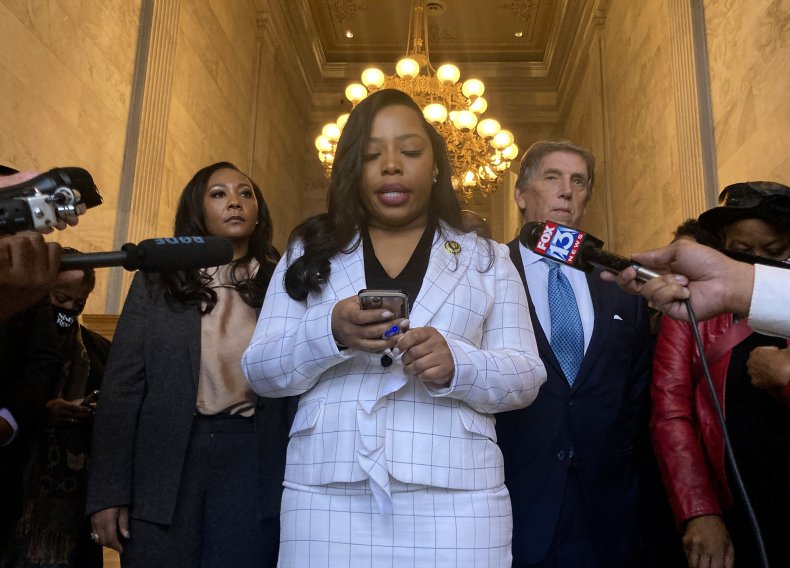 In 2020, Robinson and two others were charged with conspiracy to commit wire fraud and money laundering, according to Memphis' Commercial Appeal newspaper. Robinson was originally charged with 48 counts involving $600,000 in federal funds meant for scholarships.
A federal judge decreased the number of charges against Robinson from 20 to five during the trial, and she was later found guilty of four of the charges, the Commercial Appeal reported. The charges involved less than $3,500 that prosecutors said was used for wedding expenses.
Last fall, another judge acquitted her of two charges she was found guilty of, according to the Commercial Appeal. However, Robinson's motion for a new trial regarding the last two counts was denied in January.
The last time any official was expelled from the Tennessee state Legislature was in 1866, a year after the Civil War, according to the legislative librarian Eddie Weeks in an email to Newsweek, when six House representatives were expelled.
Update 02/02 6:47 PM: This story was updated to include comments from former Tennessee state Senator Katrina Robinson and information on Tennessee state Sen. Joey Hensley.