Tennessee Williams at 100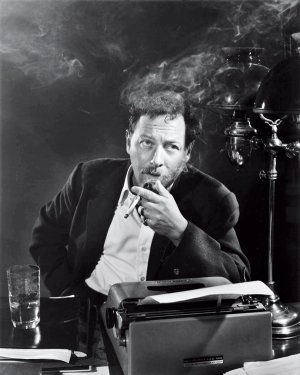 Tennessee Williams is aging beautifully, now that he's gone. When he died in 1983, his career had all but ground to a halt. More than two decades had passed since his last Broadway success. Stars had ceased clamoring for his roles the way they had in the glory days of Marlon Brando and Paul Newman. The circumstances of his death were undignified—he choked to death on a bottle cap in a drug-fueled haze—and the subsequent New York Times obituary poured salt in the wound, recounting how the great playwright had "lost his look of boyish innocence and became somewhat portly and seedy."
Yet this March, as we mark the centennial of Williams's birth, he is flourishing. The stage and screen great Olympia Dukakis is starring in a revival of The Milk Train Doesn't Stop Here Anymore at the Roundabout Theatre Company in New York, and it's been reported that Sweet Bird of Youth will return to Broadway in the fall, starring Nicole Kidman and James Franco. Across the country, audiences will get to see his masterpieces: The Glass Menagerie, A Streetcar Named Desire, and Cat on a Hot Tin Roof. (There's even a Streetcar in Paris, at the Comédie-Française.) But producers and critics seem to be warming to the messy late work as well—the dense, purplish writing that sank his reputation in the first place. You'll know the restoration is complete when some Broadway producer dares to mount Clothes for a Summer Hotel, Williams's late stab at depicting the baleful ghosts of Scott and Zelda Fitzgerald: great idea, dubious play.
Given that the interest in his work runs both deep (his hit plays) and wide (the weird stuff), it's easy to imagine Williams's appeal stretching into his second century and beyond. But what do his plays offer to the audiences that will encounter them in New York, Provincetown, Philadelphia, Washington, New Orleans, and elsewhere this year? Our iPhone-toting 21st-century world is very different from the one that first encountered Amanda Wingfield, Maggie the Cat, and the rest. The test of a great dramatist—and the pleasure of revisiting his or her work—lies in discovering the fresh ways that a play speaks to us across the generations. The centennial helps us identify how Williams's plays have kept pace with contemporary life—or, in some respects, the other way around.
Now, as ever, Williams is a poet of liberation. His work offers what he called "a prayer for the wild of heart that are kept in cages." (The phrase got a boost recently when Angelina Jolie tattooed it on her arm.) Williams was working from his own experiences when he offered his portraits of lonely, repressed people at odds with their society—a position he understood not least because he was gay at a time and in a place where that was dangerous. In an expansive new exhibit about his life and work at the Harry Ransom Center at the University of Texas at Austin, visitors can trace his fights with the censors who wanted to conceal the homosexuality of Blanche's husband in Streetcar, among other battles. His writing in the face of puritanical opposition made him a pioneer of gay drama in America—and, by extension, a vital figure in the ongoing fight for equal rights. "I see no essential difference between the love of two men for each other and the love of a man and a woman; no essential difference, and I've examined them both," he said in a 1975 interview.
But there's a crucial twist in Williams's writing about sex that we shouldn't overlook. In his plays, straight love and gay love don't meet on some lofty, noble plateau: they share a gutter. There's nymphomania and rape in Streetcar, sadomasochism in 27 Wagons Full of Cotton, and an astonishing array of cheaters, hustlers, gigolos, and prostitutes just about everywhere else. In New York right now, the Wooster Group has made his tawdry 1973 drama Vieux Carré even tawdrier, punching up a memory play about a writer's stay in a sleazy boardinghouse with snippets of onscreen porn, sex toys, and nudity. (All this feels somehow in keeping with the material.) Sex seems to be growing more domesticated these days—from the literal domestication of gay marriage to pole-dancing classes being offered as wholesome exercise. But again and again in his work, Williams insists we not lose sight of its dangerous, destabilizing power.
If Williams's writing about eros offers a rebuke to our complacency, another aspect of his work offers relief to what he called our "savagely beleaguered nerves." An audience watching a Tennessee Williams play in 2011 is an audience that's probably composed of tense, overworked, stressed-out people. Williams understood better than most the corrosive powers of the ticking clock. "It is this continual rush of time, so violent that it appears to be screaming, that deprives our actual lives of so much dignity and meaning," he wrote. Blanche's daydreaming out loud about Belle Reve in Streetcar and Amanda's telling worn-out stories of her cotillion days in The Glass Menagerie are both attempts to preserve some gentility in a world that moves too fast to allow it.
By talking and talking and talking this way, Blanche, Amanda, and the rest of Williams's characters are asserting their humanity. They refuse to pipe down or punch the clock, because speech, in his plays, is a way for powerless people to prove that they're alive: they talk to keep the lights from going out. (In that sense, Williams's truest heir may be August Wilson, whose characters assert themselves in an oppressive world through the melodies of his long speeches.) Listening to these fabulous talkers gives us a respite from the accelerating tempo of stoplights and deadlines and meeting alerts. Williams could have had today's audience in mind when he said that great drama offers the audience "a special kind of repose which allows contemplation."
Ultimately, his writing about time and his writing about sex yield the same message: there is a Dionysian streak in men and women that we ignore at our peril. Our untidy sexual urges and the uneven rhythms of our lives can't be regimented, no matter how much society expects otherwise. Thus the goofiest part of the centennial may also be the most fitting. In New Orleans, among other commemorations, visitors will try to outdo Brando's famous yell in the annual Stella Shouting Contest. It's an apt tribute to a playwright who has done more than any writer since Walt Whitman to celebrate the noisy, sometimes unlovely, but always distinctive ring of the individual human voice.