Tennessee's Former Vax Chief Says Conservatives Avoiding Vaccine 'Out of Spite'
The former head of Tennessee's vaccination program says that conservative white men in rural parts of the state are refusing to be vaccinated against COVID-19 "out of spite" for Democrats.
As in much of the rest of the nation, new cases of COVID-19 in Tennessee have recently been spiking—experts have blamed the increase on both the rise of the Delta variant and on vaccine hesitancy. During an interview on PBS' Amanpour & Company that aired Wednesday, Fiscus suggested that vaccine hesitancy in Tennessee was due at least in part to some residents fearing that they would be "somehow placating the left" by receiving the vaccine.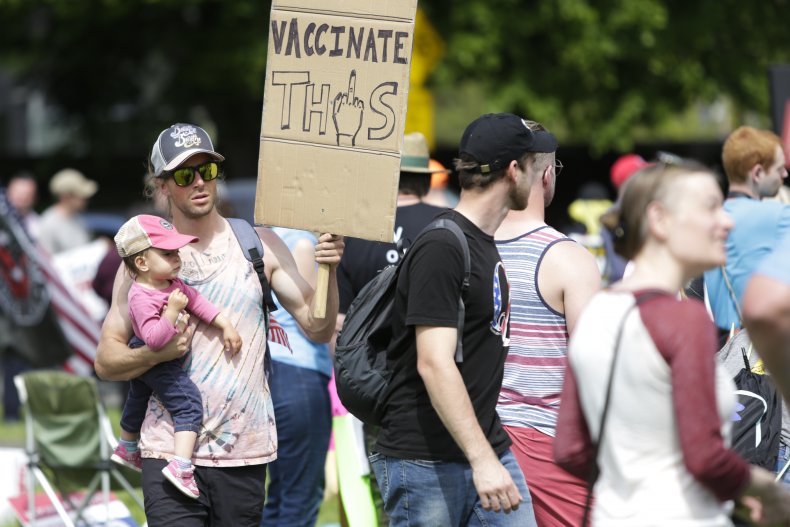 "In Tennessee, and I think in a lot of our Southern states... [there] is this ideology that if you get this vaccine, you're somehow placating the left part of the political spectrum," Fiscus said. "What we're actually seeing is our most hesitant population in Tennessee is the white, male, rural conservative. They are stating that they are not going to get the vaccine really out of spite."
"And they are willing to put their own lives and the lives of the people they love at risk," she added. "Because they feel that if they get the vaccine, then they have placated the left or done what the Biden administration wants them to do."
Fiscus was fired as the medical director of Tennessee's immunization program in July. She says that the firing was politically motivated due to a letter she sent to health care providers that correctly pointed out that teenagers are not legally obliged to inform or seek permission from their parents in order to get a COVID-19 vaccine. Documents from the Tennessee Department of Health suggest that she was let go due to a "lack of effective leadership" and other issues.
Multiple polls have indicated that politics do appear to play a role in willingness to receive a COVID-19 vaccine. A national Morning Consult / Politico poll released on Wednesday found that Republicans were 14 percent less likely than Democrats to be vaccinated, while those who voted for former President Donald Trump in 2020 were 17 percent less likely to be vaccinated than those who voted for President Joe Biden. Trump won Tennessee by more than 20 percent last year.
While just over half of the U.S. population has been fully vaccinated as of Thursday, Tennessee has a relatively low vaccination rate. Data from the Centers for Disease Control and Prevention shows that the state is the ninth-least vaccinated out of 50 states. However, vaccination rates are even lower in four out of the eight states that border Tennessee—Mississippi, Alabama, Arkansas and Georgia.
"Vaccine hesitancy is not unique to Tennessee, as we know many states in the Southeast region of the U.S. are experiencing similar hesitancy concerns," Tennessee Department of Health Communications Director Sarah Tanksley said in a statement to Newsweek. "In Tennessee, we worked to understand the hesitancy concerns and conducted market research earlier this year."
Tanksley cited a survey from April that found "53.7 percent of all respondents are willing but hesitant to receive a COVID-19 vaccine," while explaining that the "main reasons associated with vaccine hesitancy are safety and unknown long-term or short-term effects."
"That market research inform our COVID-19 vaccine PSA campaign and our messaging to encourage vaccine uptake in the state," added Tanksley. "It is also worth noting Tennessee is seeing increases in vaccine uptake with more than 100,000 vaccinations reported since August 5."
Update 8/13, 6:34 p.m.: This article has been updated to include a statement from Tennessee Department of Health Communications Director Sarah Tanksley.