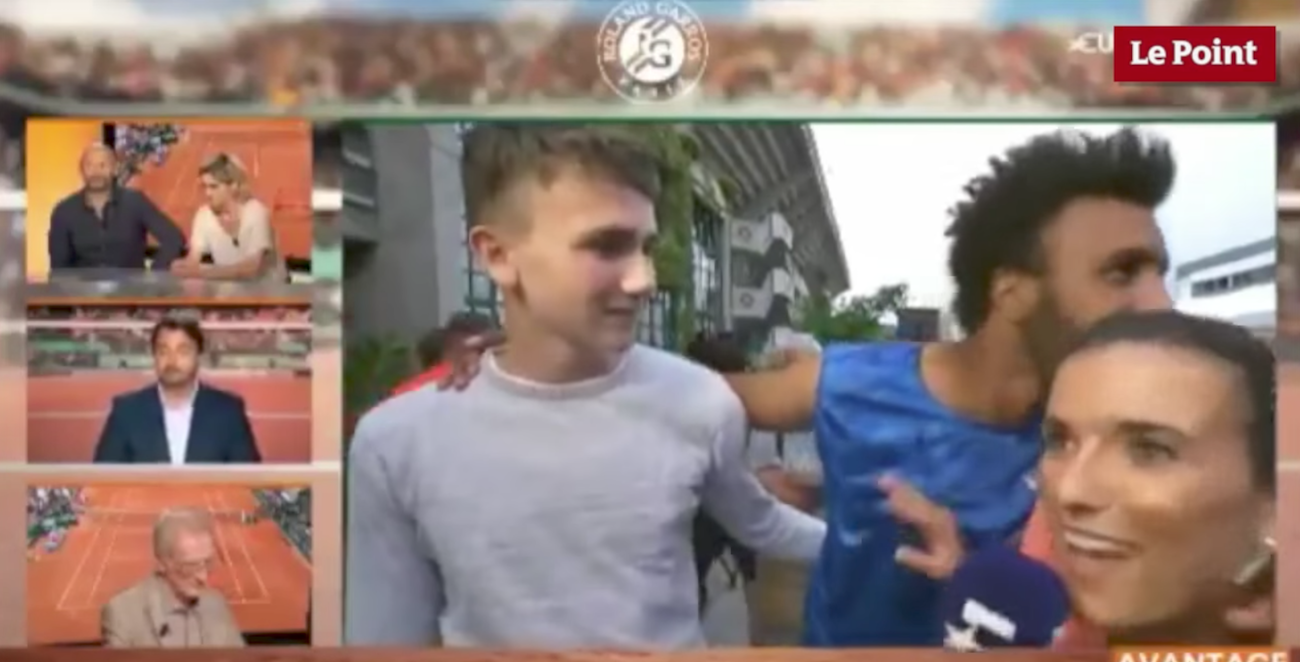 French tennis player Maxime Hamou has been kicked out of the French Open for repeatedly kissing and groping a female reporter on camera.
Related: ESPN's '100 Most Famous Athletes' list omits baseball
During a post-match interview, the 21-year-old Hamou, ranked 287th in the world, put his arm around Eurosport reporter Maly Thomas and, over the course of about 35 seconds, repeatedly kissed her as she attempted to interview him. Thomas tried to wriggle away from Hamou, but his grip on her shoulder remained firm. Toward the end of the interview, he moved his hand closer to her neck and, ultimately, across the front of her blouse before she flung it away and escaped.
The French Federation of Tennis called it a "reprehensible act."
Also reprehensible was the response from studio host Henri Leconte, a former tennis pro who laughs and claps heartily as Hamou assaults Thomas.
Though the interview came after Hamou lost in straight sets to Pablo Cuevas of Uruguay in the tournament's first round, the Open still felt the need to publicly ban the Frenchman from the rest of the tournament. "The management of the tournament has decided to revoke Maxime Hamou's accreditation following his reprehensible behavior with a journalist yesterday," the French Tennis Federation said in statement provided to The Telegraph.
Thomas smiles throughout the interview before throwing Hamou's arm off of her chest, but don't be mistaken: "If I hadn't been live on air, I would have punched him," she told Huffington Post France.
Hamou on Tuesday released an apology via his Instagram account (translation via Deadspin):
After the show "Avantage Leconte," I have to give my deepest regrets to Maly Thomas if she felt hurt or shocked by my attitude during her interview. I just lived a magnificent week here at Roland Garros as I lived my most beautiful thrills as a tennis player, and I allowed my overflow of enthusiasm to bleed clumsily toward Maly, who I know and respect sincerely. Nothing but what is written was my intention. I am at her disposition to present my apologies in person if she would like it. I again learn from my mistakes every day to become a better tennis player and a better person.
Thomas's network, Eurosport, issued a statement provided to Retuers on Tuesday. "We sincerely regret the incident that occurred during yesterday evening's interview between Maly Thomas and Maxime Hamou. The behavior of the interviewee was highly inappropriate and we do not condone such conduct in any way. Maly is a highly respected journalist and we are pleased that a full apology is being offered."
The French Tennis Federation has said that it will continue to investigate the incident.
About the writer
Ryan Bort is a staff writer covering culture for Newsweek. Previously, he was a freelance writer and editor, and his work has appeared at Esquire, Quartz, Paste, Grantland, VICE Sports, and elsewhere. He is originally from Dallas, Texas.