Tennis Stars Praise WTA's Steve Simon for Peng Shuai Withdrawal
Tennis figures from around the world are applauding Steve Simon, the chairman and CEO of the Women's Tennis Association, for pulling tournaments out of China and Hong Kong amid the circumstances surrounding Chinese player Peng Shuai and are now putting heat onto other major sports bodies to follow suit.
Tennis superstar and WTA founder Billie Jean King called Simon's decision "another reason why women's tennis is the leader in women's sports."
"I applaud Steve Simon & the @WTA leadership for taking a strong stand on defending human rights in China & around the world. The WTA is on the right side of history in supporting our players," King tweeted.
Martina Navratilova, a former 18-time Grand Slam champion, also praised Simon, calling the withdrawal a "brave stance," and urging the International Olympic Committee to take action against the Chinese government too.
"This is a brave stance by Steve Simon and the WTA where we put principle above $ and stand up for women everywhere and particularly for Peng Shuai," Navratilova wrote. "Now - what say you, @IOC ?!? #IOC - so far I can barely hear you!!!"
Chris Evert, a former world No. 1 tennis player from the U.S., said she hoped that WTA's position would encourage influential groups—even those outside the tennis community—to mount pressure on China.
"Proud of Steve Simon and the @WTA for following through...hoping the rest of the powers of tennis, other sports, and even businesses follow suit....Now, let's concentrate on finding Peng Shuai..." Evert tweeted.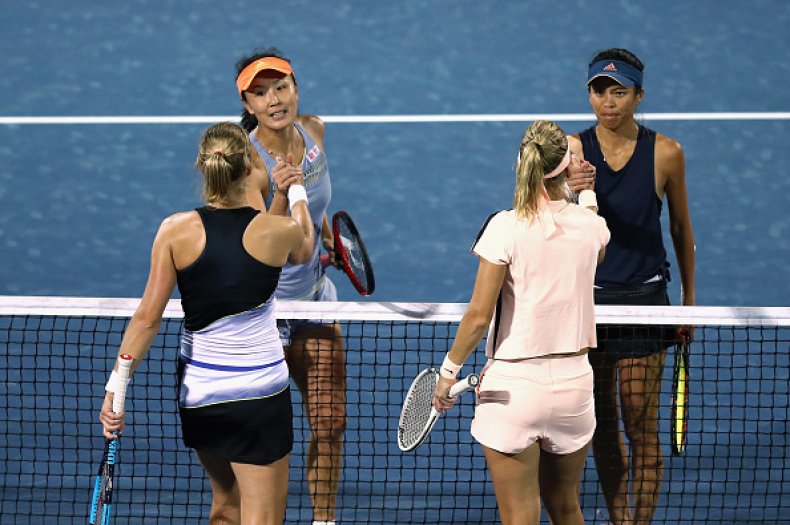 On Wednesday, Simon announced that the association would suspend its events in China and Hong Kong until China takes more serious steps to address the controversy around Peng, a three-time Olympian who disappeared from public life after alleging she suffered sexual assault at the hands of a top Chinese government official.
"In good conscience, I don't see how I can ask our athletes to compete there when Peng Shuai is not allowed to communicate freely and has seemingly been pressured to contradict her allegation of sexual assault," Simon said in a statement.
Prominent figures from men's tennis also celebrated Simon's position, with Australian John Millman calling it a "really strong stance" and American Mardy Fish tweeting that he "couldn't be more proud of Steve Simon and the @WTA."
France's Nicolas Mahut, a five-time Grand Slam doubles champion, celebrated Simon as "a great leader" while adding that he hoped WTA's male counterpart, the Association of Tennis Professionals (ATP), would follow.
"Yo men, let's back the ladies up huh? We gonna sit this one out or what?" American Tennys Sandgren also wrote.
American Andy Roddick went even further and slammed ATP's subsequent statement, calling it "how to say a lot of words and say nothing."
"There are a lot of organizations who can afford to do something like this a lot more than the WTA can ....... Respect. Doing the right thing is a lot easier when there aren't associated costs," Roddick tweeted on Wednesday.