Tens of Thousands Positive COVID Results in Texas Not Reported, Officials Say
Texas' daily numbers of newly-confirmed COVID-19 cases are excluding tens of thousands of results taken from antibody and rapid antigen tests because of potential false results, according to the Texas Department of State Health Services (DSHS).
A DSHS spokesperson told FOX 26 Houston that the state's tallies only include the nose swab PCR test results which detect the virus's genetic material.
"The principal one is the PCR tests and that's the gold standard," said DHSH spokesperson Chris Van Deusen.
However, antibody and rapid antigen tests work differently. Antibody tests antibodies detect chemicals made by the immune system in response to a specific virus, and antigen tests detect specific proteins on the surface of a virus.
Antibody and rapid antigen tests can both produce false positives, according to Dr. David Persse of the Houston Health Department. Persse said that rapid antigen tests provide false negatives 15 to 30 percent of the time. The tests can also provide false positives.
As a result, doctors will often classify any positive results from antibody and rapid antigen tests as "probable" cases rather than "confirmed" cases.
Van Deusen estimates that Texas has anywhere from 10,000 to 20,000 probable cases as a result of these tests that aren't included in the state's official tally. People with probable cases are still advised to follow quarantine and other preventative measures to prevent a possible spread of the virus.
State and local health departments and the U.S. Centers for Disease Control and Prevention (CDC) use the distinctions between "probable" and "confirmed" cases, which were determined by a council of epidemiologists, according to Van Deusen.
Newsweek contacted the DSHS for comment.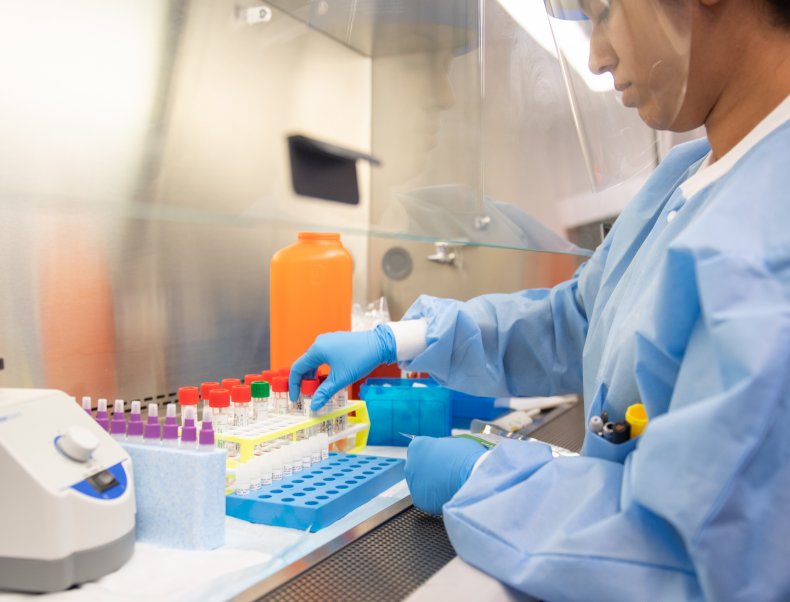 Despite tens of thousands of probable cases not being included in the state's tallies, Van Deusen said the department's reporting and advising to local and state government officials remains trustworthy.
"We're looking at the trends here," Van Deusen said. "So we're seeing those cases track up track down over time and that's really informing our decision making."
Last month, Texas broke its record for the highest daily toll of deaths connected to COVID-19 with 197 reported coronavirus-related deaths on on July 22. The week before, the state broke its daily records for the highest daily COVID-19 death tolls four times in a seven-day span.
With more than 7,640 COVID-19 deaths as of August 3, Texas ranks sixth among U.S. states with the highest death tolls. The state's over 459,000 confirmed coronavirus cases ranks it third among states with the highest case numbers.