The Tense 'Friendship' Between Facebook and Zynga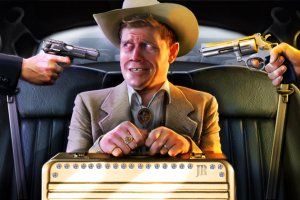 Part of the lore around Facebook is that Mark Zuckerberg, its 26-year-old founder, does not care about money. But for a guy who doesn't care about money he is awfully good at squeezing it out of his business partners. Over the past two years, Facebook has evolved from a social-networking site into something much bigger: it has become a huge online arcade where each month more than 200 million people play videogames that run as applications on top of Facebook.
San Francisco–based Zynga, the biggest Facebook game developer, has become a software powerhouse in its own right, generating an estimated $500 million in revenue this year by selling virtual goods to people hooked on its games, which include FarmVille and Mafia Wars. (Zynga won't comment on revenue projections.) There's no cost to play the games, but if you want to jump ahead faster, you can spend real money on virtual goods.
But Facebook has been finding clever, albeit arm-twisting ways to wring revenue out of the software companies like Zynga that live in its ecosystem. That arm-twisting is partly how Facebook this year will manage to generate revenues approaching $1.5 billion, according to outside estimates.
Facebook, for its part, says it's not trying to squeeze money out of developers but rather to defray the cost of operating the platform and make it better for everyone. "What may look to outsiders as efforts to monetize our platform are in fact efforts to build a robust and sustainable ecosystem," says Elliot Schrage, vice president of communications and public policy at Facebook. "We believe we have one of the most developer-friendly platforms on the Internet."
The first way Facebook makes money from partners is through advertising. The best way for companies like Zynga to attract new game players is to advertise heavily on Facebook. So as soon as Zynga rakes in money from its users, it turns around and pumps some of that money back into Facebook to buy ad space. As a result, Zynga is not only a leading developer of games on Facebook, it's also one of Facebook's biggest single sources of revenue.
Facebook squeezes yet more money from Zynga and other partners by getting them to accept payments from game players using an online currency that Facebook has created, called Facebook Credits. Instead of buying virtual goods directly from game developers, players buy Facebook Credits—and Facebook keeps a 30 percent slice of the transaction.
By the end of this year most of the big apps will be using Facebook Credits, says Justin Smith, founder of Inside Network, a research firm that tracks the Facebook ecosystem. That could generate $300 million in new annual revenues for Facebook, since users by next year will be spending about $1 billion on social gaming on Facebook, Smith reckons.
Game developers surely do not like having to give up 30 percent of their revenue, but what choice do they have? "They've built their businesses on Facebook, and they have to live with changes that Facebook makes. That's part of life on any platform," Smith says.
Social gaming is not something Zuckerberg could have imagined back when he was creating Facebook in his Harvard dorm room in 2004. The change began in May 2007, when Facebook announced it would let outside developers create applications that run on top of Facebook. With that move, Facebook transformed itself from a Web site into a platform, something akin to what Microsoft Windows was in the 1990s.
That move by Facebook set off a gold rush in Silicon Valley, drawing more than 1 million developers who have created more than 550,000 apps. Nobody seized the opportunity more eagerly than Mark Pincus, the founder of Zynga. Pincus had already started a string of tech companies in Silicon Valley and was an early investor in Facebook. He founded Zynga in January 2007, a few months before Facebook announced its new platform. In September of 2007, Zynga released its first Facebook game, Texas Hold 'Em Poker, and business quickly took off.
As soon as Zynga began to boom, Facebook began to put on the squeeze. Earlier this year Facebook stopped letting apps makers like Zynga promote their games by sending notifications to users. The new policy was great for users, who were sick of being bombarded with promos about games. It was also great for Facebook, because by depriving game makers of their free promos, it pushed them to spend more on buying advertising space from Facebook.
The next and bigger challenge came when Facebook introduced Facebook Credits and indicated it would eventually require all partners to use them. That move led to tension between Zynga and Facebook. But this past May, after some haggling, the two companies struck a five-year deal in which Zynga agreed to use Facebook Credits.
The fact is, Zynga had no choice. TechCrunch editor Michael Arrington claimed Facebook had developers in a "Darth Vader death grip," and described the situation between Facebook and game makers this way: "Imagine a 400-pound bully strangling another kid while simultaneously rummaging through his pockets for lunch money. And he's speaking quite calmly the whole time about what great friends they still are."
In the months since striking the long-term pact with Facebook, Zynga has begun trying to diversify its business and reduce its dependency on Facebook. It has completed deals with Yahoo and Google to put Zynga games on those platforms, and has been rumored to be developing its own social-games network.
In a statement, Zynga says that "millions of people play Zynga games on the Facebook platform every day. We look forward to continuing to work with Facebook to bring the best social game experiences to users worldwide."
Zynga will likely never get away from Facebook completely. But if it builds enough presence elsewhere, it can at least demand better terms from the 400-pound bully. And that may be good enough.