Tent City Grows in Texas, as Nonprofits Struggle to Care for Migrants With COVID-19
An emergency encampment outside the city of McAllen, Texas is expected to grow from 250 to 650 people as more migrants arriving in the area test positive for COVID-19, officials responding to the issue said.
McAllen, within the larger Hidalgo County, serves as a drop-off point for migrants exiting the custody of U.S. Customs and Border Protection (CBP). As the wave of migrants continues to surge, local nonprofits and city officials, which are left to process the immigrants after they leave Border Patrol, have become overwhelmed.
The Respite Center run by the Catholic Charities of the Rio Grande Valley has historically cared for migrants dropped off in McAllen by CBP. However, the nonprofit can no longer sustain the demand for its housing and emergency services, resulting in those migrants who test positive for the virus being sent to the tent city in Anzalduas Park.
"The current situation can be confusing because of the complexity of existing immigration laws," Hidalgo County Judge Richard Cortez said Monday in a public statement declaring a local disaster. "My order today is targeting those migrants who are legally in this country seeking asylum but are being released by immigration officials in high volumes while the spread of COVID-19 is spiking within our community."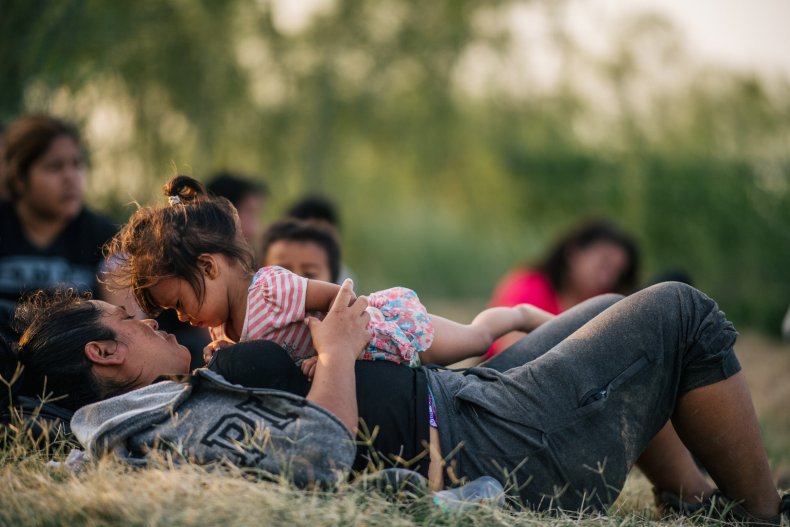 Preliminary figures place CBP migrant encounters for July at 210,000, a 20 year high, the Associated Press reported. David Shahoulian, the DHS assistant secretary for border and immigration policy, has pointed to the Rio Grande Valley, where the city of McAllen sits, as the "epicenter of the current surge."
Newsweek previously reported on CBP's practice of dropping off migrants in nearby border towns upon initial processing. Many of these migrants arrive with few monetary resources, often in need of humanitarian aid and overnight shelter. This responsibility often rests upon local nonprofits which have struggled under the recent surge.
"This is a federal issue," Cortez said in a Thursday address. "These immigrants are here based on the laws of our nation legally, seeking asylum. It is the Federal Government's responsibility to care for them and to take care of them."
Catholic Charities reports that not everyone in the encampment tested positive for COVID-19. Some chose to stay with family members as the quarantined, despite testing negative themselves. Once migrants test negative, they are free to leave the encampment and embark on the journey to their final destination.
McAllen City Manager Roy Rodriguez said the situation continues to move quickly and the city must "adapt to it," adding that ensuring the safety of McAllen residents stands as a top priority. When asked during a public address about policies that may be serving as drivers for the influx, Rodriguez stepped away from speculating, instead saying, "We just need help."