WBO Champion Terence Crawford Says Coronavirus Is a Media-Driven Conspiracy: 'They're Using Fear to Try to Control Us'
The coronavirus outbreak has paralyzed the world, but WBO welterweight champion Terence Crawford believes the pandemic is a media-driven conspiracy.
The Nebraska native has been training as usual during the COVID-19 outbreak and has told his family to ignore shelter-in-place guidelines issued by the U.S. Centers for Disease Control and Prevention.
"It ain't no different to any other day. I'm not locked up in the house. I'm not locking my kids up in the house, I'm telling you," he said on the Boxing with Chris Mannix podcast last week.
"I don't feel like these people that they say are dying and sick from it is actually true. I think they're using fear to try to control us right now, for something else. I don't know what it is but me personally, I just can't agree with a whole bunch of things that they're saying now.
"The media runs the world. You put anything on, then everybody's gonna run with it and you'll have people scared."
Crawford, who is undefeated in 36 professional bouts with 27 wins by KO, also suggested the extent of the outbreak had been exaggerated, pointing out the fact a number of people were still working as usual.
"If it's so bad then why are people still picking up trash, why are people working but you can only do take out?" he continued.
"I have a load of questions I need answers to. What about all the police officers that are still working?
"Me, if I was a cop, if it was that bad, then I wouldn't be working. I don't agree with what they're saying."
The Nebraska native also told Mannix that, in his eyes, coronavirus was not too dissimilar from a common cold.
"They said it really don't affect healthy individuals, only the elderly or those with problems like asthma or breathing disorders—but that's like any cold or flu," he explained.
"You've got to protect the ones with body issues like overweight or obesity."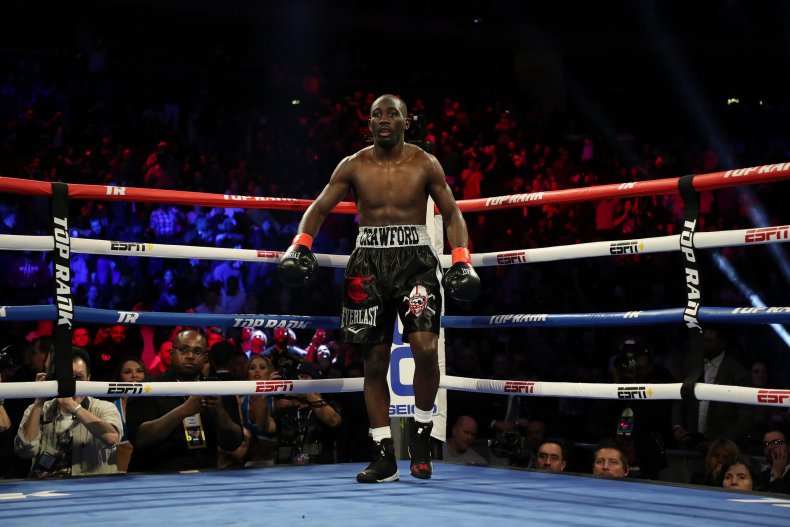 The former undisputed light-welterweight world champion isn't the only high-profile figure to doubt the veracity of the pandemic. A number of celebrities such as Hollywood stars John Cusack and Woody Harrelson have wheeled out the 5G conspiracy theory that links cell towers as the main cause of the coronavirus.
The supporters of the theory believe people, and specifically cell phone users, have had their immune system weakened by 5G as a result of being exposed to more radiation. Debilitated immune systems have, in turn, proved to be fertile ground for COVID-19.
Like many other conspiracy theories, the claims have been swiftly debunked by scientists.
"COVID-19 is caused by a virus that came through a natural animal source and has no relation to 5G, or any radiation linked to technology," Dr. Georges C. Benjamin, executive director of the American Public Health Association, said last week.
As this chart provided by Statista shows, by Wednesday morning, over 609,500 cases have been reported in the U.S., by far the highest tally in the world. Over 26,000 deaths have been recorded in the U.S. and almost 50,000 people have recovered, according to Johns Hopkins University, which has been tracking the outbreak using combined data sources.
Over 126,000 people have died globally since the outbreak of coronavirus began in Wuhan, a city located in China's central Hubei province, late last year. There have been over 1.9 million confirmed cases globally.