Teresa Giudice Praying For Judge at Center of Fatal Shooting, Who Previously Sentenced Her to Prison
A horrifying crime has a Hollywood connection you might not have expected. Judge Esther Salas lost her son and saw her husband severely injured on Sunday when someone disguised as a FedEx worked opened fire on the family. But this isn't the first time her name has been in the headlines. Salas is known for sentencing Teresa and Joe Giudice of The Real Housewives of New Jersey in 2013.
Both Joe and Teresa spent time in prison for mail fraud after Salas sentenced them, but there's no hard feelings on Giudice's side, especially in the face of Salas' family tragedy.
James Leonard Jr., attorney for Teresa Giudice, told Newsweek Giudice is full of empathy for Salas' loss. "Teresa was very shaken by the news and was very emotional when she heard about it," he said. "She told me that would be praying very heavily for Judge Salas and her family. This is absolutely devastating."
And Giudice isn't the only one shocked by the horrific shooting. Her former Legal Crisis and Media Manager Wendy Feldman, who was at Giudice's sentencing, told Newsweek the Judge made a great impact, even in such a stressful time.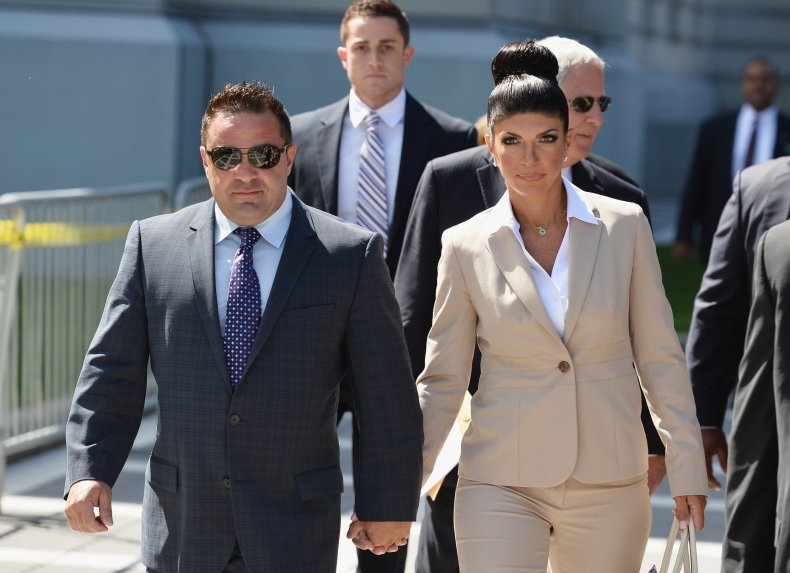 "I don't represent Teresa any longer as her legal issues are over," she told Newsweek. "But I know that [Teresa] has great respect for Judge Salas, Judge Salas is one of the great Federal Judges in that she can be harsh in her rulings, but also caring and respectful."
She continued to reflect on a specific moment that showed Salas' kind nature. "The day of the Giudice sentencing there was the largest media crowd ever in Newark," Feldman wrote via email.
"She allowed me to sit next to Teresa and guide her through a very difficult sentencing. But I've spoken about Judge Salas often and her words at sentencing to 'not allow this moment to define you' have stuck in my head and how every judge sentencing a non-violent offender should be. Considerate of the law and empathetic towards the situation. She's both. My prayers and thoughts are with her."
It appears Salas' husband, Mark Anderl, who is a criminal defense attorney, opened the door to the shooter. He was shot multiple times, according to three senior law enforcement officials in a statement to WNBC. Salas' 20-year-old son was also shot and died. Anderl underwent surgery and is in critical, but stable condition.
As for Salas, the Judge was in the home's basement at the time of the shooting and was unharmed.