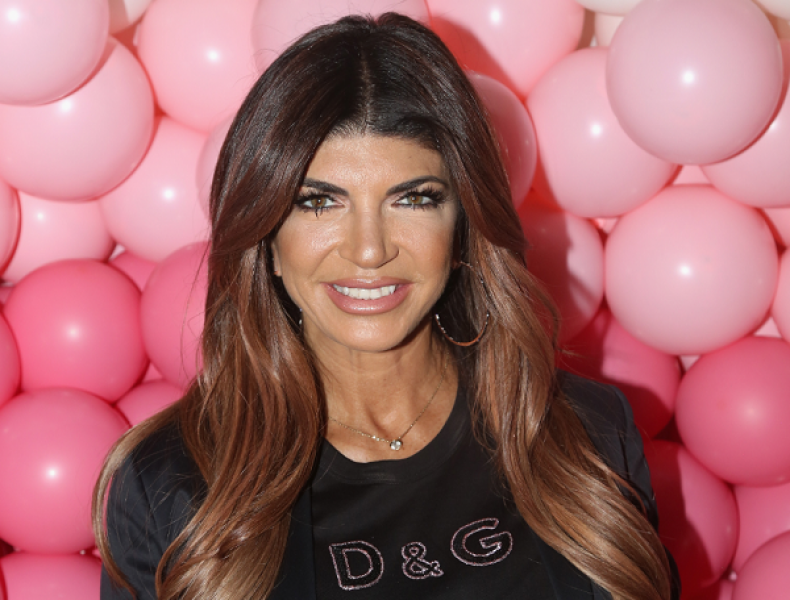 The upcoming new season of Real Housewives of New Jersey won't be a pleasant one for longtime cast member Teresa Giudice. The reality star, who's appeared on the Bravo series since its 2009 debut, teased serious drama in her Season 10 storyline during an interview with Us Weekly, released on Monday.
While the 47-year-old wouldn't specify what exactly sparked her intense "anger levels," stating viewers would have to "watch the show" to find out, she did say fans can expect to see her lashing out with as much frustration as her iconic Season 1 table flip. "What happened, I didn't expect it to happen. I'm shocked," she explained.
"It's just screwed up, you know? Let me just tell you, I was more mad this season than when I flipped the table."
Fans may recall the famous moment when Giudice flipped over a table during an argument with her on-again-off-again pal Danielle Staub during the Season 1 finale.
Giudice invited her then-rival Staub to a last supper of sorts with the rest of the RHONJ cast and their families, and pure chaos erupted after Giudice brought up "the book"—a phrase the cast regularly used to in reference of Staub's ex-husband scathing tell-all, in which he accused his former wife of being a "coke whore" working for a Colombian drug cartel. The book also included allegations of Staub's arrest record and claimed the reality star was once a stripper and prostitute.
Throughout the first season, Staub adamantly denied many of the accusations. That didn't stop Giudice from pressing her on the truthfulness of the claims during the season finale episode. When Staub continued to deny the claims and haughtily told Giudice to "pay attention," Giudice reacted by calling her a "prostitution whore" before flipping over the dinner table.
Despite their history of differences and disputes, the women seemed to have swept the incident under the rug by Season 9. Staub even shared an Instagram post of the duo celebrating 13 years of friendship in April.
Throughout production for Season 10 of the reality show, though, fans have speculated the women are once again at odds after reports claimed they recently ended their friendship.
Tension with Staub may just be one potential situation pushing Giudice over the ledge. Although the cookbook author is adjusted to life and working regularly following 11-months spent behind bars on fraud charges, the mother-of-four is still facing some rather stressful times as she awaits her husband Joe Giudice's fate.
Joe Giudice is currently in Immigrations and Customs Enforcement custody after completing a 41-month sentence on similar charges of mail, wire and bankruptcy fraud. He may soon be deported back to his home country of Italy, despite living the majority of his life in the United States. The family and their lawyers are currently fighting deportation and have filed an appeal.
Although Teresa Giudice has continued to support her husband, she admitted she likely wouldn't be uprooting her family to Italy if Joe Giudice is sent back to Italy. She hasn't announced any plans to divorce him either, but she did hint at the idea during the RHONJ Season 9 reunion.