'RHONJ' Star Teresa Giudice Details 'Hot' Sex Life With Luis in NSFW Chat
Newlywed Teresa Giudice has shared some salacious details about her sex life with her new husband Luis Ruelas revealing that they had sex up to five times a day while on honeymoon.
"I can't keep my tongue out of his mouth, he can't keep his tongue out of my mouth," the Real Housewives of New Jersey star revealed.
Giudice, 50, made the remarks during an appearance at the Live! Casino and Hotel in Philadelphia for an event alongside fellow Housewives stars Dorinda Medley and Dolores Catania—and she did not hold back during the Q&A session.
The New Jersey native revealed that she and Ruelas are usually intimate twice a day but that number increased during their recent getaway to celebrate their nuptials.
In a YouTube clip of the event posted by Whitney Ullman of The City Pulse, she said: "Morning and at night. If he gets me during the day, that's three!"
She continued: "We're very sexual and I love it. 'Cause, like, when you love someone, you wanna be that way with him. I can't keep my hands off of him, he can't keep his hands off of me.
"We're very hot and steamy and I think that's the way you have to be," she said. "I'm really so attracted to him, and vice versa, and I love every minute of it. You have to be! Otherwise, why would I get married?"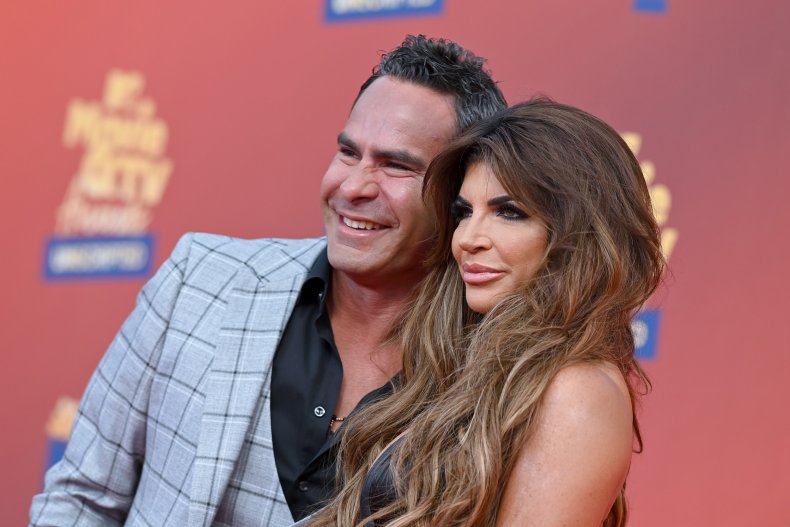 Giudice married entrepreneur Luis "Louie" Ruelas, 48, on August 6, in East Brunswick, New Jersey, in a ceremony that drew lots of attention due to the bride's unconventional hairstyle.
The reality TV star was previously married to Joe Giudice for 20 years. Following the divorce, she revealed that Ruelas was the first man she slept with after the end of her first marriage.
"Obviously you can't believe everything you read, but I have found my match," she said of her new husband to Page Six.
She previously said, "We can't keep our hands off each other. It's amazing, you don't even know," on a Watch What Happens Live with Andy Cohen episode in March 2021.
Giudice and Ruelas got engaged in October 2021 during a romantic getaway to Greece. At the time, she announced the news with a sweet post via Instagram.
"My Fiancé you are such a beautiful person inside and out. I love everything about you, especially your heart and the way you treat me and my daughters. You are amazing in so many ways one thing I admire about you is what a great Dad you are," she captioned a slew of photos and videos. "I am so lucky to have found you thank you for coming into my life. I know my parents sent you to me from that day I prayed to them on Bay Blvd. I adore you endlessly. You are the love of my life, my soulmate and my everything. I Love you."