When Will Joe Giudice Be Released From Prison? 'RHONJ' Star Teresa Giudice's Husband Immigration Order May Prevent Him From Going Home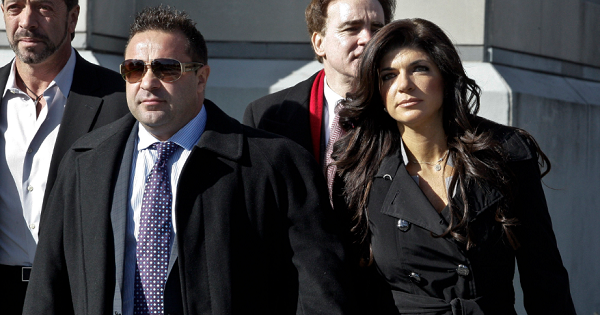 Teresa Giudice's husband may be released from prison as early as this week. A lawyer for the Real Housewives of New Jersey star's husband confirmed to Page Six Joe Giudice's federal sentence would officially expire "on or about March 14, 2019." However, that doesn't necessarily mean Joe Giudice will be reunited with his family in New Jersey on Thursday.
James J. Leonard Jr, the Giudice family attorney, told the publication Joe Giudice's immigration order could prevent him from returning home at the end of his prison stint. "Due to the immigration order and detainer lodged against him, that is not a release date meaning he is coming home on that date," Leonard said.
"We are optimistic that once his appeal is heard, he will receive the appropriate relief and will be able to come home and remain there with his family," Leonard added. "They love him, they support him and they miss him tremendously."
It could take up to a year for Joe Giudice's immigration appeal to be determined, and he could be ordered to remain behind bars until a decision regarding his citizenship is made.
The potentially extended jail time comes near the end of Joe Giudice's 41-month prison sentence after he was charged with tax and wire fraud. The 46-year-old is expected to be deported back to his home country, Italy, should his appeal be overruled.
Teresa Giudice, 46, was released from prison on similar charges in December 2015. The reality star spent nearly a year behind bars, after which her husband started his sentence in March 2016.
During the RHONJ Season 9 reunion Teresa Giudice shocked castmates when she revealed plans to end her marriage if her husband gets deported. "We'd go our separate ways," she said.
"I'm not doing a long-distance relationship. I'm not doing it," Teresa Giudice continued. "You know, I want somebody with me every day. I know exactly what happens. You know, I'm sure he'll be with other women. It happens. We do the long-distance thing, it's not going to work. I'd be like, 'Bye, bye.'"