'Terminator: Dark Fate' Reviews Call It a Return to Form, But Not Everybody's Convinced It's Necessary
Terminator: Dark Fate may have achieved what previous sequels to James Cameron's original Terminator films failed to—critical praise.
The first reviews for the new Terminator sequel are in and veer towards the positive end of the scale. So far, Terminator: Dark Fate is rated 60 percent fresh on aggregator Rotten Tomatoes, putting it ahead of 2009's Terminator Salvation (33 percent fresh) and 2015's Terminator Genisys (27 percent fresh).
The new Terminator leans into the nostalgia of the acclaimed Terminator (1984) and T2: Judgment Day (1991) films by bringing back Arnold Schwarzenegger as the eponymous robot-gone-good and Linda Hamilton as Sarah Connor. Also helping the Tim Miller-directed film on the creative side of things is original director James Cameron returning as a producer on Dark Fate.
Given the players involved, Dark Fate serves as a direct sequel to Judgment Day and ignores the events that occurred in both Salvation and Genisys, as well as 2003's Terminator 3: Rise of the Machines.
"Terminator: Dark Fate represents a welcome return to the its origins, with Arnold Schwarzenegger and Linda Hamilton reprising their roles, adding nostalgia and mythological heft that separates it from everything that has followed Judgment Day," said CNN's Brian Lowry in his review. Lowry concluded that the film "cleverly and effectively" adds to the legacy of the earlier films directed by Cameron.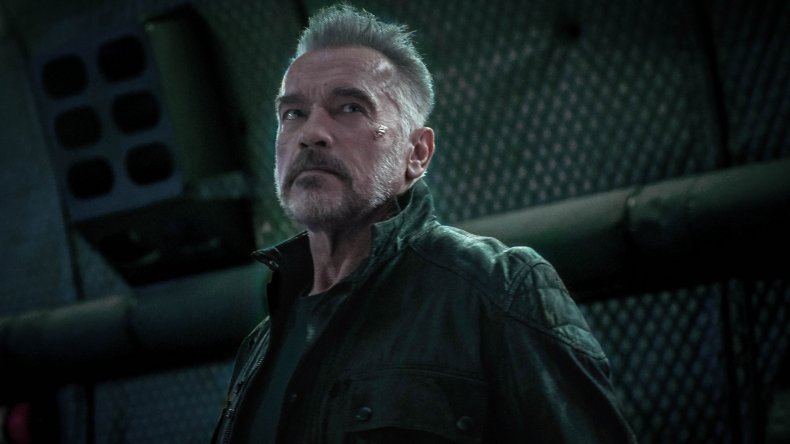 Variety said Dark Fate is the first "vital" sequel to T2, explaining that it is "designed to impress you with its scale and visual effects, but it's also a film that returns, in good and gratifying ways, to the smartly packaged low-down genre-thriller classicism that gave the original Terminator its kick."
Hamilton was singled out for praise for her portrayal of an older, more weathered Sarah Connor. "Yet Hamilton, playing this burnt-out husk of a savior, is triumphantly funny and alive," writes critic Owen Gleiberman.
The Hollywood Reporter gave Dark Fate a decidedly more mixed review, claiming the story feels like it's retreading on old territory but has "great action." Critic John DeFore wrote: "We're distracted from the staleness of this storyline by sequences that strain awfully hard to dazzle us."
Past thwarted attempts to revive the Terminator franchise have led to some critics running out of goodwill for the series, however.
The Associated Press' Lindsay Bahr said: "Terminator: Dark Fate is just another bad Terminator movie in a string of bad Terminator movies (although better than Genisys)."
The Guardian's Peter Bradshaw said: "This sixth Terminator surely has to be the last. Yet the very nature of the Terminator story means that going round and round in existential circles comes with the territory."