'Terminator: Dark Fate' Trailer 2: Sarah Connor Determined To Kill Arnold Schwarzenegger's T-800
In commemoration of Skynet's August 29, 1997 nuclear assault on humanity, Paramount Pictures and 20th Century Fox have released a second trailer for the upcoming Terminator: Dark Fate, the sixth entry in the sci-fi action series. But while Dark Fate reunites Linda Hamilton as Sarah Connor with Arnold Schwarzenegger's deadly Terminator — for the first time since Terminator 2: Judgement Day — it also reignites their once-settled enmity. Once again, Sarah Connor is determined to kill Schwarzenegger's durable T-800 Model 101 android.
The Dark Fate trailer premiered on Twitter, with a slightly different version available on YouTube.
Intended as a direct sequel to Judgement Day, Terminator: Dark Fate ignores movies subsequent to the original two, picking up from the events of the 1991 sequel, which ended with Sarah and her son John (Edward Furlong, rumored to return in a motion capture performance of his younger self) defeating the shapeshifting T-1000, averting the rise of Skynet and helping Schwarzenegger's Terminator model destroy himself so no one could use him to redevelop the world-destroying technology. Which is why it probably comes as a shock when Sarah and her new Dark Fate allies, Dani Ramos (Natalia Reyes) and enhanced human Grace (Mackenzie Davis), run into the aged T-800 in a cabin in the woods.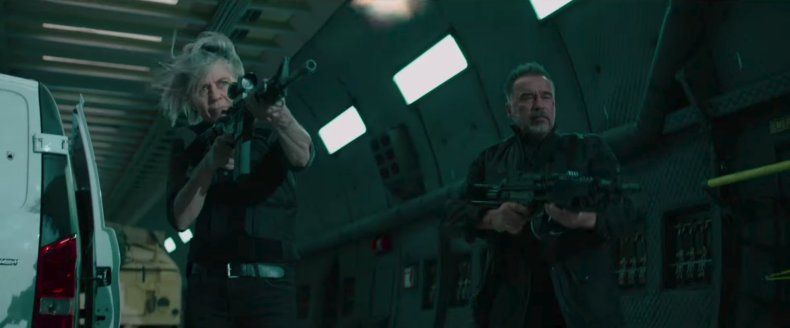 While the latest Dark Fate trailer doesn't tell us how the T-800 survived his molten metal dip at the end of Judgement Day, it does confirm that Sarah Connor is still determined to wipe out every piece of Skynet or Cyberdyne Systems technology.
"I am going to kill you," Sarah says in the new trailer.
"I understand," the Terminator replies.
But first, the two long-time allies and enemies will team up against the latest Terminator, a liquid metal model played by Gabriel Luna (Agents of S.H.I.E.L.D.).
In addition to Schwarzenegger and Hamilton returning to their roles, original Terminator director James Cameron is also back for Dark Fate, producing the movie as part of an effort to fix the series after a string of critical and box office disasters, most recently 2015's Terminator: Genisys.
Terminator: Dark Fate is directed by Tim Miller (Deadpool) and will be out in theaters November 1. It's then we'll discover how Judgment Day has been set in motion — once again — and whether or not Sarah gets to terminate Schwarzenegger's T-800 one last time.