Christmas is about giving, not receiving.
That's an important mantra to keep in mind ahead of the festivities on December 25. A truly unique, thoughtful gift can make Christmas Day that bit more memorable. Yet, conversely, a terrible present can also live long in the memory for altogether different reasons.
Time, thankfully, is a great healer and with the big day fast approaching, people across discussion sites Reddit and Mumsnet have gathered together to share stories about some truly awful gifts.
From car accident report kits to rolls of tape, here are 15 stories about some of the most hilariously terrible Christmas presents ever conceived. Because if they didn't laugh, they would probably cry.
1. "F***ing Mortified"
BrightOrLancaster wrote on Mumsnet: "I was 13, got a lacy training bra from an aunt I wasn't close to." While the gift was bad enough, she said what made it worse was having to open it in front of the family. "I was f***ing mortified."
2. "I Think You'll Really Like It"
On Reddit, Beehaw7 recalled splashing out on a Garmin smartwatch for her boyfriend. His gift for her? An MMA magazine and a second-hand copy of Forrest Gump on DVD. The real kicker came when he confessed to her "I, uh, got bored so I watched the movie yesterday." Not only that, he also admitted he had "read through" the magazine. "I think you'll really like it," he told her. She ended things soon after.
3. "Maybe It Was A Hint!"
Cakeforthewin regaled Mumsnet with a contender for the world's most insulting present. "A box of 'slim pasta,'" they wrote. "I thought pasta was generally a strange choice but 'slim pasta?' It's not that I was on a diet either. Maybe it was a hint!"
4. "In The Interests of Convenience"
Ragedandobtused offered up a story about a gift that was, well, practical at least. "When I was 10 years old my grandparents gave me an unwrapped suitcase for Christmas," they told Reddit. "In the interests of convenience, they used that suitcase for the wrapped presents for my sisters."
5. "I Still Curl Up A Bit Inside"
Soyouthought recalled the year she was getting "a lovely bespoke coffee table" from her husband she had "hinted at for months." Cut to Christmas Day at her in-laws. "It was an ironing board," she told Mumsnet. "They thought it was hilarious. He [her husband] can't remember but I still curl up a bit inside when I remember."
6. "He started crying. He was 9."
Mistahmarbles served up a story on Reddit that was both heartbreaking and also kind of gross. "My great grandma gave my cousin a jock strap from Goodwill. Her mental health was bad at this time," they wrote. "He started crying. He was 9."
7. "A F***ing FOSSIL"
Mara263 remembered the year her boyfriend told her he had got her "something really special" for Christmas. After seven years together, she was desperate for him to propose. She recalled the scene on Mumsnet: "I opened a little bag from him and in it was a tiny beautiful box, and in it was...a f***ing FOSSIL."
8. "Wish I was joking."
Grumpy_Snuggles still remembers the terrible gift her "deadbeat dad" bought her when she was just 9-years-old. "Motel shampoo and an adult men's shirt he got for free," she wrote on Reddit. "Wish I was joking."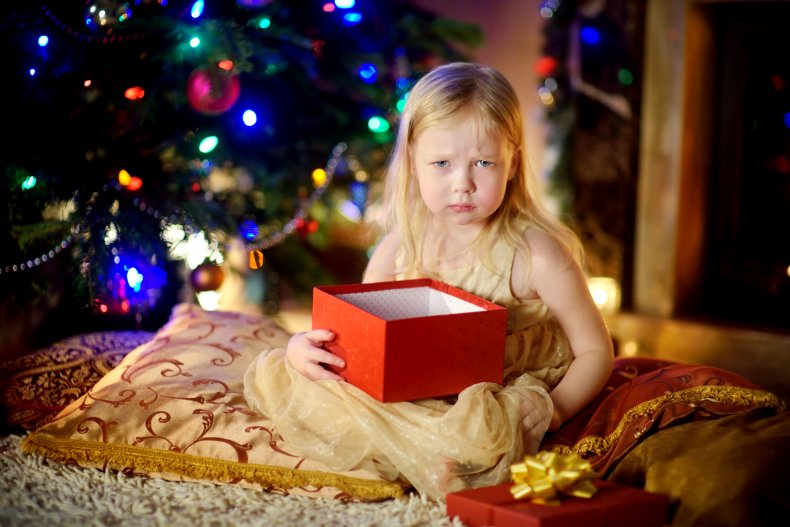 9. "I Get Flashbacks"
WhoaBettyWhite told Mumsnet she is still traumatized by the pair of black tights her great aunt got her many years ago. It's not difficult to see why. "When I opened the packet (with the whole room watching) there was a disgusting smell," she recalled. It turned out the tights had been purchased, second hand, from a local Goodwill shop. "Now whenever I see a wrapped item the same shape and size, my stomach lurches and I get flashbacks."
10. "So Hard To Shop For"
At first glance, Vodkaenthusiast89's gift seemed nice enough. "A set of miniature butter knives with ceramic fruit and vegetables as the handles,'' they explained on Reddit. The gift came from an aunt who told him he was "so hard to shop for."
Fair enough but there was one important detail. He was 7.
11. "I didn't know what else to say."
Dancingonthemoonlight recalled on Mumsnet the year they got "a whistle." "Not a tin whistle or anything remotely musical," they said. "An actual small whistle that a child would blow just to make noise...I opened it and said thanks, just what I needed. I didn't know what else to say."
12. "I Hate Lamborghinis Now"
Stickmag remembered the year he got a Lamborghini. Well, sort of. "It was a Lamborghini calendar," they wrote. "My brother got a guitar and amp. My two sisters got a bike each. I hate Lamborghinis now."
13. "We Already Had 3 Blenders"
While it's pure speculation, the gift Tealgrayone received was nearly grounds for divorce in itself. "I gave my ex-husband a Tag Heuer watch. He gave me a $19.99 Walmart blender," she wrote on Reddit. "We already had 3 blenders."
14. "Life Isn't Fair"
Dariusz2k shared a story about the year his dad taught him a terrible life lesson. "When the Tamagotchi craze was in full swing my siblings and I asked for one," he explained on Reddit. "My sisters both got one, and I got a jacket because mine was torn up and small."
When he asked his dad why he didn't get one and if "Santa thought I did something bad that year," his dad told him he was "too old for Santa and needed to learn that life isn't fair." "I was 8. My sisters were 7 and 5."
15. "It Wasn't A Joke Present
Let's spare a thought for speakout on Mumsnet and a gift that was thoughtful enough, in a way. "I got a toilet seat from my mother," they said. "Not a funky one, it wasn't a joke present, she had just noticed the old one was a bit wobbly."