Michael Byrd, Capitol Officer Who Shot Ashli Babbitt, Says Firing Gun Was 'Last Resort'
Speaking out publicly for the first time, U.S. Capitol Police Lieutenant Michael Byrd, the officer who killed Ashli Babbitt during the January 6 riot, revealed his identity for the first time on Thursday night—seven months since the storming of the Capitol.
In an interview with NBC Nightly News, Byrd described the events that unfolded during the storming of the Capitol and what led him to fire his gun that day.
"I tried to wait as long as I could," Byrd said. "I hoped and prayed no one tried to enter through those doors. But their failure to comply required me to take the appropriate action to save the lives of members of Congress and myself and my fellow officers."
After long, drawn-out investigations, Byrd has been cleared of any wrongdoing by both the Capitol Police and the Justice Department, which decided not to charge the officer after he fired a shot at Babbitt, 35, as demonstrators closed in on the Capitol building that day.
Babbitt, an Air Force veteran and supporter of former President Donald Trump, died from her injuries later that day.
The interview was released three days after Capitol Police announced Byrd had acted within department policy and would not face disciplinary action.
Although the officer's identity had been kept confidential by the police force to protect his safety, Byrd, who is Black, said he's received a flood of death threats and racist attacks when his name was leaked onto right-wing websites.
"Sometimes, you can't do anything but cry," he said. "You felt like you did your job. You helped protect our legislative leaders of this country, and you fought for democracy and keeping them established."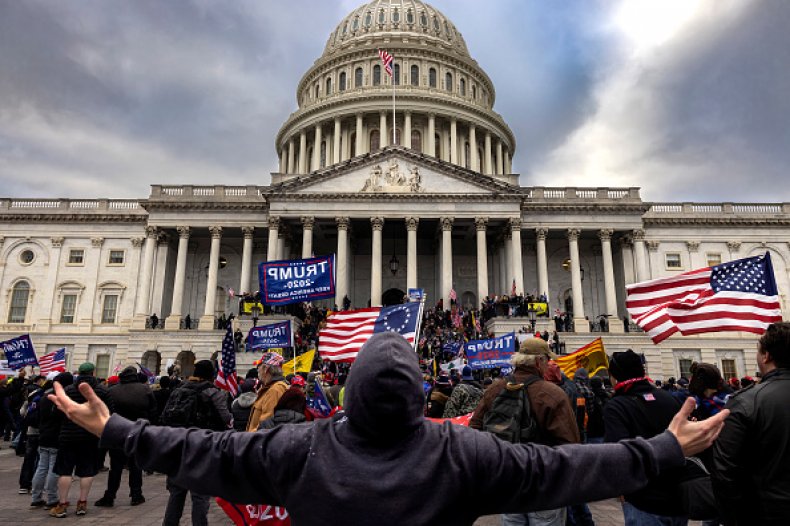 Byrd, who said he fired his gun as a "last resort," said he believes his actions "saved countless lives" at the Capitol building that day.
"I know that day I saved countless lives," Byrd said. "I know members of Congress, as well as my fellow officers and staff, were in jeopardy and in serious danger. And that's my job."
He said he would have done the same to protect Trump, had the former president's life been at risk.
"If he was in the Capitol and I was responsible for him, I'd do the same thing for him and his family," Byrd said.
He added, "I do my job for Republican, for Democrat, for white, for Black, red, blue, green," he said. "I don't care about your affiliation."
He said while he knows that many of the Trump supporters who stormed the Capitol may condemn his actions, "I hope they understand I did my job."
He said speaking out and revealing his identity is "something that is frightening," adding, "Again, I believe I showed the utmost courage on January 6, and it's time for me to do that now."
Correction 08/27/21 2:56 p.m. ET: This article's headline was updated to accurately reflect Byrd's statements on the Capitol riot. An earlier version included a quote that was mischaracterized as being in reference to the events of January 6.