A terrified puppy rescued from the street with deformed legs has found his forever home in the U.K.
Images of Chance the puppy in his new home were sent to Newsweek by the Royal Society for the Prevention of Cruelty to Animals (RSPCA), which said he had been adopted by RSPCA Wirral and Chester branch manager Kay Hawthorn.
Chance, a male bulldog puppy, was found abandoned in a bush near a graveyard in Liverpool in February.
The RSPCA said he was rescued, after he was discovered by a dog walker, cowering on a footpath near Kirkdale Cemetery in Liverpool. He was 3 months old at the time.
When he was brought into the charity, they found he suffered from various physical afflictions and was visibly scared.
"He was found dumped in a bush and couldn't move and was absolutely terrified," Hawthorn said in a statement emailed to Newsweek. "He was curled up in a ball in the hospital and was reluctant to move, which we often find with dogs who have been dumped because clearly they are just so frightened. He was also found to be in an emaciated body condition—with a body score of 1 out of 9 (1 being the lowest) and had flakey skin."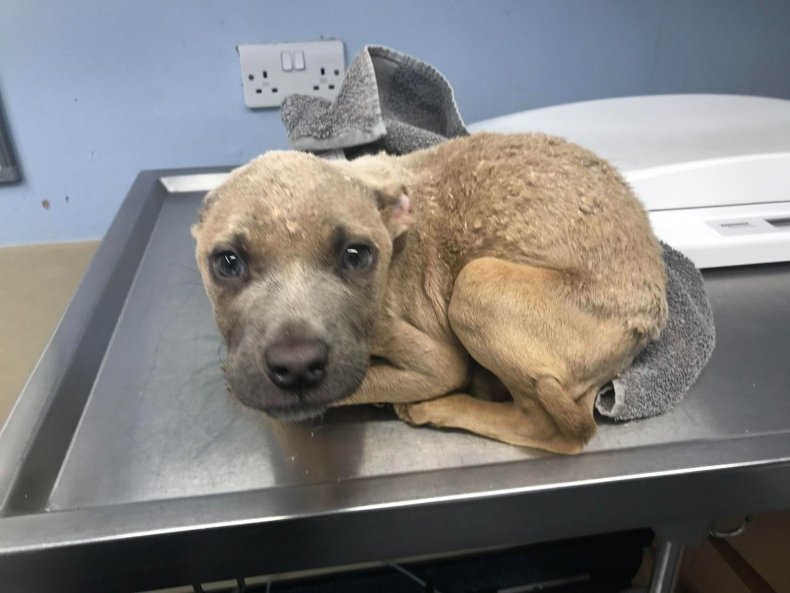 Vets at Greater Manchester Animal Hospital decided to operate on Chance after they discovered he had malformed front legs. He has since begun healing well.
"Within two weeks in my care he has almost doubled his weight to 8.2 kilos [about 18 pounds] and his skin condition has been treated," Hawthorn said. "Chance enjoys playing with his football and is full of energy but loves cuddling up with the others and with me when he isn't as busy."
The RSPCA manager owns four other dogs who are now part of Chance's family— Eva, a German Shepherd aged 11, Bertie, a Shih Tzu aged 18, Maise a crossbreed terrier aged 12, and Toots another Shih Tzu aged four.
Thousands of dogs are abandoned in the U.K. every year. A survey by the Dogs Trust charity reported that local authorities in the U.K. handled a total of 28,565 dogs in 2020 that were either found as strays or brought into them. The number has been steadily declining since 2008.
"I fear the person who had this pup may have been a dog breeder and when they saw these deformities and realised it would cost money to have the pet treated, callously decided to throw him away like a piece of rubbish and left him frightened and alone," RSPCA Inspector Jo McDonald who investigated the case said. "I am so pleased he is enjoying life in his new home Kay who will spoil him with all the love and attention he needs."