Terrifying Video Shows Bull Moose Charging at Bystander
A peaceful encounter between a foraging bull moose and a curious onlooker turned violent, as documented in an alarming video circulating online.
According to Colorado Parks and Wildlife's (CPW) Northeast Division, the clip, also found here, serves as a perfect "example of being too close to a bull moose and how quickly they can decide to charge on you."
The video, posted to the agency's Twitter account on Sunday, starts off serene. The bull (male) moose, lightly camouflaged behind a tree, can be seen chomping on some leafy goodness. Just after 30 seconds into the footage, however, the scene swiftly becomes less idyllic.
The moose charges toward the camera, and almost immediately, the camera appears to fall in the chaos.
The incident reportedly occurred in Clear Creek County, west of Denver.
"The individual just by chance came upon the bull walking along a willow bottom heading towards a lake," CPW said in its post.
"Thankfully no injuries occurred. This person managed to get behind a tree and the moose hit that," CPW added.
In a statement to Newsweek, CPW Northeast added that "surprise encounters like this can happen."
"The thing this person did correctly was get right behind a tree when that moose charged," the agency said. "Moose are Colorado's biggest wild animal, and its most dangerous.
"People should always keep a safe distance from a moose. If you have a surprise encounter with a moose, you should back away from it slowly while continuing to monitor its behavior and try to get something big between you and it (a tree, big [boulder], car, etc.)."
The state has a booming moose population, but according to the CPW website, "hardly anyone ever saw a moose in Colorado" until 20 years ago. "The state's moose populations are thriving, thanks to successful reintroduction efforts by Colorado Parks and Wildlife," the agency said.
Colorado is populated with Shiras moose (Alces alces shirasi), the "largest big game animal" in the state. According to the agency, adults can weigh anywhere from 800 to 1,200 pounds, and males, known as bulls, can reach "up to [six] feet at the shoulder."
Beyond their astounding stature, bull moose are also equipped with antlers, "reaching up to [five] feet wide in larger and older bulls." The "flattened" and "palmated" antlers shed each year in early winter before re-growing.
The species are herbivores who love to graze on brush, specifically on willows.
According to a 2019 Utah State University report on the number of U.S. human fatalities and injuries caused by wildlife incidents, there is a lack of "information about how frequently people in the United States are injured by free-ranging herbivores." However, they note, "moose...attack people when they feel threatened."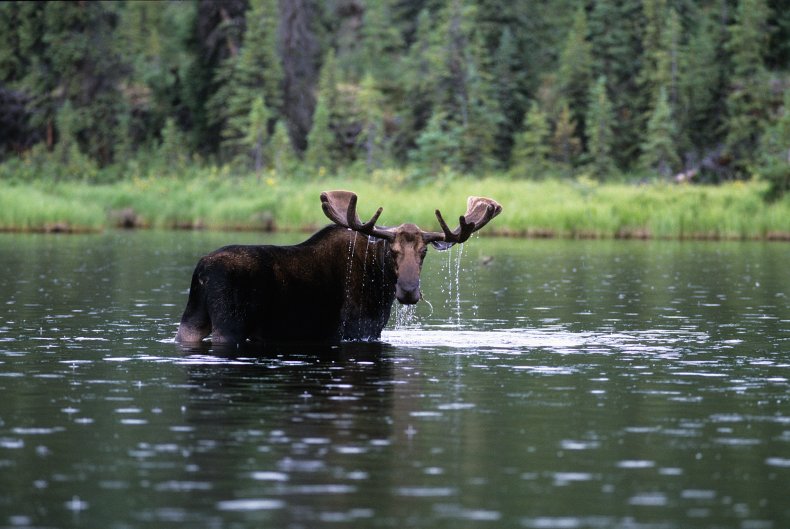 Late last month, a 750-pound moose was spotted "loitering" in a Colorado parking garage. While the animal wasn't exhibiting aggressive behavior, CPW officers tranquilized and relocated the moose.
In June, it was reported that a camper in Idaho shot and killed a moose in "self defense" after the creature charged at him. The moose reportedly destroyed the campsite before heading toward the camper and his dog.