Terrifying Video Shows Man Dive to Capture 8-Foot Plus Python With His Bare Hands
A master snake hunter just did the unimaginable when he dove into the Florida everglades to chase after a giant Burmese python. David Orin, a TikToker who spends his days searching for snakes, grabbed the serpent with his bare hands for a triumphant capture.
Chances are, if you're not a snake hunter yourself, this video will terrify you a little bit. In it, Orin's little brother Noah, who took the video, captures the tail end of a huge snake wiggling its way into the lush Florida everglades. Orin's excitement is heard before he dives, full-body into the water directly on top of the snake. Oh, and did we mention it's dark out? Nightmare fuel activated.
Despite the terrifying moment when Orin's whole body disappears underwater with the python, he emerges successfully with the thrashing python in his grasp. It's just a quick moment Orin is in the water before he walks out with the reptile around his neck, still alive and very angry.
Orin posted the video on his TikTok account and it's been widely viewed. It has over 3.5 million views at the time of publishing. In the caption, Orin revealed to catch the python, which was over eight feet long, was his "dream."
Burmese pythons are not native to the Everglades. However, there is now a large non-native contingent of the creatures surrounding the area. This is largely due to pet owners abandoning them in the vicinity.
For some, an encounter with such a large snake may invoke fear. For Orin, it's the opposite. He told Newsweek his idols inspired him to want to catch a Burmese. "Ever since I've been 6 years old I would watch guys like Steve Irwin and Austin Stevens catch absolutely massive constrictors just like that—and I knew I had to get my hands on one," he said via email.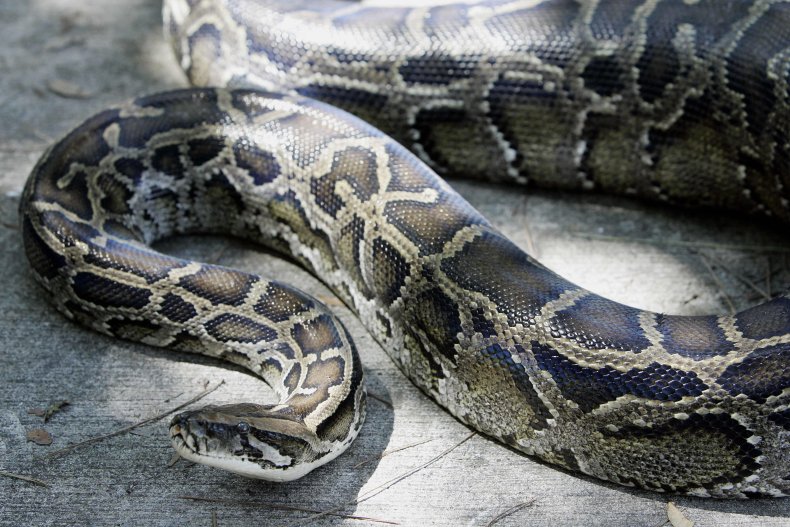 And it wasn't a fluke occurrence. "Noah and I have been searching the swamps for a big burm like that for the past year or so. We've easily put in over 100 hours," he wrote. "To finally see all that searching come to fruition in the form of a 8+ foot snake is something I'll never forget."
Orin's excitement is palpable. As he wades out of the water, he is undeniably thrilled by the capture, even as the snake attempts to snap at his face and arm. Orin holds a controlling grip on the python that restricts any harm.
He even posted a follow-up video, showing his hand dripping with blood as the snake bites his arm. Burmese pythons aren't venomous, so there's no real harm in the fangs. Orin, however, appeared to be mindful of the python's tail wrapping around his neck, as the snakes are known to attack by squeezing their prey.
Even with an angry snake wrapped around him, Orin appears to be blissful. What's clear in all of his videos is Orin's love for reptiles; and his ability to catch them swiftly and kindly isn't new.
His Instagram account is full of videos where he chases the quick creatures down, picks them up gently and admires their beauty. Orin even posted a video of himself being bitten by a snake to prove the non-venomous ones truly can't hurt you; a public announcement seemingly in hopes of protecting the vulnerable creates from fearful humans.
So what did Orin do with the Burmese python? He released it back into the wild. "Some of my viewership may be curious as to what we did with the python when we were finished—as I know some people choose to remove them from the Glades and kill them—but I would never dream of killing an animal," he said. "That beautiful creature went right back into the swamp we found him. Praise God."